✎ Key Takes:
» You can look for your social media presence by connecting Facebook to Instagram through settings, allowing automatic cross-posting.
» You can use the built-in Instagram sharing option after linking your accounts in settings, or explore third-party apps like Buffer for seamless automation.
How To Automatically Post From Facebook To Instagram:
Facebook and Instagram are the two most used social media networks and some users are using the same post on both platforms. So, if you have the same post then you don't have to do it twice as you can just post on Facebook and the same can be also posted on your Instagram as well.
To make it easier, Facebook has come up with a feature that allows you to share Facebook posts directly on Instagram. It requires some minor work with the settings and nothing major or complex.
To share the post automatically from Facebook to Instagram you have to connect Facebook with your Instagram account.
To connect Facebook with Instagram to share Facebook posts to Instagram automatically,
🔴 Steps To Follow:
Step 1: First of all, you have to open & log in to your Facebook and go to the page.
Step 2: In the left bar, you will find a Settings button, just click on it to start the process.
Step 3: Now you'll find some options flashing on your screen, among all those, select the option 'Instagram'.

Step 4: You'll find the 'Connect Account' option on the screen, just click on it.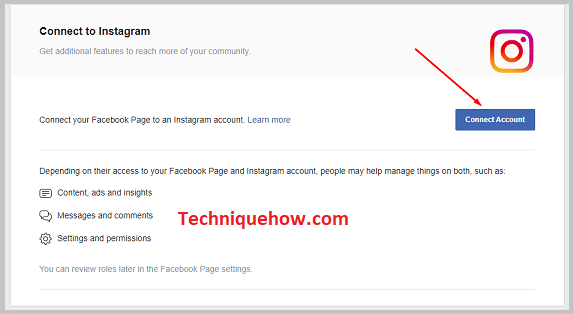 Step 5: For the next step, you need to sign in to your existing account on Instagram.
Step 6: Now start writing a new post on Facebook. You'll find an Instagram option while you're about to share your post. Make sure you tick and confirm it.
Step 7: Now click on Share to make your post available both on Instagram & Facebook.
Note that this feature is only accessible on Facebook. Furthermore, to make your Facebook post available on Instagram, it should contain a picture or image.
Secondly, this feature will not work for post that contains multiple pictures and there may still be some pages or accounts on Facebook that are not provided with this feature working with Instagram at present.
Another thing that we should mention, this feature cannot be used to share old Facebook posts or already posted Facebook posts on Instagram and the same applies to Facebook stories.