If you want to stop receiving messages on WhatsApp without knowing them just go to the WhatsApp chat section.
Then archive that contact.
How To Block Someone On WhatsApp Without Them Knowing:
You have a few methods:
1. Using GBWhatsApp
You can use the GBWhatsApp app for blocking users without them knowing about it. GBWhatsApp is a modified version of the WhatsApp application and is built with many more exciting features compared to the original WhatsApp app. It can be installed both on iOS and Android devices for free from the web.
🔴 Steps To Use:
Step 1: First of all, download and install GBWhatsApp.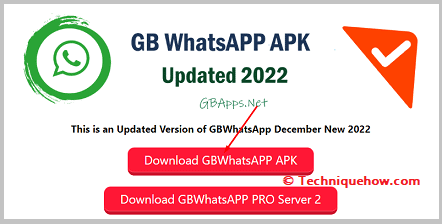 Step 2: Open it and create your GBWhatsApp account with your WhatsApp number.
Step 3: Then you need to verify your phone number.
Step 4: Next, open the user's chat that you want to restrict.
Step 5: Then. click on the three lines icon and click on Restrict. 
Step 6: Then you need to enable the switches next to Restrict Messages and Restrict Calls.
2. Tweak the Block
WhatsApp normally displays the BLOCK and ADD options on the chat when the person sends messages to you. Here is also another method you can follow to unblock the person who is not on your contact.
🔴 Steps To Follow:
Step 1: At first, open the chat. This normally sends the seen signal to the sender.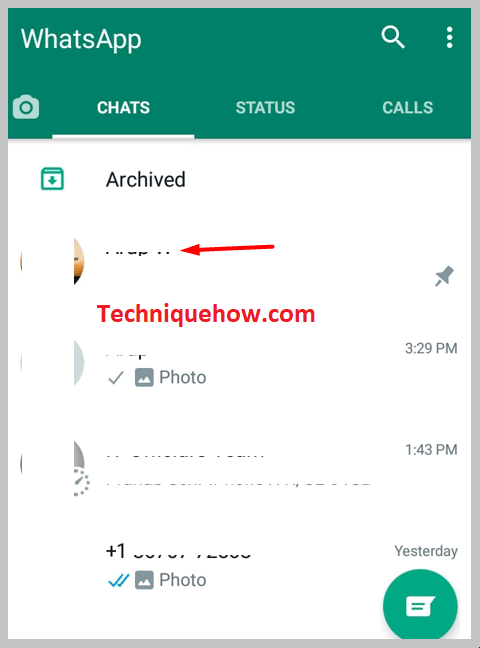 Step 2: Now click on the three-dots icon on the above right side.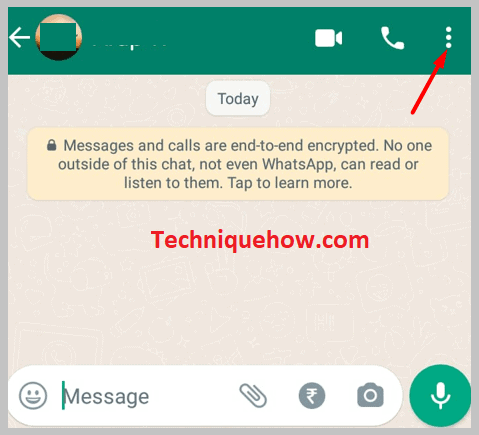 Step 3: It will display a list. Now click on 'More'.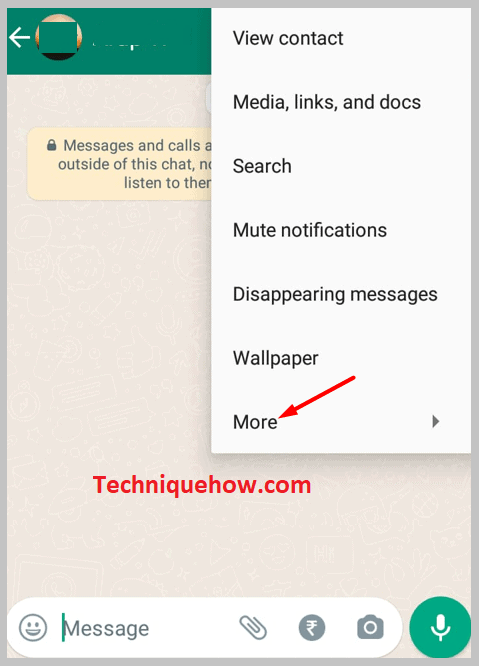 Step 4: Here it will show the 'Block' option. Now just click on Block. The number will be blocked instantly on your WhatsApp.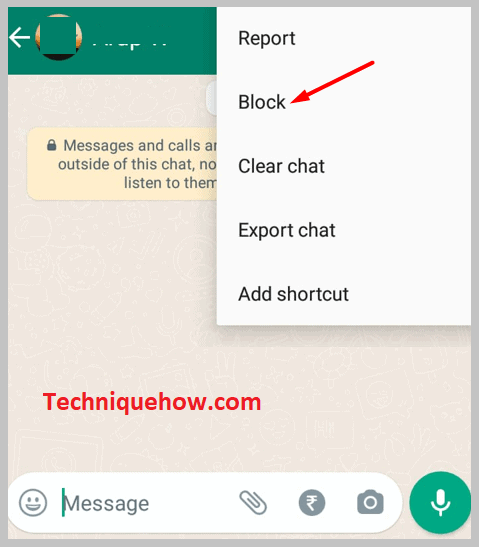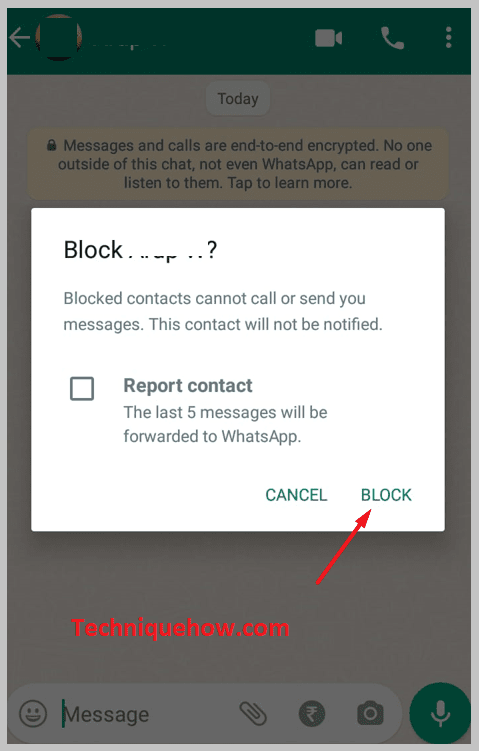 This is the way to block a mobile number on your WhatsApp if not present in your phone contacts.
Now, if you need to block someone again in the future then you can easily do this using the same methods. Just follow those steps and you can easily block anyone on WhatsApp.
3. Adding to Blocking List
It is more than easy to complete these steps for a new number. The person will not be able to find you on WhatsApp even if you are present on his contact list. Once you have added the number to your contact list just start the steps which are given below:
🔴 Steps To Follow:
Step 1: Open WhatsApp and go to Settings. Then click on Account.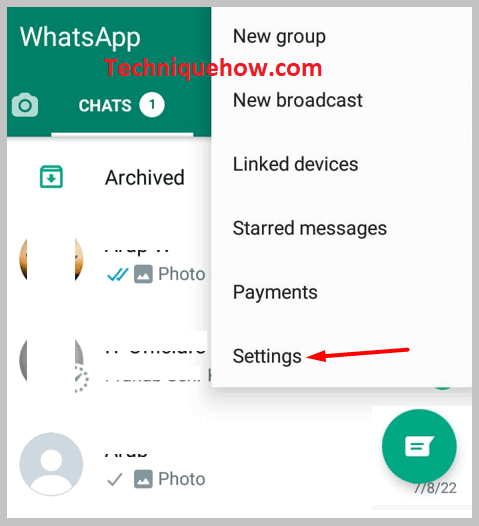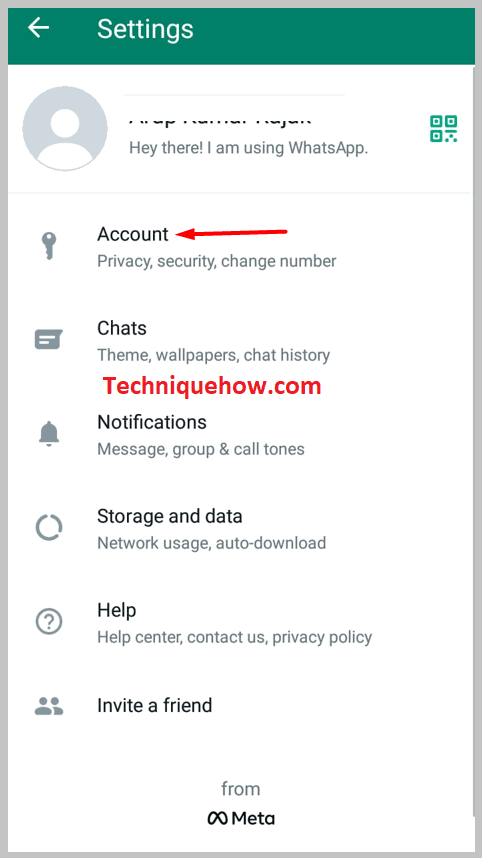 Step 2: It will open Account settings. Just select Privacy and scroll to the bottom.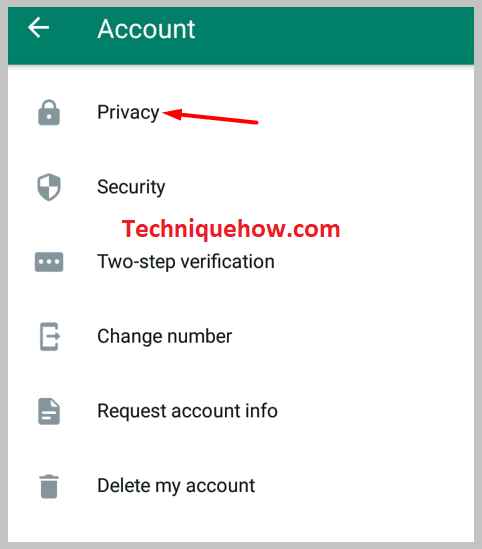 Step 3: There you will see the Blocked contacts option. Now click on it.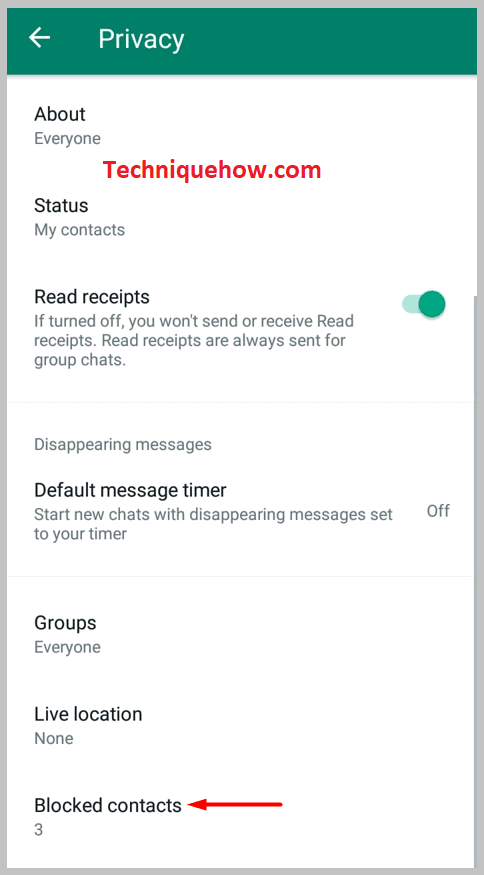 Step 4: A window will open which will allow you to select the contact you want to block in advance.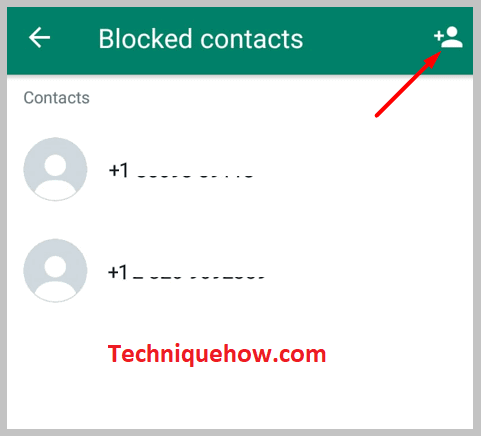 Step 5: Just select the recently added contact which you want to block now. Upon selection, it will be blocked in seconds.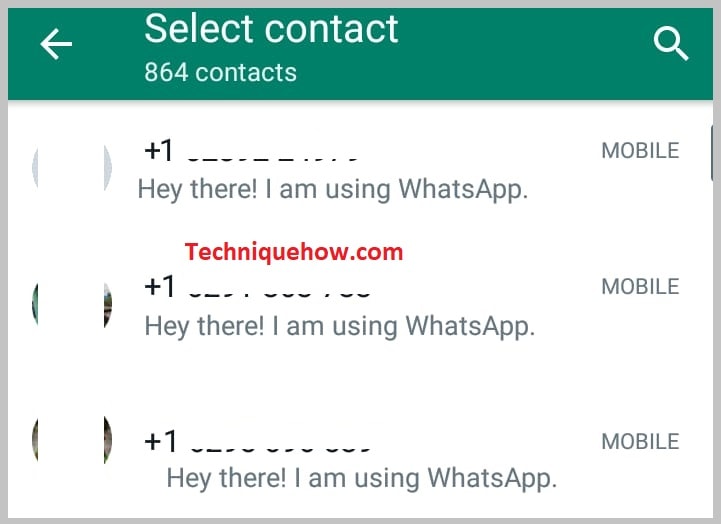 But for an unknown number, the steps are different.
4. Block from Chat
Follow the steps one by one perfectly to easily do this:
🔴 Steps To Follow:
Step 1: At first, open your WhatsApp account and click the CHATS tab.
Step 2: Now, there all chats will be displayed. Just to block a particular person, click on the profile picture.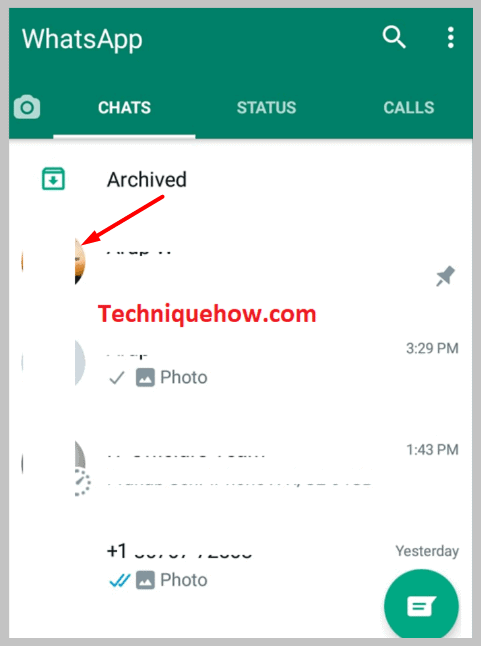 Step 3: It will pop up a window. Just click on the '(i)' icon(options) there.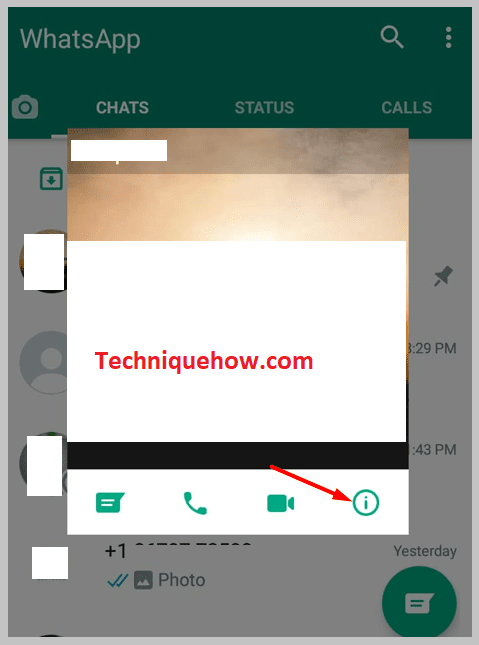 Step 4: Now, it will display the profile information of that person. On the bottom, you will find a Block option. Just tap on 'Block'.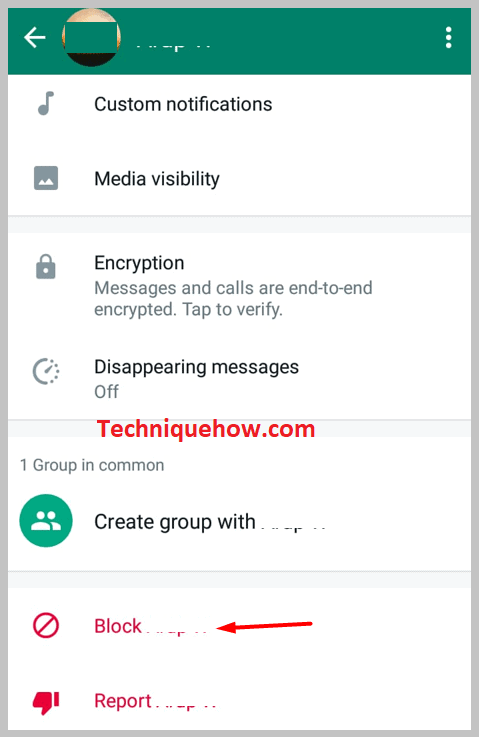 Step 5: Here will come a confirmation message from WhatsApp. Then click on the OK button to confirm the block.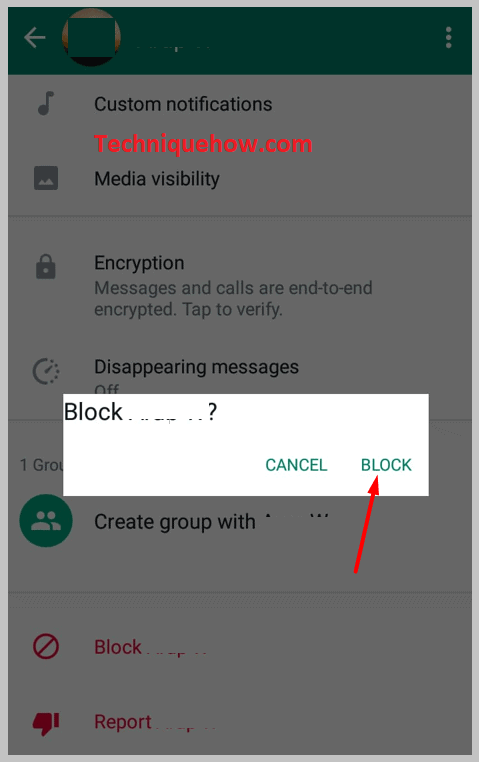 After you are done, the blocked contacts will no longer be able to call you or send you any messages.
But, this method has a limitation. You can only block your WhatsApp contacts in this process.
How to block someone on a WhatsApp group without them knowing:
You can't block a user directly on a WhatsApp group. When you don't want to see someone's message on the WhatsApp group or want the user to stop messaging on the group, the only solution is to remove the user from the group. You can ask an admin to remove the person whose message you don't want to see in the group.
You can block the user personally from your WhatsApp inbox to avoid getting private replies from the user. If you block the user on WhatsApp, no private message from the user will be delivered to you in your WhatsApp inbox. However, the text sent by the user in the group will be visible to you.
Another method you can consider is to create a new group without actually blocking the user or removing him from the old group. The person will not be able to know about the new group.
You need to add all the old members of the previous group except for that one member whose message you want to avoid and then start chatting in the new group. This will make the old group inactive automatically.
How to stop receiving messages from someone without blocking them:
When you want to stop receiving messages from someone without blocking the user directly, then three ways can help you to do that.
1. Archive the chat
You need to archive the chat of the user whose messages you don't want to receive on your WhatsApp so that when the user sends messages to you on WhatsApp it doesn't get visible in your main inbox directly.
Once you archive the chat, the new messages from the user would be hidden provided that you've enabled the settings for it on WhatsApp.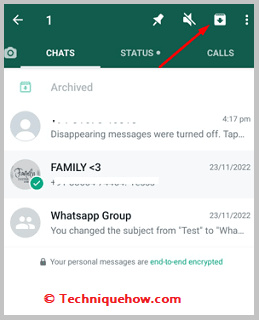 2. Change WhatsApp Account Number
Another shortcut method that you can use to avoid getting messages from someone without blocking the person is by changing your WhatsApp account.
If you use a new number for your WhatsApp account, then the user will not be able to send you messages anymore as he or she will not be able to know your new phone number.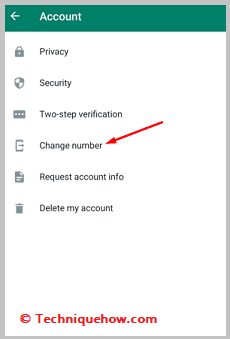 Moreover, the trick you need to follow for this method is to delete the old account first and then open a new account with a new number.
Don't directly change the phone number as if you do so then the user will automatically get to know about your new phone number.
3. Restrict user without blocking him
You can also consider restricting the user on WhatsApp. But you can't use the original WhatsApp application to do that. You'll need to use a mod version of the WhatsApp application to get the Restrict feature.
When you restrict someone it prevents the user from messaging you, checking your last seen, etc.
Frequently Asked Questions:
1. If you block someone on WhatsApp will they know?
When you block someone on WhatsApp the user won't be able to directly know that you've blocked him. WhatsApp will not send him any notifications about it. However, when he will notice that the message from him is not getting delivered to you after waiting for days, he might be able to know that you've blocked him.
2. How to delete someone on WhatsApp without them knowing?
You need to go to the contact list of your device and then delete the phone number of the user whom you want to remove from your WhatsApp list. The person's profile would be automatically removed from your WhatsApp contact list. You'll be able to find the previous chat but it will be shown as an unsaved contact.
Also Read: