Your Quick Answer:
To know if someone is recording your WhatsApp video call, make sure you hear the echo of your voice and you can hide your face with the use of face masking filters on your phone.
Whenever you call someone on WhatsApp whether it's a video call or voice call, you would not see any notification like if the call is being recorded rather there are a few things that you can confirm if the call is being recorded or not.
WhatsApp does not have the video call recording feature in-built but someone can directly record your video just by turning on the screen recorder that captures your face and also that voice and saves it to the phone.
The best thing you can do is change your voice during WhatsApp calls which would safeguard your identity on such internet calls.
How to Record WhatsApp Video call on Phone:
If you want to record the WhatsApp video call then manually you cannot, rather you have to install a third-party app to do that.
Let's discuss the app and the steps to record with it:
🔯 Screen Recorder: [App]
Screen Recorder is the best option you can try to record any video call including WhatsApp video calls.
You can use this without root on your mobile, this is just a Tap & Use App for recording the screen.
This app also records the voice on the speaker which means you have to put the call on the speaker while recording the screen.

To record the video call just follow the steps:
1️⃣ First, install the Screen Recorder app on your device.
2️⃣ While you're on the video call just put that call on speaker and open the Screen Recorder app.
3️⃣ Next, tap on the icon and this will start recording the video call along with the audio.
That's all you can record the WhatsApp video call and this app available on the play store.
If you're on iPhone or iPad you can download the AirShou app on your iOS device and record the screen of your iPhone.
In the same process just put the call on the speaker to record the audio with the video.
When you stop the recording, the file will be saved in the recorder app on your internal storage.
How to Know if your WhatsApp video call is being recorded:
If you're wondering if it is possible to record the WhatsApp Messenger video call, then yes… it's possible.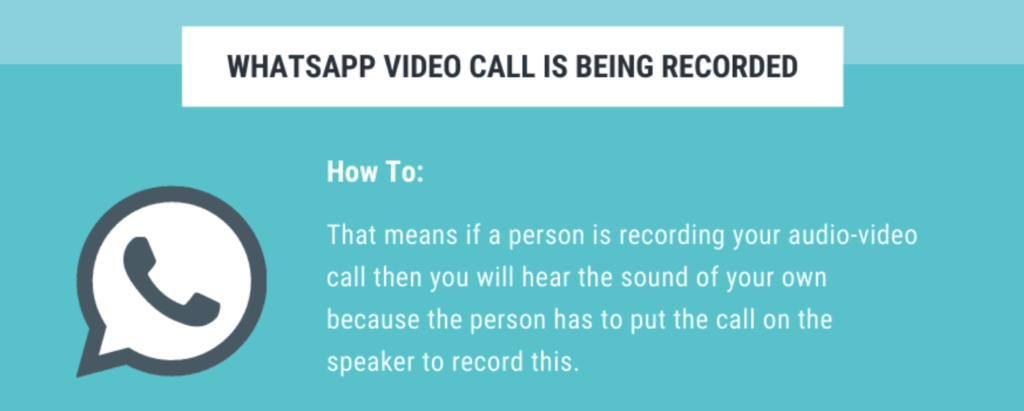 ◘ When you're on a call it is difficult to say if the person has run the screen recorder on his phone to record the video call.
◘ To know if the person is recording your audio with or without the video is easy. To make sure you just have to make sure you hear your own voice back on WhatsApp.
◘ That means if a person is recording your audio-video call then you will hear the sound of your own because the person has to put the call on the speaker to record this.
◘ Although, there are ways to avoid hearing from you, still if you get any echo-like sound that means your call is being recorded.
◘ Now in a sensitive case, if you would like to protect your face from being recorded then you can use these steps.
How to Stop someone from recording your Face on a Video call:
Hiding your face from the video call definitely means protecting your privacy on WhatsApp.
The face mask filters are used either to hide your face or just as a feature on call. This is often can be used to protect the privacy of someone on the video call.
If you're on a video call just use the face mask to hide privacy so that if someone records this would not be you. This is somehow a privacy guard that works, as you cannot say no to someone from recording your face or you cannot know actually, this step can help you hide your face.
🔯 Use Face Masking Filter App: Filters Camera
WhatsApp does not have manual filters over a video call, you can install the third-party app Effects video – Filters Camera to add filters to your calls.

Let's install and setup up your front cam to record video with filters.
The Bottom Lines:
This article explained what you have to do and things to take care of while having the video call on WhatsApp. It is recommended to have calls only with close and trusted persons that are known to you and don't forget to take steps while having the indications as described in this article.
Also Read: