Your Quick Answer:
To claim an Instagram username you can also take the legal way to first get an online patent of the username.
After obtaining the patent, you can file a trademark report on Instagram to claim the username used by another inactive account.
You need to claim the username that you like by buying it from secondary companies.
You can also wait for a while for Instagram to clear and delete the inactive accounts of the platform. It will make the username available for you to use.
If you can contact the account owner and request him to change his username to something else, it would also make the username available for you to use.
You can also take the easy way out by using a similar username after changing it a bit by using underscores, numbers, and periods.
If you want to find the inactive accounts, you can just do the following,
1️⃣ Open the Instagram inactive account finder tool.
2️⃣ Enter the username onto the tool.
This will extract all the inactive accounts associated with your following and followers list.
How to Claim an Inactive Instagram Username:
Here are a few methods to claim or get back an inactive account's username on Instagram.
1. Buy that Username:
If you want an inactive username badly, you can buy the username from the holders. Many secondary account holders can sell a good username for a few hundred dollars or more. People who sell their inactive Instagram accounts to make money are the ones who have already used the username for years and had the foresight to choose a name that would get in demand within a few years.
If you want a particular name, you can buy the username from these secondary account holders who have occupied the name but don't use it. It might cost you thousands of dollars.
The name of an Instagram account is more valuable than you think, especially if it's a business account. Only when a profile becomes inactive on Instagram, you can approach the holder to buy its username.
While you're choosing to buy a username, make sure you do that from a reputable source. Defrauders steal usernames from innocent people and sell them, which later gets banned by the Instagram community.
2. File Trademark Report on Instagram:
You need to get a patent so that you can legally file a Trademark Report to get the inactive username for yourself. This process may take up more time than the others and can cost you additional charges too.
After you obtain the patent, you can sue the inactive account owner for Trademark infringement by filling out a trademark violation report. According to many patent owners,  it's another effective way to claim an inactive account's username.
When you own a trademark, it can only be used by your brand or team and none else.
Although getting a new trademark is quite expensive and complicated, it's worth the gain because after you get a patent for yourself, the username becomes officially yours. Therefore, you can report to Instagram the infringement of your trademark. After it reviews the situation, the username would be given to you officially.
🔴 Steps To Follow:
Steps to file a trademark report on Instagram:
Step 1: You've to head on to Instagram's Help Centre.
Step 2: You can go to the link: https://help.instagram.com/contact/372592039493026.
Step 3: You'll find two options, click on Trademark. Click on continue with your trademark report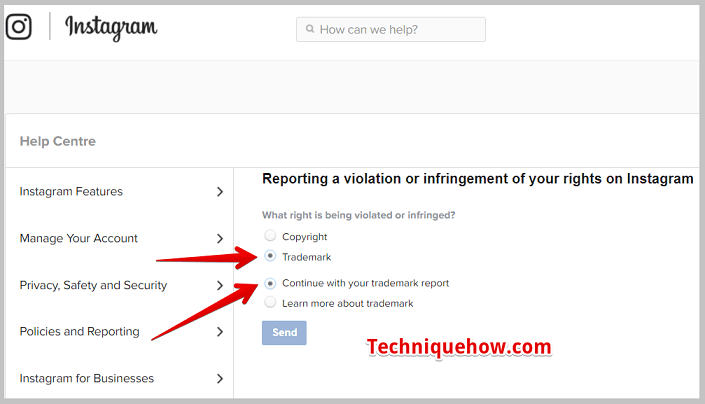 Step 4: Next, click on Continue with my trademark report.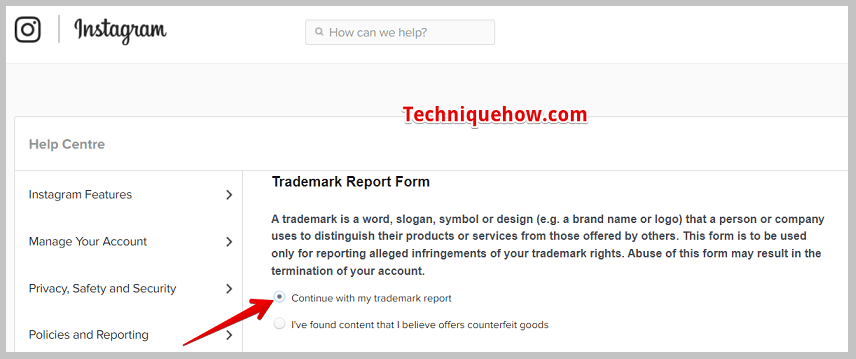 Step 5: Then click on the first option I am the rights owner if it's your trademark or clicks on the second option I am reporting on behalf of my organization or client if the trademark belongs to your brand.
Step 6: Next, fill in your details like your name, address, phone number, etc.
Step 7: Attach all the required links, and proofs they're asking for so that the review can go in your favor.
Step 8: Click on Send.
3. Wait Until Instagram Clears up Data:
If you want to use an inactive username for your Instagram account, you can also choose to wait for a while so that after Instagram clears out all the inactive accounts to make the username available, you can use it for free.
Instagram follows the policy, where it deletes the accounts of inactive users after some time. It includes the accounts that haven't been logged into by anyone in a long time.
The time needed by Instagram to clear out the inactive account can vary, so there's no particular way to predict when the inactive accounts would be cleared out by Instagram. But mostly the clearouts happen randomly at the end of a year.
When Instagram clears out the inactive accounts, the usernames used by those inactive accounts become available to be used by new accounts again. You've to frequently check to see when Instagram clears out the inactive accounts and then you can use the username for your account without paying a buck.
4. Choose a Similar Username
If you can't buy or claim a username for your Instagram account, you can use a similar username that's a close match to the one you wish to use. As Instagram follows the policy where no username can be used by more than one account at the same time, many users don't get the username they like. It's mainly because on Instagram, many inactive accounts have occupied the good or demanding usernames making it unavailable for the active users to use.
However, if you don't want or can't get to buy the username you like, you can use a similar username after changing it slightly using underscores, symbols, or numbers. Instagram usernames can be up to 30 characters and you can include underscores, periods, numbers, and letters.
After you make slight changes to the unavailable username by altering the digits, replacing the underscore with a period, etc you can create a similar username and then use it for your account.
You can add letters of your location or surname to make it look different but be sure to make the name straightforward enough for anyone to identify your account or brand.
5. Find the Inactive Account's Owner
Another method that you can use is to directly approach the owner of the account to request the release of the username that he's using. You've to find the person's contact information from his Instagram account to contact him.
When an account is inactive on Instagram, it doesn't mean that the user isn't around, therefore, you can search for the owner's phone number or email address from the bio section and then ring him up or send a mail about the issue.
You can also send the user a DM on his Instagram profile, but there is a good chance that your messages will not be seen by the owner. Therefore, it's better to either ring him up or send an email so that the owner can get to know about your request or proposal.
You've to request the user to change his username to something else so that it can be available for you to use. While requesting, make sure that the language or tone you're using to communicate is polite and clear enough to convince the person. You can also offer the user some bucks to make him accept your proposal.
The Bottom Lines:
You can approach the secondary companies that sell good usernames. You can also get a patent online to file a Trademark Report to Instagram for the infringement of your trademark. However, indirect methods like waiting a while for Instagram to delete the inactive accounts, using a similar username, or contacting the owner of the account via email, DM, or phone can also help you in this situation.
Also Read: