Your Quick Answer:
To use PC internet on mobile with USB, if you have a LAN connection on your PC or laptop and a WiFi router is not available then you can turn your laptop into a WiFi hotspot to connect the PC internet to mobile.
If you are using Windows 10 then the WiFi hotspot comes in handy in that OS. Still, on other versions that can be done with the help of third-party software.
However, this system works but has a limited range of networks whereas the router provides a better WiFi range.
You just have to make sure that you have an adapter set on your PC and that the required drivers may be needed to do the process.
You don't need to worry about it as you can find the drivers online as well as on your PC cd, provided at the time of purchase.
You can also try the steps for connecting to the WiFi without a password.
How To Use Pc Internet On Mobile With USB:
You can share the PC internet with your mobile using multiple ways possible. Now, we have discussed the three easiest and smart ways that you use to connect your mobile to the internet.
Whenever you are trying to connect to the internet with your mobile just remember you can use the three easiest ways that are mentioned below:
1. Share via Hotspot (Windows 10)
If you are using Windows 10 on your laptop then the WiFi hotspot feature is already there in the settings.
Yes, you can CONNECT the laptop's internet via WiFi without using any USB cable.
You just need to set up the SSID to start sharing the internet over your PC. To do this just follow the guide below:
🔴 Steps To Follow:
Step 1: Just hover over the windows start button and click to open the settings option with a gear icon.
Step 2: Now, from Windows settings go to 'Network & Internet'. There you will find an option called 'Mobile hotspot', just click on it.

Step 3: Next, you have to turn on the Hotspot to share the internet via WiFi. You can 'Edit' to set a new username and password as per your choice.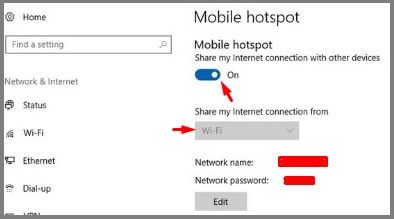 Note: You will see two options Share internet via – WiFI or Bluetooth. You have to select WiFi in this case.
That's all for now. You can access the internet once your mobile is connected to that wireless hotspot network.
2. Using Connectify Tool:
If you are using other versions of Windows like Windows 7,8 then you have to install a third-party software tool to activate the hotspot on your PC. But, before this, you have to make sure that the adapter is available on your device.
To check this,
Just open your command prompt window.
Type 'netsh wlan show drivers' and hit Enter key.
Then you will see the adapter info there, but if there is no adapter you will see the error message. However, in that case, you can use an external WiFi adapter tool.
Now once you find the info, do the following steps to activate the hotspot on your PC:
🔴 Steps To Follow:
Step 1: Just download & install the Connectify Hotspot on your PC. Then, reboot your laptop or PC to complete the installation.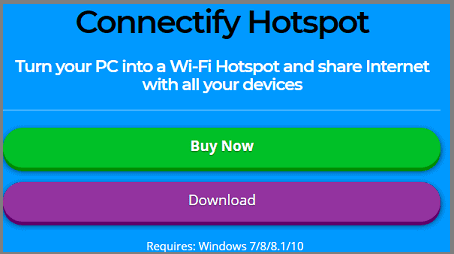 Step 2: Once you see the icon on your desktop, just open it. Then, if you are using it for Free just click on the 'Try it Out' button.
Step 3: Now from the 'Settings' tab just click on the 'Wi-Fi Hotspot' option. Then, set up the hotspot network using an SSID name and password. After that, click on the 'Start Hotspot' button.
Now you have completed the steps on your PC but to use the internet you have to connect your mobile to that SSID network.

Step 4: Just, open your WiFi and look for the wireless network and then connect to it to use the shared internet.
That's all for this method.
3. Share Using USB Cable
If you cannot your PC as a wireless hotspot then there is another working method to share the windows internet with your mobile using a USB cable. There is nothing more needed, just only a USB cable. It's that simple to tether.
So, here the process starts:
🔴 Steps To Follow:
Step 1: First, connect your USB cable to your PC and allow the computer to have storage permission.
Step 2: Now go to settings to open the 'Wireless and networks' option and look for the option 'USB Internet'.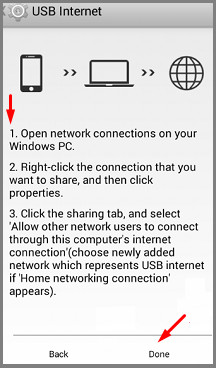 Step 3: Just tap on this to activate this. Once, you do that, a simple guide appears on the screen where it will ask to allow your PC to share an internet connection from a selected network.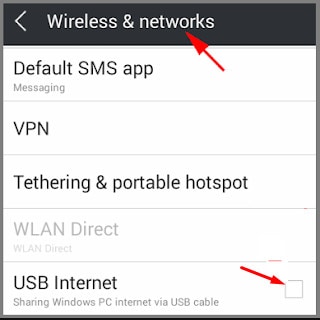 Step 4: Just allow the permission and the option will be activated once you hit the 'Done' button.
That's all simple. This is how you can use the PC internet on your mobile just by using a data cable.
🔴 A Few Observations:
If you are sharing the PC internet through USB or WiFi just a few things always keep in mind. We have mentioned the below:
i) While you are sharing the internet with a USB, you have to note that the connection is sharing the internet, not the storage.
ii) If you are sharing the inter using the WiFi Hotspot from a laptop, don't forget to set the password to restrict unusual usage.
iii) If your laptop hotspot range is not sufficient, you can use a router as a range extender which will definitely increase the range of that same network.
iv) USB sharing may not work if your PC is not having the driver installed. In most cases, this problem solves automatically. If your PC is connected online the latest driver is downloaded and installed automatically on your PC.
v) Sharing the internet with the hotspot is the easiest process but if you can't find the option on your laptop just make sure the feature is available on your laptop. Otherwise, you can use an external adapter to share the internet from a PC.
Also Read: