Your Quick Answer:
To connect to WiFi Without a Password, you can use the direct share password feature from your mobile.
You can also use third-party tools to see passwords and connect to WiFi.
You may need root access to use these apps.
Whenever you wish to have a WiFi connection then having high speed with unlimited usage is the goal for everyone.
Before that, we will see how this encryption work and how much this technology evolved nowadays.
How To Connect Wifi Without Password In Android:
You have many ways to connect to any WiFi without knowing the password, let's follow the steps:
1. Share password Feature
The very first way to connect to any WiFi network without a password is by using the QR code method. For this, someone has to be already connected to that network then you have to take his/her phone and go to the WiFi settings and find the Wi-Fi password.
The victim's phone will generate the QR code. This process includes QR-code scanning from your phone, the QR-code scanner is already present in your Wi-Fi settings just scan it and you will directly connect to that network without any password.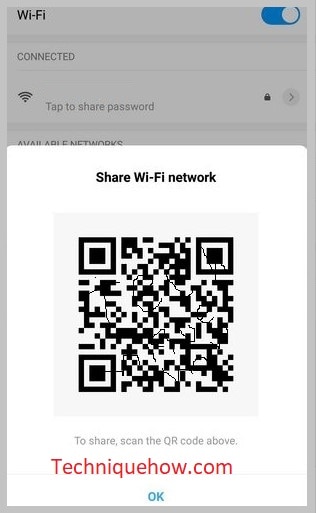 But, if you want to know the password of that network just simply scan that QR-code by an external QR-code app it will provide you the password of that particular network in a couple of seconds.
2. Social Engineering
This method is one of the great ways to gain access to any Wi-Fi network but, this includes the social engineering part.
There is always a high chance that the victim will give his/her password himself.
You will easily find these codes on Google, just retype the password of his WiFi network to connect again to his/her Wi-Fi.
Step 1: You need to create your own Wi-Fi network named as same as the victim's WiFi network name. It has to be completely the same as a victim's name WiFi network name.
Step 2: Now, you need to execute those codes in the terminal of Termux.
Step 3: Now, you have to wait for the victim to rewrite the password, if he gets confused and there is a chance that he will type the password in your network and you will get the password.
There are always 50-50 chances in these types of attacks but it actually works for many people.
3. WiFi WPS WPA Tester App
There are some apps that work for the non-rooted user to gain access to the WiFi network but not every time got successful because these apps work under some limitations. There are many apps available on the Google play store to perform these types of attacks but one of the most popular apps among the users is "WIFI WPS WPA tester".
You will easily get this app on the Google play store and it can be also upgraded to a premium version that works much better than the free one, but that is premium.
Let's have a look at how the free version works. Let's see how these apps work and how effective it is.

Step 1: Install the "WIFI WPS WPA Tester" app in the Google play store and open it.
Step 2: Give the location permission to the app.
Step 3: The app will automatically search all the wireless networks nearby you.
Step 4: All networks have a color either green, yellow, or red. (the red one will be already out of the list they can't be accessed by this app you can only try green and yellow color networks ).
Step 5: Tap on any green or yellow color network and select "Connect automatically by trying all pins".
Step 6: It will automatically try to connect with the network and if it gets to succeed, it will automatically connect to it and a successful message will be shown on your screen.
4. AndroDumpper app
This app works in all WPS-enabled WiFi networks and can easily crack the password of any WPS-enabled network in a couple of minutes.
First, you need to download this app, you have to download it from external sites. You can visit softonic.com to download this app easily.
Once your app gets downloaded, follow these steps: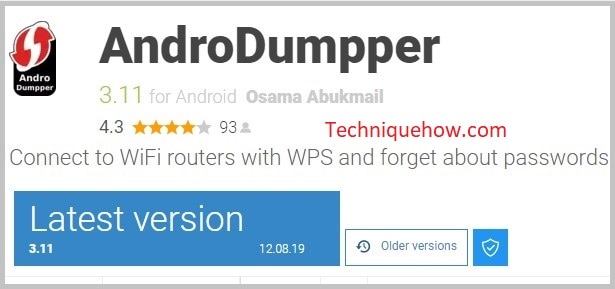 Step 1: Open the app and allow all permission along with location permission.
Step 2: It will automatically detect nearby Wi-Fi networks.
Step 3: See which one is WPS enabled.
Step 4: Just tap on it and it will automatically connect to that particular network after cracking the password.
These are some basic applications you can use and easily gain access to over any WiFi network but these methods are getting old day by day and continuously provide updates from time to time.
5. By Aircrack-NG App [Root Access]
Aircrack-ng is one of the popular WiFi-spying apps. This app helps you with finding the passwords of any WiFi. The app contains a packet sniffer, wireless network detector, WEP, and WPA/WPA2-PSK cracker.
This app uses fantastic algorithms to gain wireless passwords by capturing packets. To make the attack faster, it executes a standard FMS attack with some optimizations.
It is used by many Android developers and security enthusiasts. Working on the Aircrack-ng App on Android isn't much of an issue, but the most difficult part is having a WiFi chipset that supports monitor mode.
Also Read: