Your Quick Answer:
To convert your Facebook profile to a Facebook page, you have to manually create a Facebook page by logging into your account.
Then once the page creation is complete, you can invite all of your friends in one click to turn your friends into page followers once they all like your page.
Further, will discuss the detailed steps for creating your impressive page, invite all your Facebook Profile friends to the page, and make them followers to increase overall page reach.
If you can't create with this, here are a few reasons why you can't convert it.
How to Convert Facebook Profile to a Page:
If you want to convert a Facebook profile to a Facebook page then you have to first create a page first from the profile and then make the setup and invite your friends to like it.
1. Create a Facebook Page
Firstly, you have to create a Facebook page from your Facebook profile and this will be managed using that profile.
To create a Facebook page,
Step 1: Open the Facebook website to log in to your Facebook Profile.
Step 2: In the left sidebar menu on the homepage, click on "Pages."
Step 3: Then, in the given options, choose the "+ Create New Page" button.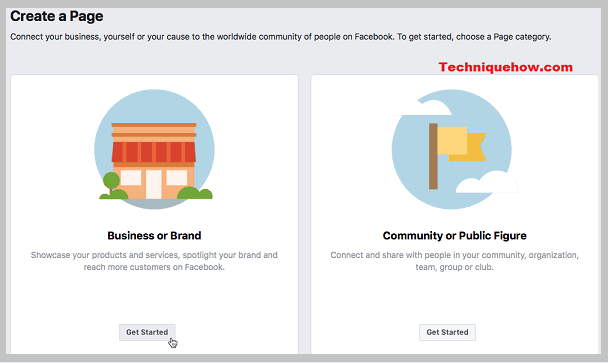 Step 4: In the left panel of the next screen, choose a page name. To decide on the page name, You can choose your business or brand name, which people may search to find your business.
Step 5: Furthermore, write two-three words to search for the term that best describes your business type in the "Category" column.
Step 6: Now, write some description of your business in the "Description" column. Remember to keep it small which comes under 255 characters.
However, you can see the preview of your page on the right side as soon as you fill in all the above details.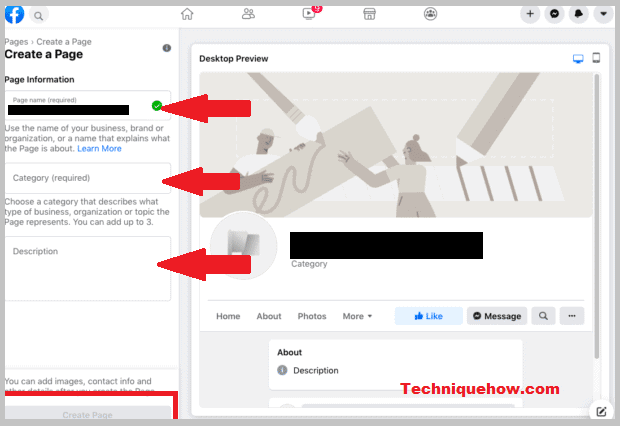 Step 7: Finally, click on "Create Page" to create your own business Facebook Page.
Step 8: Now, Click on "add the profile picture" and then "add cover photo" to upload your image or the business logo. Afterward, click save at the bottom. It will help potential audiences to recognize the page.
Step 9: Finally, A pop-up appears for connecting your page to WhatsApp. Fill in the phone number and SMS code to verify or if you don't want to connect, simply click the "X" icon to cut the pop-up.
Now, proceed to the next method by inviting your friends.
2. Invite friends to like Facebook Page
As compared to earlier versions of Facebook, Inviting all your Facebook friends is way easier now because you no longer need to install or use any extension to send invitations and can invite friends to like your Facebook page from Facebook only.
Let's discuss some step-by-step guides to invite all your Facebook friends to like your Facebook page.
Step 1: After opening the Facebook application on the browser, log in to your Facebook account. If already logged in, skip this step.
Step 2: In the sidebar, click on your Facebook page to open it.
Step 3: Under your cover photo, you find three horizontal dots beside the option of like, follow, and share. 
Step 4: Click on those three horizontal dots.
Step 5: Then, you will see so many different options but find and click on "Invite Friends".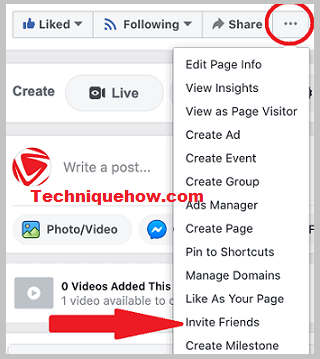 Step 6: Furthermore, choose the "Not invited" bar. However, it will open by default; if not, open that bar.
Step 7: Afterward, click on "Select all" from the top right side of your friend list.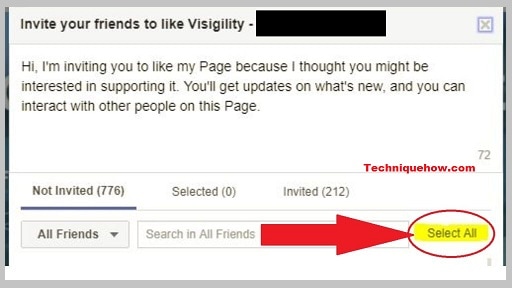 Step 8: Don't forget to add a customized message from the top of the column that says "invite your friends to like…". It will become a generic invite by telling the story.
Step 9: Now, click on "Send invites" to send the invite with a customized message.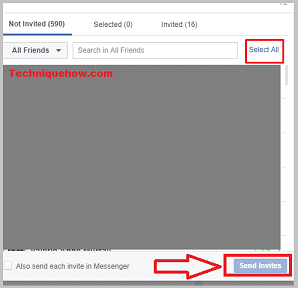 When your friends like your page, they will become followers. This strategy will definitely work if you have a bunch of friends and they all like your page.
3. Profile to Page Converter
🔯 Difference Between Facebook Page and Profile:
Professionals use Facebook Page to promote their brands or to stay connected with their customers and supporters.
In addition, Facebook Page offers the features of Ads, Insights, Monetization, and many more things.
While making any Facebook Profile, you have the choice to add personal information about yourself; Facebook asks you to upload the profile photo, your hometown, your current city, your education, your interests, etc.
In addition, You can share photos, videos, and your thoughts whenever you want in the feed.
Besides, you can sync your contacts or search in Facebook search for the people you know available on Facebook.
In short, Facebook Profile is a great option for staying online and giving updates to your family and friends.
If you are promoting or marketing your business and brand to monetize your content on Facebook, Facebook Page is better than a Facebook profile for you.
🔯 Is it Possible to Convert A Facebook Profile to Page?
In earlier times, Facebook gave options to their users to convert their existing profile to a page in which they get a feature to transfer the Profile friends into followers on the page. Everyone had the choice to do this by generating a page with the information already provided. But this option is no longer available.
Instead, Facebook has an option in which you can create a new Facebook Page from scratch.
The Bottom Lines:
However, you can not convert your profile into a page but can create a new Facebook page and keep both your profile and page.
In addition, you will get a step-by-step guide to making and customizing your own page and invite all your Facebook friends to that.
Also Read: