Your Quick Answer:
To delete all Instagram Posts or images, you have to log in to Instagram and change a temporary password on your account (for safety).
Then from the app select the images & tap on Delete all. If you are going with the process to delete all of the images one by one, definitely, this is more time-consuming in case of lots of images.
Instagram does not allow multiple deletions of posts, images, or even videos. That is why find some apps on the play store to make the mass deletion happen.
There are a few apps that can remove all your Instagram posts in a single click.
This took only 30 seconds to delete multiple posts including videos or photos in this process.
Unfortunately, these applications are removed from the Google play store and are no longer working. Rather here is the best suggestion for you.
But, you will lose all of your followers and the following list, to regain this just try these methods.
Instagram has the feature to either delete a post or hide all posts from everyone. If you are having many more old & important photos or videos, you can also archive them for the best.
How To Delete All Posts On Instagram:
As of now, Instagram has unlimited space for archiving photos. If you have more than one post to archive, just repeat the same process again.
You can archive the posts on Instagram until you have no images left in your account. Always remember that archiving photos on Instagram does not mean deletion.
1. From PC
Instagram is available on both Android and iOS mobile. You enjoy all of the features on apps if you have one.
Remember that using the PC version you have to delete the images one by one. You cannot delete it in mass while you're on the desktop.
Although, you can take the help of Bluestacks that can install Instagram into it, and do the deletion.
Also, for the desktop, you have an extension available in the chrome web store that can help you delete photos at once on Instagram.
It is possible to delete all Instagram photos or videos with just a click. But, for this, you have to take the help of third-party party tools that are available in this context.
These apps help to clear up even your total account posts including photos and videos.
2. Delete Single Picture from Carousel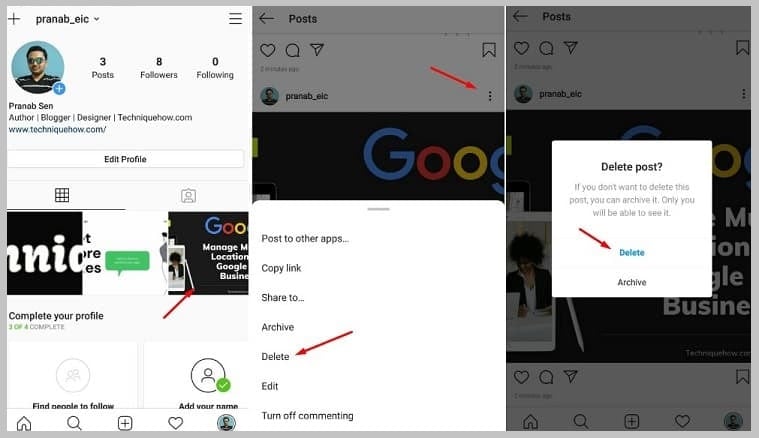 Now before providing you with this information, a quick overview is provided to delete a single photo on Instagram in case you need it. To delete a single picture from a carousel post on Instagram or from multiple ones, just follow these steps:
🔴 Steps To Follow:
Step 1: Firstly, open the Instagram app on your smartphone.
Step 2: Hit on the profile icon which is present in the bottom bar. After you have completed this step, tap on the photo that you plan to delete. On a carousel post, you may have up to 10 photos or videos. Just select one for deletion.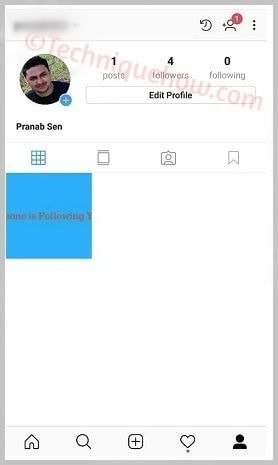 Step 3: After selecting the photo tap on the vertical-dots icon that is present at the top right side, as soon as you hit the icon, a small box will appear giving you the option to delete.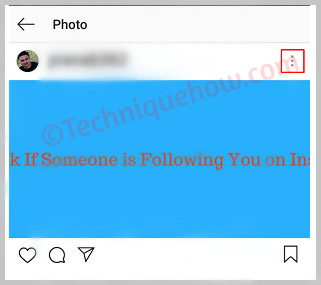 Step 4: As soon as you hit the delete option, a small dialog box will appear which will have the option of the archive and delete.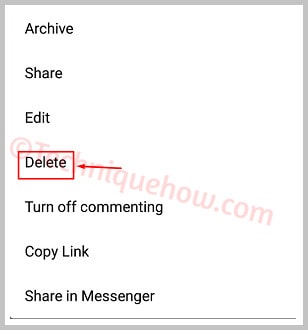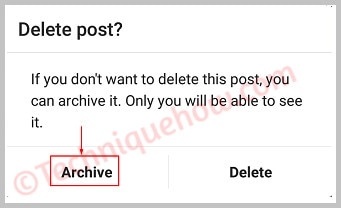 If you hit on the archive, nobody else could see the photo other than you and if you hit on 'Delete', the picture will be deleted instantly.
3. Using Apps
Deleting multiple photos is not a tough thing to do. If you have the correct direction of use you can do it very easily.
As you know by default Instagram does not allow users to delete total account images. So, you have the solution in this article which might give you ways to delete multiple photos at once from your Instagram account.
These apps are free to use and you can get those easily from the internet just by searching the name on Google:
Instant cleaner
Cleaner for Instagram
Mass delete for Instagram
Note: These applications are no longer working and removed from the play store.
🔯 Instant Cleaner – Delete Multiple Photos
The instant cleaner is one of the best applications for the mass deletion of Instagram photos. Using this tool, the user can delete multiple photos with a single tap.

With the help of this tool, the user can perform the following functions: Delete photos in bulk, Unliking several photos and videos, Block multiple followers, and Unfollow users in bulk.
To mass delete Instagram photos using the app,
Step 1: First, open the Google play store and install this application, if you have trouble downloading the application from the Google play store then you can use the APK file (link added).
Step 2: Now after you have finished downloading and installing the application the user is advised to log in with their Instagram credentials. Once you have logged in, go to the post option which will be present at the bottom bar.
Step 3: Once you hit the post option, the application will automatically provide you with all the photos and videos that you have posted on Instagram. Now select the number of photos that you want to delete.
Step 4: After you have finished selecting the number of photos that you want to delete tap on the delete option which will delete the photos in Bulk or Mass and the videos that you have selected in the first place.
That's all easy.
Also Read: