✎ Key Takes:
» You can temporarily deactivate your Roblox account by mailing a request to the Roblox team or contacting customer care, following their specified process.
» Using the helpline number to request account deletion under GDPR rules if your initial request remains unanswered. Avoid attempting to break terms and conditions unless you're prepared for a permanent ban without the possibility of account recovery.
» However, If you face challenges with deactivation, consider reaching out to the helpline to ensure compliance with GDPR for the removal of your Roblox account.
How To Deactivate Roblox Account Temporarily:
You can delete your Roblox account by staying inactive for years and they would do that themselves or you can place a delete request. But you won't have the right to delete it by yourself as Roblox doesn't permit its users to do that.
There are methods that you can use to get your Roblox account deleted.
1. Remain Inactive for years
If you want to delete your Roblox account, but it isn't a desperate situation that you need to get that done immediately, then all you have to do is to stay inactive for years and don't use the account. Leave that Roblox account unattended.
This is an indirect method that you can use and your Roblox account will be deleted even when you haven't placed any request for it.
2. Request Email support
If you want to delete your Roblox account, you need to send the request over Email.
As Roblox doesn't have a feature that can delete the account directly, the users need to mail and send the request to the staff so that they can get to know about the request and accept to delete the account.
It's an easier way and you can place the request in no time and send it to the address: [email protected].
This is the support mail handled by the helpline staff. You need to mail them requesting them to delete your Roblox account as soon as possible and wait for them to get back to you. You should also add your Name, email, and address for the ID verification to make the process easier and quicker for them. These details are necessary as they would also help them to identify your identity and verify that it's not a fraud.
Note that you need to make sure you're typing the right information in the mail so that they can proceed ahead with your request.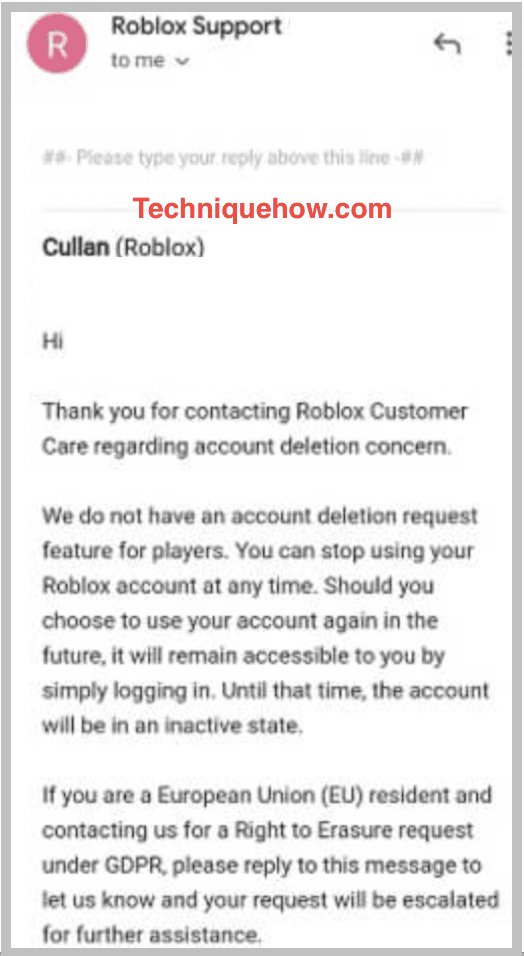 Now, if you see they denied by saying it's not an available feature then you can take action under the GDPR rule to erase your account by simply replying to that mail and they will tell you the required steps that you have to follow.
3. Calling customer service
This is another way you can apply or use to delete your account. Call on 888-858-2569, this is the customer service number which is a helpline where the users can place a request regarding their Roblox.
You call this helpline number and place your request for deletion or your Roblox account. When you're calling, make sure you request them using a polite tone and speak to the representative answering the phone in a way so that the person can understand your request and proceed with it.
These three methods can be used to get your Roblox account deleted. Once you place their request, they'll get back to you with their answer and they'll proceed to delete your Roblox account. You can also ask to erase the account under GDPR rules.
Note that once deleted there are no chances that you can get your account back again.
How To Delete A Roblox Account:
You can try the following methods below to delete an account.
1. Roblox Account Deletion Request
You should use the official Roblox support system to request the deletion of your account.
🔴 Steps To Follow:
Just try the steps below:
Step 1: First of all, log in to your Roblox account.
Step 2: Then, navigate to the Roblox support page.
Step 3: Next, submit a support ticket explaining that you want to delete your account.
Step 4: Now, wait for the support team to process your request and follow any additional instructions they provide.
2. Account Deletion via Email
Just use this method to delete your Roblox account.
🔴 Steps To Follow:
Just go with the following steps below:
Step 1: First of all, send an email to the Roblox support team.
Step 2: Then, simply explain your request for account deletion and provide your account details.
Step 3: Next, wait for a reply from the Roblox support team with further options.
Now, complete the account deletion process.
3. Contact Roblox Support
You should contact Roblox support directly to request the deletion of your account.
🔴 Steps To Follow:
Now, try the following steps below:
Step 1: First of all, visit the Roblox support website.
Step 2: Then, fill out the contact form with your account information and request for account deletion.
Step 3: Now, wait for a response from the support team with further instructions.
Finally, take some steps to delete your Roblox account.
4. Getting Banned on Roblox
Deleting your Roblox account intentionally and permanently can be done when your account gets banned by Roblox itself.
You can't just delete your Roblox account like that; it is an indirect way for which you have to use your account to perform offensive stuff to get it banned.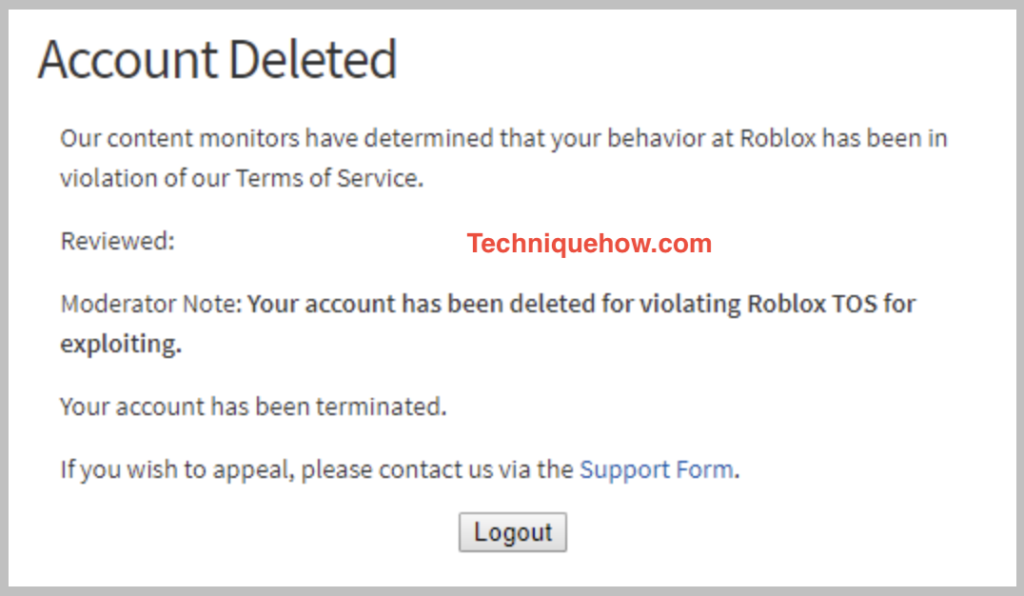 If you upload offensive pictures on Roblox three times then they will delete your account permanently. So if you're in desperate need to delete your Roblox account, you need to act offensive intentionally by disobeying TOS so that when they find it, they will ban your account on the grounds of uploading inappropriate pictures.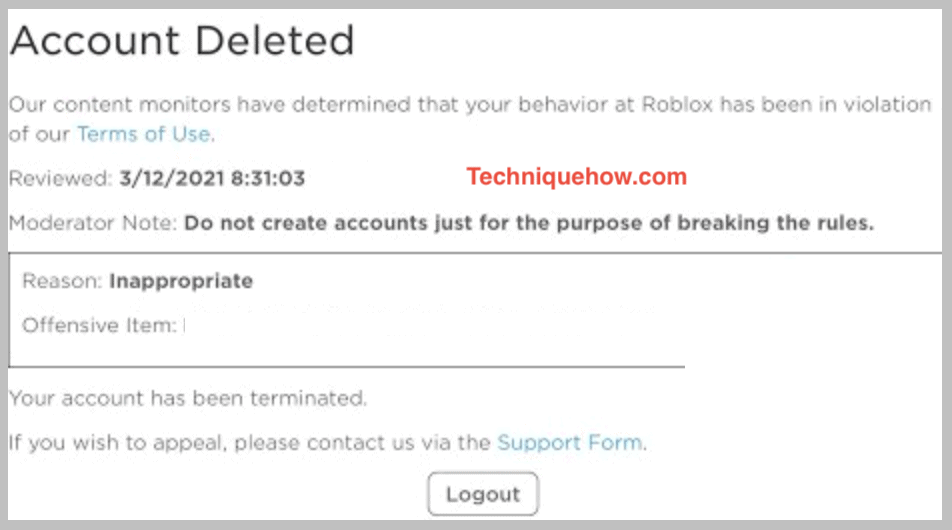 Note: If it happens three times then they won't allow you the fourth time to do so but ban your Roblox account. But less than three times uploading inappropriate pictures might just get you deleted from Roblox.
Deactivate Roblox Account Temporarily With Spam Approach:
Step 1: Open your Roblox account, and click on the option Create to start the process.
Step 2: Now on the next page, from the side menu click on Decal.4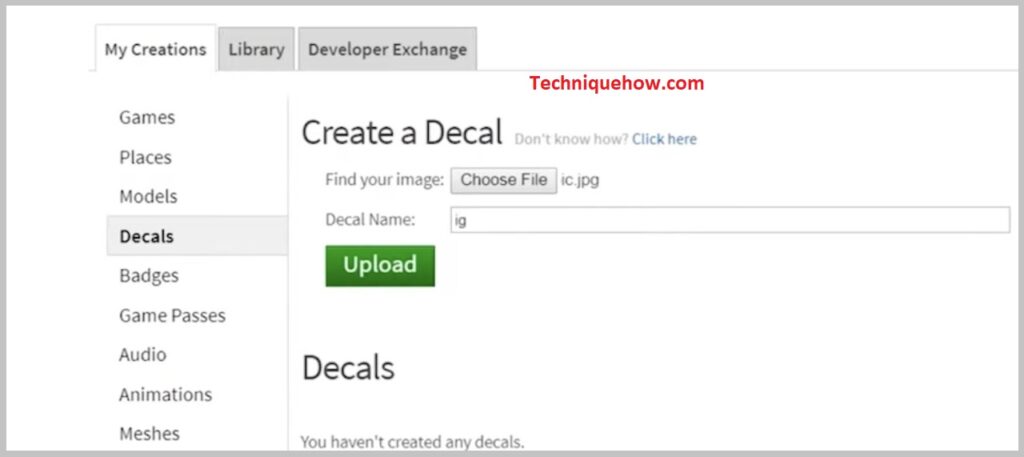 Step 3: Then you need to upload any inappropriate image thrice.
Step 4: Click on Choose File and choose images from the memory of your device which are inappropriate according to the terms of Roblox.
Step 5: Now click on Upload after you've chosen the images to spam upload.
Step 6: Do it three consecutive times and you'll see a warning on your screen after a few minutes.
It's done. Check after a few minutes and you'll find their notice which informs you that your account has been banned for uploading inappropriate pictures. It's a permanent deletion of your account.