If you want to find the fake profile and if you're an expert in spying then you can just tell if an account is fake or not just by looking at a few indications.
The tools actually use these algorithms and make a system to understand what is inside the profile and thus identify the fake account on Instagram.
Now, if you want to track a few fake accounts on Instagram you can use the tools that can show you the fake profiles analyzing the factors on those profiles.
There are a few tools mentioned here and you can find the best one according to its features and efficiency that might help you understand any fake profiles on social media.
If you are looking for a fake Instagram profile then the Fake Checker tool is the one that you can use for free.
☛ There are also some best apps that you can use on your mobile to find fake profiles. Just try the app to detect fake accounts and this might work.
This article will explain the best tools that you can use to get actual results and find out the fake profiles or fake followers on Instagram and remove those followers in one go.
How to Spot a Fake Instagram?
If you have too many followers then this is the time to analyze and find the fake ones to remove from your list. Getting too many followers is a tough task for a few people, but some people achieve it by creating fake accounts.
So, how to know whether the account is fake or not? Let's jump on to the points.
An account can be described by its bio or description. If the account seems to be randomly generated then it can be a fake account.
If the account includes posts, but all posts only consist of fake discounts on some products, suspicious giveaways, and promotional stuff, that may be the fake profile.
If an account contains a huge number of random followers and with no consistent commenting on their posts, then the account is fake.
If an account doesn't contain too many posts and seems to be shady, then it is fake. Here you can read the steps to find a fake Instagram profile.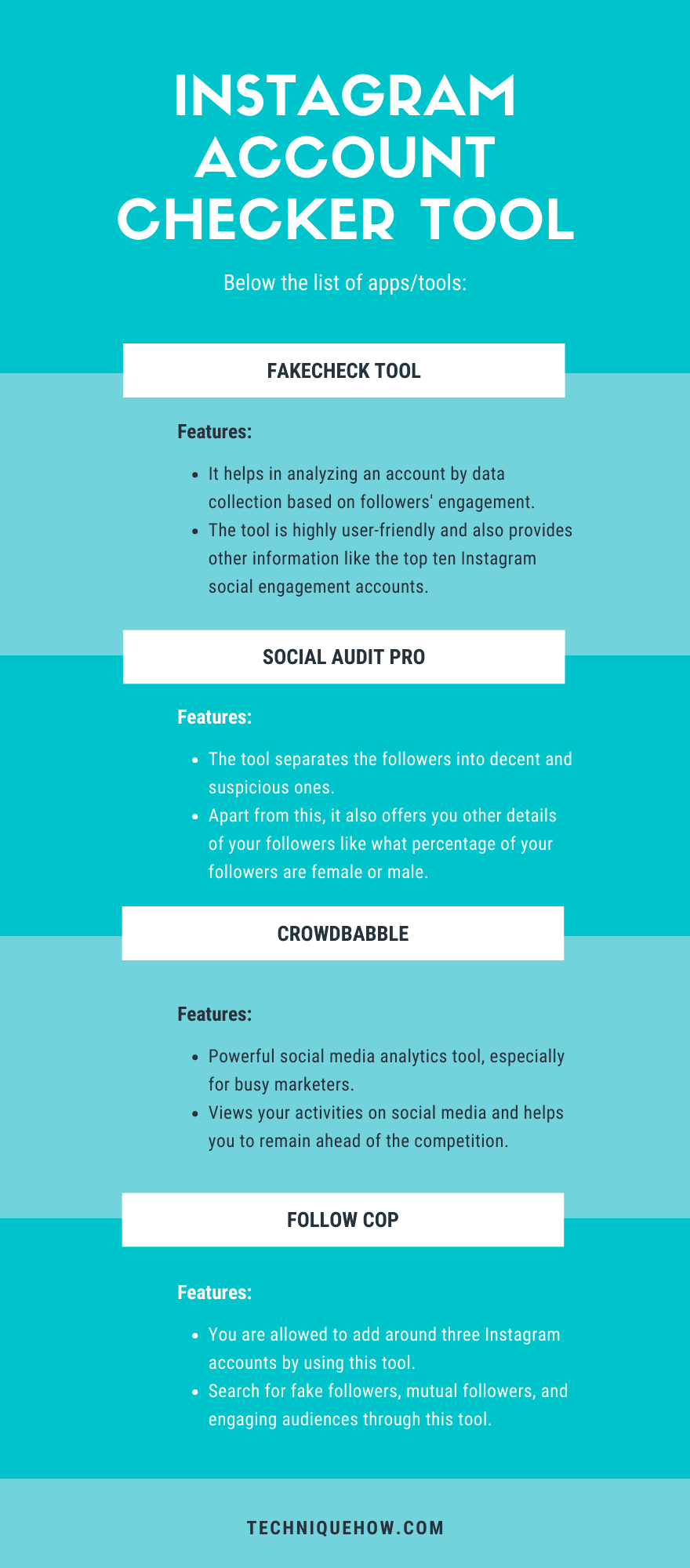 Let's look at these tools how they work along with steps:
1. FakeCheck Tool
If you want to check an Instagram profile to know whether it is fake or not then the FakeCheck tool can help you do that. This is one of the best fake profile checker tools that enables you to check whether the account is fake.

Features:
It helps in analyzing an account by the data collected based on follower's engagement.
The tool is highly user-friendly and also provides other information like the top ten Instagram social engagement accounts.
But, it requires payment, if you want to get information then you need to pay for it.
This Can Help You In:
To achieve new followers when you are new on Instagram, let's see how to check a profile:
Check whether an account includes a profile photo. If it does not include any then it would be a fake account.
Check the followers and following list of an account. If the account doesn't have any followers and follows it can be a fake account.
2. Social Audit Pro
If you want to keep track of fake accounts or want to get rid of fake followers, this is the best tool that will analyze your followers and will tell depending on a few factors.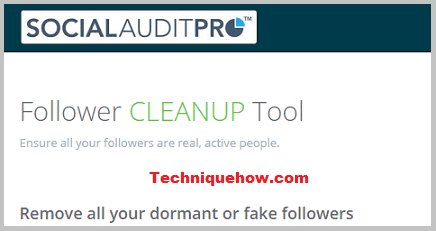 Features:
Let's discuss its features:
The Social Audit Pro tool helps you to analyze every follower.
The tool separates the followers into decent & suspicious ones.
Apart from this, it also offers you other details of your followers like what percentage of your followers are female or male.
Scanning of comments and likes that enables you to distinguish engagement from fake ones.
This Can Help You In:
The Social Audit Pro tool can analyze Instagram profiles in such a way that can show you if the profile is fake or not.
Let's head towards the steps to check an Instagram profile:
Firstly, visit Social Audit Pro tool.
Check the posts of an account, if the user of that account used to post too many posts in the beginning but now doesn't post anything, and is inactive for the long time. Then it would be a fake account.
Check the comments on your posts and if that account posts a lot of comments rapidly, that could be a fake account.
3. Crowdbabble – Social Analytics
Crowdbabble – Social Analytics, a fake Instagram profile checker tool that contains many features and would help you a lot.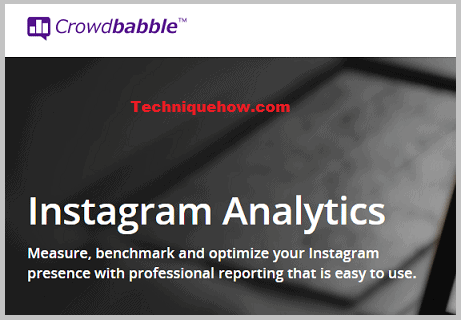 Features:
Let's directly read the features of the tool:
It offers professional reporting so that you can track social media performance.
Powerful social media analytics tool, especially for busy marketers.
Greatly views your activities on social media and helps you to remain ahead of the competition.
Also helps in optimizing your social media platform by understanding the audience.
This Can Help You In:
To check whether the account is fake or not there are various indications that Crowdbabble would show.
Just follow these steps and you will get to know:
First of all, go to the Crowdbabble tool page.
Check the audience engagement of the account. If the user has thousands of followers but getting only a few likes on posts then the account could be fake or non-popular.
Check the pictures of the account, if every photo on their account is of random people, not of any particular person, then the account is fake.
4. Follow Cop App
By using the Follow cop App, you can get all the information about any Instagram profile. It has become the most attractive Instagram spy tool, especially on Android.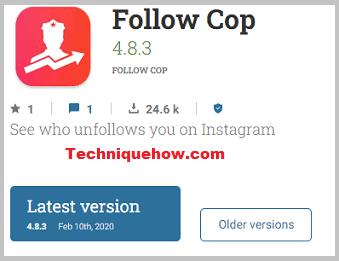 Features:
Let's know its features:
With the help of this tool, you can gain more popularity on Instagram.
You are allowed to add around three Instagram accounts by using this tool.
Search for fake followers, mutual followers, and engaging audiences through this tool.
You can even add your favorite user to the whitelist by using this tool.
This Can Help You In:
To know whether the account is fake or not is a simple task. But, for that, you need to know how to check the profile.
Keep a check on the follower's list of the account, if there is a sudden increase in the followers then the accounts may be fake.
Just check out the bio of the account, if the bio is left blank or only contains a few emojis, then it could be a fake account.
The Bottom Lines:
This article explained what you can do to spot a fake Instagram profile and if you want to do it quickly then you can just use the tools that can help you to analyze the profile and show you the indications, from that you can easily identify if it is a fake account. Now, the decision to make to be it fake or not is by yourself seeing these above indications.
Also Read: