Your Quick Answer:
To find the email ID from a Facebook user's profile, try extracting it from a person's Facebook profile.
You can also get it from other social networking platforms if available there.
The email finder tools can also provide you with details of email for the Facebook user.
You also have an option to ask the person directly for their email ID on Facebook.
You can also try the steps to find the email if it's hidden.
You can also follow these,
1️⃣ Get an Email Finder tool on your chrome browser.
2️⃣ Now extract all emails for the Facebook users.
List out these emails for your use.
This article will explain all the methods that will help you get the email ID of a Facebook user either directly or using a few tricks.
How To Find Someone's Email On Facebook:
There are some ways that you can follow to find the email address from someone's Facebook account. Let's get into these:
1. From Person's Facebook Profile
This method is simple yet effective as most Facebook users choose to make their email addresses available on their Facebook profiles. But it will work only in the case when all the personal information of the user is not hidden from the public.
You just need to follow the steps explained below:
Step 1: Login and head to the Facebook profile page of your friend or prospect whose email address you are looking for.
Step 2: Now Select 'About' from there. Then go to the Contacts and Basic info for Email.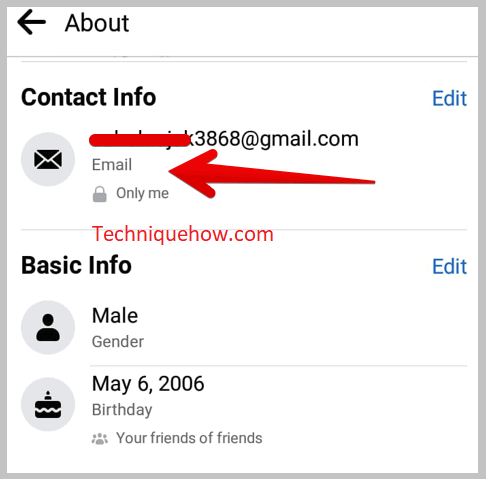 Step 3: You can spot the Email along with some other details (Birthdate, Relationship status, contact number, etc. if not hidden) of that person in this section.
You simply need to follow the above procedure correctly in the same sequence: Person's profile page > About > Contacts and Basic info. And if the user has made his email address available on his profile to the public then you can easily get it from there. In case you are unable to extract the email address using this method you can try the other methods.
2. Tap on Send Email Button
There are some users whose profiles and pages provide you email option turned on, you can tap on there to see an email ID pop up in the compose mode.
This feature was recently introduced by Facebook for business or commercial pages labeled as 'Send Email'.
At present, this option is applicable for business accounts and not for Facebook pages.
Just follow the steps below to know the email ID or send emails directly to the user from Facebook:
Step 1: Open the Facebook app and log in to your Facebook profile.
Step 2: Search for the profile of the person whose email address you want to extract.
Step 3: You will be able to see the option 'Send Email' on his/her profile page, click on this button.


Step 4: Now, the email address will open and you can connect with that person.
This method seems to be beneficial for commercial institutions and their target audience as it avails the email address just by tapping the Email button. Likewise, the further mentioned methods also allow you to find an email address without any inconvenience if you stick to the order of the steps introduced.
3. Searching other Social Media
Finding the email address of the people is not a big deal if you have access to their Instagram or LinkedIn profiles as most of the time, these profiles contain concerning email addresses.
🔯 From Instagram:
Follow these steps to find an Email address from Instagram:
Step 1: Log in to the Instagram ID.
Step 2: Search for the username whose email address you require.
Step 3: Look over your Instagram bio or tap the Email button.
Step 4: If the person has not hidden it from the public, the email address is in front of your eyes.
🔯 From LinkedIn:
Proceed with the following procedure in the case of LinkedIn:
Step 1: Head to the LinkedIn Profile of the user (the owner of the Email address you are searching for).
Step 2: Open Contact info alternative.
Step 3: Now you can see the Email address if it is unhidden from the public.
This way, you can manage to get the Email address of that person if it is available for the public on these social media platforms else you can also try the upcoming method.
4. Using Email Finder Tool
Even after trying out all the methods, you may not be able to derive the email addresses, so this method can ease your nerves.
There are Email Finder Tools that enable you to find personal or business email addresses by using their names. These tools comprise all the public information for quite a while now.
Uplead is one of the most used email finder tools and offers you some of the most advanced features.

Then you can also use Hiretual as it sources more than 40 platforms. So you can choose among these options as per your requirement.
5. Asking the Person
There is an easy way that you must try at the first. You can send a message to that person on Facebook itself but make sure you follow the plan of action as described here:
Step 1: Open your Facebook account.
Step 2: Search for the profile whose email address you want in the search bar.
Step 3: Send a friend request to that person and then message asking for his email ID. (if you directly send a message, there are chances your message remains in the message request box and is not seen by the person).
Also Read: