Your Quick Answer:
To get an email ID from YouTube Channel, open any video, then go to the description section and, if it is mentioned there, you can get the email.
Many YouTubers have mentioned their Gmail IDs in the 'About' section. You can find it there.
If it is not mentioned in the 'About section', then there is another section under the 'About' section called 'Details', you will get the Gmail ID from there.
You can subscribe to their newsletter form and then you will receive mail from their official Email ID.
If this channel or owner has a LinkedIn account, you can easily open LinkedIn, and get the email ID from the contact info section.
If it doesn't show up there, text the owner directly to LinkedIn and ask for her Email ID.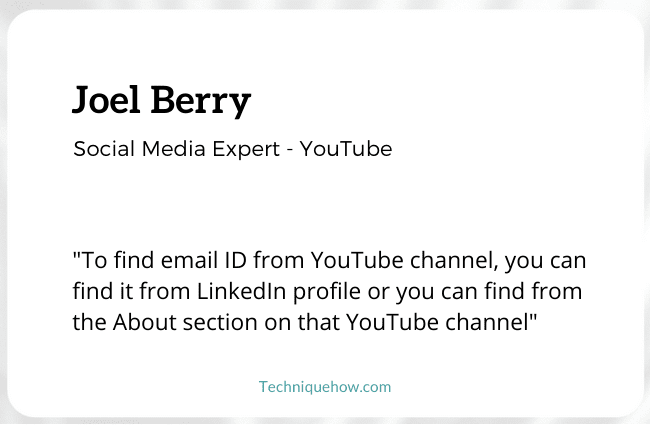 How To Find YouTube Channel Email ID:
There are certain ways that can help you see the email ID of a YouTube channel, just follow the methods below:
1. Look at LinkedIn
If the YouTube channel has its own LinkedIn account, then you can find the email ID directly from LinkedIn contact info.
Step 1: Open your LinkedIn app and sign in for your account.
Step 2: Search for the channel name or the owner's name and go to his profile.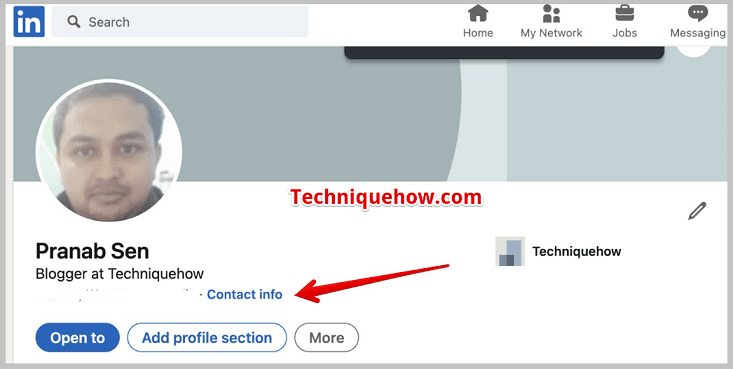 Step 3: Then press the three-dots button which is on the right side of the 'Add Section' option.
Now click on the 'Contact info' option. Here you get the owner's Gmail ID.
No need to worry if it is not mentioned there because LinkedIn is an official app for professional discussions. You can message the owner directly here and ask for his Gmail ID to officially contact him.
2. Open Video & Look at Description
The description is an informative section for YouTube videos where many YouTubers share their contact details, such as Gmail ID, and social media links in the description section, from where you can find out their Gmail ID.
🔴 Steps To Follow:
The following steps will help you to communicate with them via Gmail ID:
Step 1: Open your YouTube app and login into your account.
Step 2: Search for the channel from the search bar whose videos you want to see.

Step 3: Now go to the videos section where you can find all of the videos that the channel has. Generally, at the top, recent videos are shown and chronologically, older videos are shown under this.
Step 4: Open any video you want to watch, and then at the bottom of the video, you'll see a down arrow to the right of the video's name.

Step 5: Click on it and now you can see the description of this video, scroll down and you can see the Gmail ID, and social media links, at the bottom of the description.
3. Find from Channel About Section
YouTubers share their professional Gmail link through their about section for getting sponsorship or to contact someone. So you can easily find their Gmail ID from the channel's About section.
🔴 Steps To Follow:
Step 1: Open YouTube and log in with your credentials.
Step 2: Go to the search bar and search for the name of the channel whose email ID you are looking for.

Step 3: Open the channel and at the top of the channel you can see there are some sections: HOME, VIDEOS, PLAYLISTS, COMMUNITY CHANNELS, ABOUT.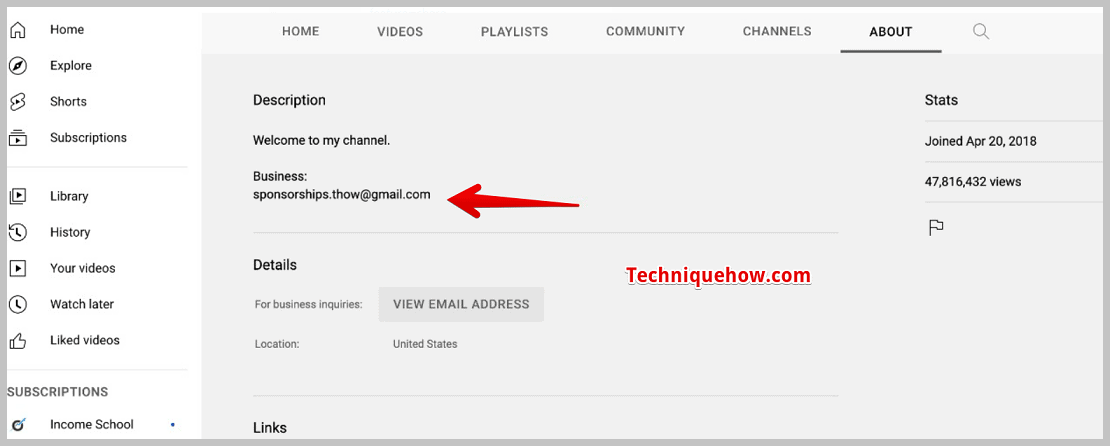 Step 4: Go to the ABOUT section and after scrolling down you can find the Gmail ID/Email ID under the description section.

Step 5: Inside the description section, you will also find other contact details such as phone numbers, social media accounts, and website links.
If you can not find an email ID, then the channel did not provide it there.
4. View Business Gmail Email
You can find an email address on YouTube Channel, using the new feature called VIEW EMAIL ADDRESS which shows you the email address associated with the YouTube channel.
🔴 Steps To Follow:
Step 1: Just go to someone's YouTube channel and open the ABOUT section.
Step 2: Inside the ABOUT section, you can see under the description section there is a section called 'Details'.

Step 3: There you can see an option 'For business inquiries' to VIEW EMAIL ADDRESS. Click on it.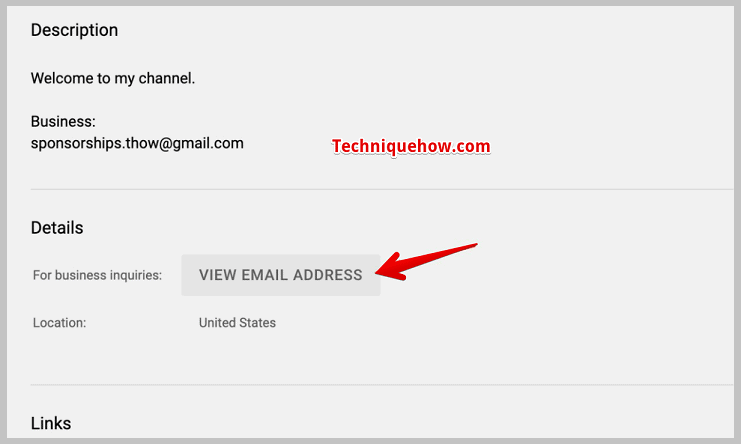 Step 4: After that, you have to click on the box "I'm not a robot" and click 'Submit'.

Step 5: Then you can see their official Gmail ID to contact them.
To do this on your mobile phone, open your Google browser and open 'youtube.com', then log in to your account. Now click on the three dots at the top right and convert this page to 'Desktop Site'. The next steps are the same as above.
5. Subscribe to Newsletter
YouTubers fill out the YouTube Newsletter form to view their channel's monthly analysis and collect mail from YouTube authorities.
YouTubers even create their own newsletter forms to promote their videos, which subscribers fill out and receive mail from the owner.
If you find a newsletter form in the description of the video that redirects you to a new website, then fill out this form.
If you fill out the newsletter form, you will receive emails from them about their new videos and other topics.
So, with this technique, you can know their email ID, and you can compose an email to their email ID to contact them.
Alternative to Find Email Address from YouTube Channel:
You can also try any tool:
First, open any YouTube email finder tool.
Put the necessary information onto the tool's input box.
Now the tool will extract all the details and would show you the email ID if that is available on that YouTube channel.
Frequently Asked Questions:
1. How to get an Email ID from YouTube Comments?
If a customer or viewer wants to contact the owner of a YouTube channel, they can ask for the owner's Gmail ID in the comments section. So, if the owner has agreed to share his Gmail ID in the comments section, then you can easily find it in the comments reply section. Generally, Youtubers do not share their Gmail ID in the comments section, but if it happens to you, then you can easily find it out.
If there are lots of comments and you are not able to find a comment, then you can use either scrapping comments tools or you can write a code to execute the comments on an excel sheet. In both cases, you can download all the comments and easily find the owner's Gmail ID, if the owner provided it.
Also Read: