Your Quick Answer:
To find someone's number from his TikTok, the account must be a TikTok business account. Then open their TikTok profile and go to their official website. There you may get some contact info about the person.
You can open your targeted person's profile and look at their posted videos to see if contact info is mentioned there or not.
Go to their other social media platforms (if available) like Facebook or Instagram to search for their contact number.
You can use some third-party tools which will help you to find someone's contact number. You just have to enter the username of the person and the tools will find their contact details.
Also, you can go through TikTok's suggested contacts to find someone's phone number.
How to Find Phone Number from Someone's TikTok Account?
There are some ways that you can help you find the phone number from someone's TikTok account, let's dive in:
1. Checking Website from Profile
If you are a regular user of TikTok, then you can know that there are two types of accounts on TikTok. One is a normal user account and another one is a TikTok business account. If you are using a normal user account, then there is a chance that you will not reveal your phone number on TikTok. But if you are using a TikTok business account, then in general, you can see that the maximum business account on TikTok has their individual websites which they linked to their Tik Tok profile bio.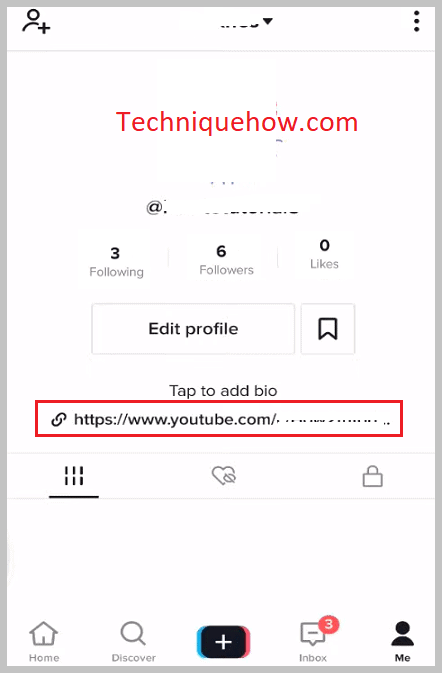 If you go to their websites, then you are able to get more information that they don't share on Tik Tok. Among other information, you can get their phone numbers also if it is available there. If the phone number is not available, then you can send them an email also and ask for their phone number because email is available on any business website. This is an indirect way to get a phone number from Tik Tok but it still works.
2. Look At Posted TikTok Videos
You can go through the Tik Tok videos to find someone's phone number. If you are looking for someone's phone number, then go to the targeted person's Tik Tok profile and search for their posted videos. Many Tik Tokers mentioned their other social media details in the description of their posted video on Tik Tok.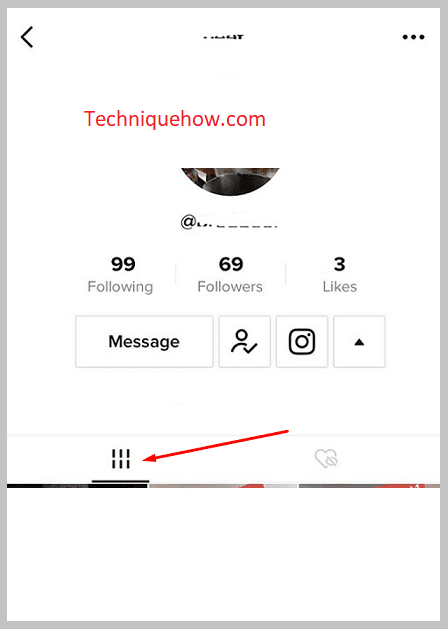 If they mentioned their contact details in the description of their videos, then you will easily get their phone number from the description of the video. Otherwise, you can go to their respected social media platforms and try to find out their phone numbers if they are mentioned there. If it is not mentioned there, then send them an email and ask for their phone number.
3. Search Other Social Media (Of the Person)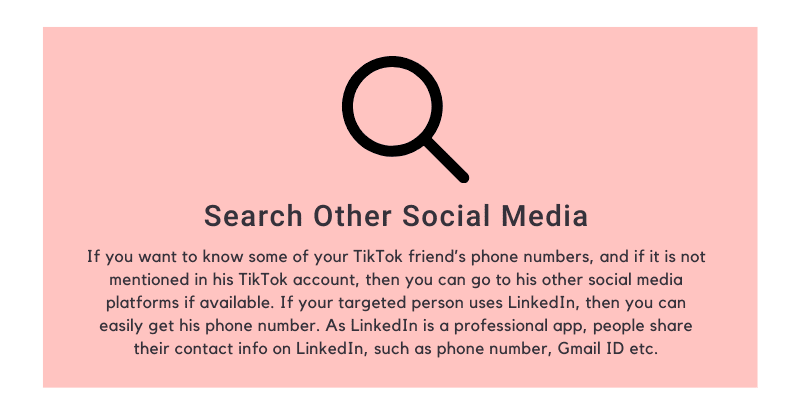 If you want to know some of your TikTok friend's phone numbers, and if it is not mentioned in his TikTok account, then you can go to the user's other social media platforms if available. If your targeted person uses LinkedIn, then you can easily get the user's phone number. As LinkedIn is a professional app, people share their contact info on LinkedIn, such as phone numbers, Gmail ID, etc.
You can get your targeted person's phone number from here. You can also go with their Facebook account if available. In the Facebook "About" section, if they do not set their phone number as "Only me", then you get their contact number from here.
Similarly, you can go to other social media platforms like Instagram, and Snapchat and try to find your targeted person's phone number.
4. Third-Party Tools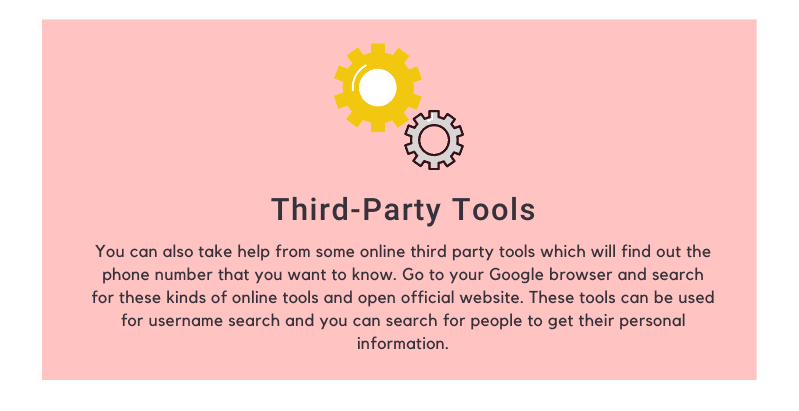 You can also take help from some online third-party tools which will find out the phone number that you want to know. Go to your Google browser and search for these kinds of online tools here and open their official website. These tools can be used for username search and you can search for people to get their personal information.
You can perform the reverse phone lookup as well as reverse email lookups with the tool. You just have to enter your targeted person's TikTok username here on this tool and it will give you all the details regarding contact information. Sometimes, for some particular third-party tools, you have to buy their subscription to see your results.
5. From TikTok Suggested Contacts
If you turn on the 'Suggest your account to others' option, then it will suggest you add some people whom you might know. It will suggest the person's name whose phone number is in your phone contacts or who is on your friend's list on Facebook. One thing to keep in mind is that if the "Contacts" setting is turned on in the "Suggest your account to others" section, if you add your phone number to your TikTok account, your account may be suggested to someone else on TikTok, and the person with your account.
It is suggested that they choose to sync their phone contacts to TikTok and that your phone number is in their contacts. If the other options like "Facebook Friends" and "People with Mutual Connections" are on, then you can also get suggestions regarding this data.
🔴 Steps To Follow:
Step 1: Open the application and tap on the 'Profile' in the bottom right.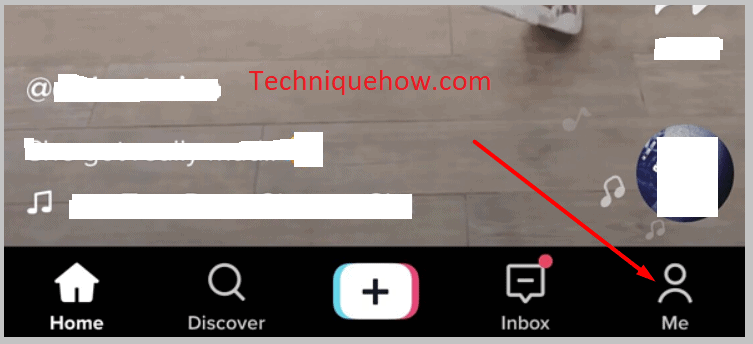 Step 2: Click on the three-dots icon in the top right corner to go to your settings.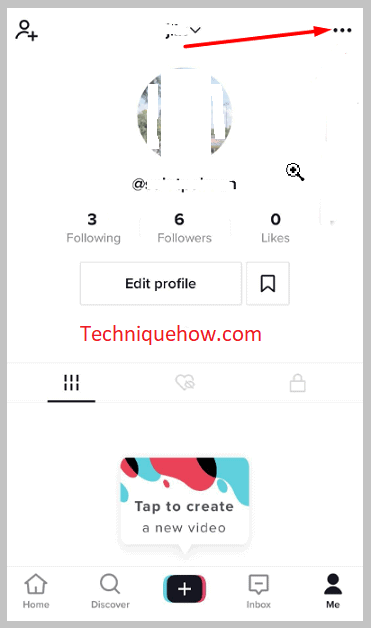 Step 3: Tap on the 'Settings and Privacy' and then tap 'Suggest your account to others' and make the changes.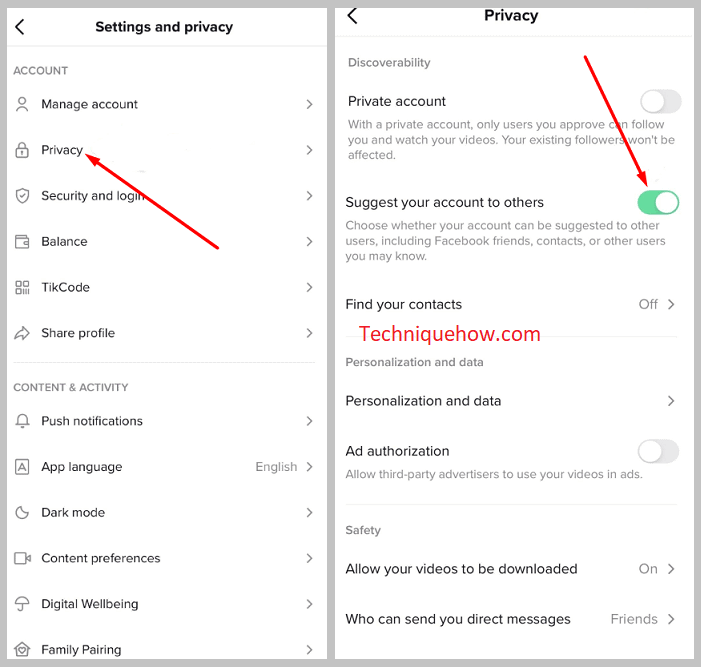 6. Directly Ask User
Suppose your targeted person has no other social media platforms and he/she does not mention their contact info on Tik Tok also, then there is only one thing that you can do, which is directly asking the user for their contact number. But before asking the person, make sure that you have a valid reason to want user's phone number. Otherwise, they will not share their phone number with an unknown person.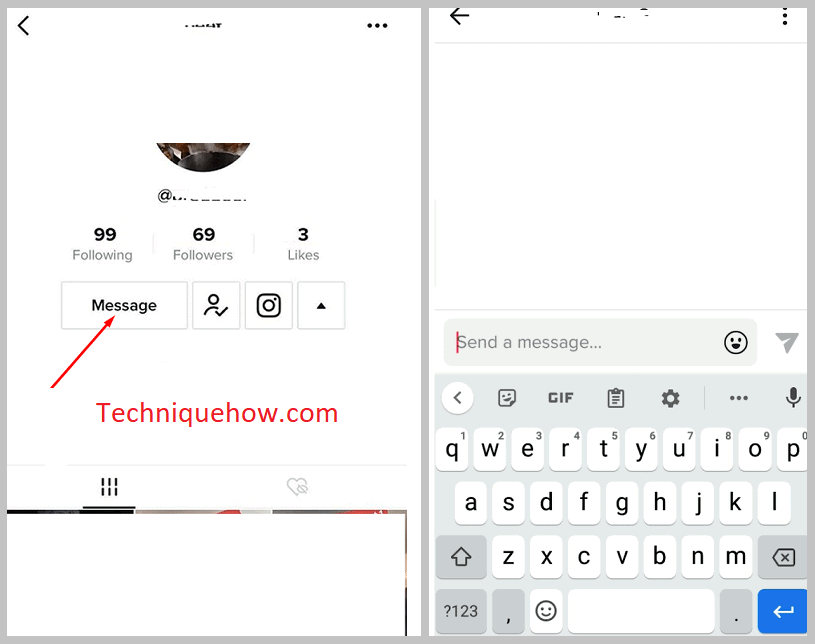 If you want to talk about some professional things, then you can go for it and ask for the user's number directly. Instead of asking for his phone number, you can ask for the user's Gmail ID to send them an email and, after completing some good conversations, you can ask for the phone number.
Also Read: