If your Facebook marketplace is blocked or not available and showing an error then you might have violated Facebook marketplace policies. There are several Facebook policies that you have to maintain in order to keep your marketplace running.
Well, if that happened to you I will share the exact ways that you might use to fix the issue from your mobile device or PC.
During the fixes, you may face rejections a few times from Facebook but I just look into this and found a real working method that I will include in this article.
To fix the Marketplace that isn't available to you, first see the reasons stated on your profile for your Marketplace and then place a review request to Facebook. Now there are many restrictions to sell products and if you are not violating these policies, your access will definitely be restored on Marketplace.
If you're seeing that your Facebook marketplace isn't available then you have different reasons and there are a few types of errors that the marketplace users face. Now, I will explain the total detailed meaning of this type of error and why do these happen!
☛ You can try the methods to get unblocked from Facebook Marketplace.
Let's describe more about these.
For the first time if you're facing an error on the market that might say that your marketplace is blocked. Now, this determined automatically by the Facebook algorithm whether someone is violating the policies of the Marketplace. When you face such an error, you have a chance to contact Facebook-help to fix this error.
After you place a review request if you see that is disapproved then you will notice, you won't be able to buy & sell items. If that happens be sure that there is an issue with your products that is violating Facebook policies maybe unknowingly. As per Facebook, you can't show before-after images with products on marketplace listing, this violates the policies. If the review does not go in your way you will see that you can't buy or sell products and you can still place another request after necessary fixes.
Once you place the third review request for your Marketplace to be restored and the Facebook team still doesn't give access then will see the Marketplace isn't available to you in error. This happens to your Marketplace if any violation is still found there.
Now, you still have another chance to fix this error by request a review from the Facebook Marketplace groups. First, you must find:
A Market group where you can sell products. (That might not be any private group)
Look for those groups that show the 'Request Review' option on the page.
Once you find such groups then proceed to request in a few steps.
To fix the Facebook Marketplace error that shows 'Marketplace isn't available to you',
First, log in to your Facebook marketplace account and look for the 'Request Review' option on Marketplace groups that allow sales.
Next, tap onto the option and fill out the details describing the issue along with your Name in that form.
Then, on the completion of that form, you will get a notification.
You will receive an email stating that your marketplace is restored.
This happens to all if the marketplace is not found with any violation of the policies.
There is an alternative way, as Facebook now allows you to posts ads of your marketplace products, you can just reach to Facebook Business team from chat and tell them about the issue and let them know you want to posts ads for your marketplace products and they will restore your Facebook marketplace within a few days.
In this article, I will provide the step-by-step guide in order to fix the 'Marketplace isn't available to you' issue and the reasons that blocked it to avoid in the future.
How to Add listings on Facebook Marketplace?
Want to sell something on Facebook. Marketing is the best place for selling your products. Follow these simple steps that guide you through the process of adding a product on marketplace Facebook.
Step 1: Log in to your Facebook account. For those who are new to this platform and do not have a Facebook account, you need to first create your account.
Step 2: Once you are logged in, click on the Marketplace icon that looks like a small house on the menu bar.
Step 3: You will be directed to the Marketplace page. This is the place where you have to provide a detailed description of the product you want to sell.
Step 4: You are provided with the option of uploading a maximum of 10 images of your product.
Step 5: The location is by default your current location, which can be changed according to your need.
Step 6: Once done with providing the total description and uploading of pictures of your product, Click on 'Next' and your listing is uploaded ready for everyone to view.
That's all you've to do.
Why it is showing: Marketplace isn't available to you
If you are planning to sell something online, there is no platform better than Marketplace Facebook. Listing your product here is way easier compared to other platforms. However, it gets sometimes annoying when your Marketplace isn't available on your Facebook account. The most probable reason may be that it is just a temporary error that is shown or your Marketplace has been deleted due to some reason or it may have been blocked.
i. Seeing Temporary Error
This may just be a temporary error that has been shown may be due to a poor network connection or just a system error. If it's just a temporary error, it is resolved automatically over some time.
ii. Deleted Marketplace
The Marketplace must have been deleted from your account. This may be possible if you have not been using the Marketplace for a long time, or using language that is not supported. One of the reasons could also be that your Facebook account is not an updated version.
iii. Facebook blocked Marketplace
Your Marketplace could have been blocked by Facebook. The possible reason for blocking it could be that you must have violated the standard policies of using the Marketplace feature of Facebook knowingly or unknowingly. The icon is deleted by default by the system in violation of its policies.
Fix Marketplace isn't available to you on Facebook
The Marketplace feature of Facebook is an easy way for users to buy and sell their products. However, If you don't see your Marketplace or it is not available due to some of the other reasons, you can try these options and get your problem sorted.
1. Log out and log in
If Marketplace was not available due to a temporary error you can simply just log out of your Facebook account and login back in again. This was merely just an error and is easily resolved by logging out for some time and then logging back in.
2. Ask to Facebook Ads Team
As you know that Facebook marketplace products now can be shown in Ads and it will show the 'Sponsored' tag below the post.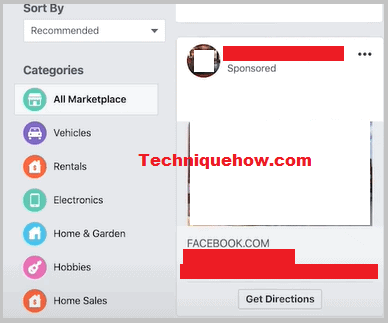 So, if your market is not accessible then just reach out to the Facebook Ads team or business team that you want to place ads for your market products that you've on your marketplace but it is blocked.
Now, request the team to review it right there and restore the access. They will just register a request and then the respective team will mail you in a few days that your access is restored.
3. Report to Facebook Help Repeatedly
Even after this if your problem is not resolved, try reporting your issue to Facebook help as many times as possible. This will help you make your issue noticed by Facebook. You should constantly keep reporting your issue unless it is noticed and has been resolved.
To report the Facebook Help team to fix the Marketplace issue,
Firstly, tap on the 'Request Review' option of groups on Marketplace.
Fill out the review form and describe your products that blocked your marketplace.
After 24 hours, if everything looks fine from the Facebook team you will receive a reply that the access is restored.
That's all you have to do multiple times if that does not solve on the first try.
The Bottom Lines:
Now, in this article, it is explained that the ways that you might take in order to fix the market error of any type then just by contacting Facebook. As the Facebook algorithm sometimes makes mistakes that are manually reviewed by the Facebook team. That's why place a review request and wait for the reply. You might have not violated the Facebook marketplace policies to get the access restored.
Also Read: