✎ Key Takes:
» You can use the online options to convert PDF to InDesign, as mentioned in the details provided about Adobe InDesign CC.
» There are some online converters or downloading extension tools directly onto your InDesign CC software for seamless PDF to InDesign conversion.
How To Convert PDF To InDesign Online:
Adobe InDesign can convert PDF files to INDD format if you use any extension tool on your InDesign CC.
The software comes with a free trial and also can be purchased for both your MAC and Windows PC.
These plug-ins are safe and easily convert PDF documents to InDesign making them editable. Just you need the InDesign CC to be installed on your PC. These plugins support InDesign CC 2014, CC 2017, and CC 2018 as well.
1. Convert PDF to INDD: PDF2ID (Windows & MAC)
PDF2ID, developed by Recosoft, works on both Windows and MAC. You will need to buy this plugin to continue the conversion process using your InDesign CC software. However, you can try the free trial version as well.
Just install the PDF2ID plug-in on your InDesign CC then follow the steps below to convert PDF:
🔴 Steps To Follow:
Step 1: At first, open InDesign and click on the 'Recosoft' option from the menu bar.

Step 2: An option will appear as 'PDF2ID-convert PDF/XPS file..'. Just click on it to select PDF files.

Step 3: Now, choose the files to convert to InDesign and click the 'Open' button.
Step 4: After that, a pop-up window will appear. You can select the pages to convert.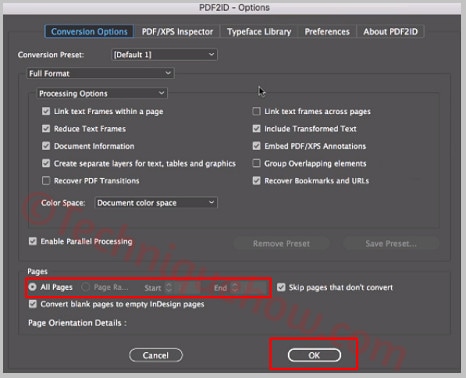 Step 5: Once you click on the 'OK' button the conversion will start automatically.

That's all. This creates a folder saving all the files in it.
2. Convert PDF to InDesign: PDF2DTP (MAC)
Markzware's PDF2DTP is an advanced software plugin for MAC users to convert a PDF file to InDesign. Just install it on your Adobe InDesign and follow the guide below:
🔴 Steps To Follow:
Step 1: Open InDesign CC and find for 'Markzware' tab from the above menu. Just, hover the cursor over it.
Step 2: You will get the option 'PDF2DTP' and then 'Convert PDF …' and click on it.
Step 3: Now, add a PDF file from your computer to convert into InDesign.
Step 4: Once you click on the 'Open' button, the PDF file will start to convert and will be opened in InDesign software.
Step 5: Now, click on the 'File' tab from the menu bar and click on the 'Save As' option.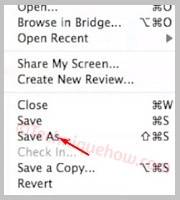 Step 6: A new pop-up window will appear asking to save the file into the .indd format. Just click on the 'Save' button to complete.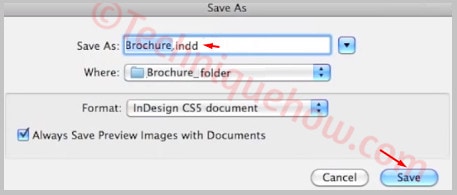 Once it's done, this will save the files in a folder.
🔯 PDF2ID vs PDF2DTP:
PDF2ID becomes a competitor with PDF2DTP plugins in MAC OS. The difference between these two plugins–the frames & time-saving.