✎ Key Takes:
» You can start the process of getting a taken Instagram username by attempting to change the current account's username and updating it on your new account.
» You can also report a trademark issue if your brand name has been appropriated by another user.
How To Get an Instagram Username That's Taken:
To get an Instagram username that's taken, you need to follow some methods.
Below you'll be able to find the perfect methods that you can apply to get back a taken username:
1. Change Previous Profile Username
The username that is used in your first account or on someone else's account, cannot be used twice. Therefore, if you're willing to use it for your second account, you need to first change your previous account's username, then as the username becomes available to use, you can use it as your second account's username. Instagram doesn't permit you to use a username that is used by another one.
Therefore if it's your first account where you're using that particular username, then you should know that until you change the username of your first Instagram account, you won't be able to use that particular username.
As Instagram doesn't allow you to use a username for different Instagram accounts, you can't use the same username for your other account. You can request someone (in the case of the brand name) to change his username and once it's done you can change it from your end by clicking on Edit profile.
Because the username is not used by anyone or on your first account anymore, you can use that as the username of your new account by replacing it.
2. Ask Person Directly
Another possible method that you can apply to get hold of an already-taken Instagram username is by approaching the person directly by messaging him or her. Usernames that are already being taken or used by other Instagram users are not available for you to use.
Therefore, reaching out to the user who is using that username through direct message is an option to get it done and you should do it if it's your brand name.
This is a straight and simple method where you need to find the account that is using the username, and then message the user, requesting to change the username so that you can use it from your end.
This method doesn't involve any controversy, rather you've to approach nicely and politely and convince the user of the account to change the username or to alter it to something different. When he removes or changes the username to something else, it will be available for you to use on your account.
3. Reporting Trademark
If an Instagram account is using the username of your brand, you have to report it directly to the help center of Instagram. Once you report the issue, they'll look into the matter and disable the account that is using your brand name illegally assuming that can mislead people. 
Therefore the username becomes available for you to use.
Here are the steps that you need to perform to report the Instagram account:
Step 1: Visit the Instagram help center to report the issue by visiting: https://help.instagram.com/.

Step 2: On the sidebar menu, you'll see the option Privacy and Safety Center.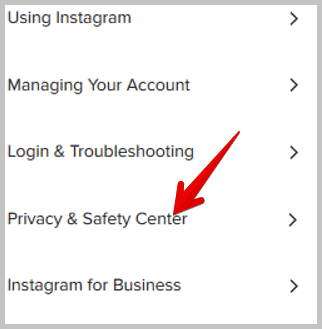 Step 3: Next, you need to click on the option Report Something.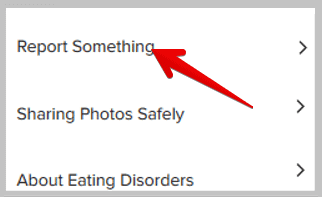 Step 4: Then, click on the option Intellectual Property violation.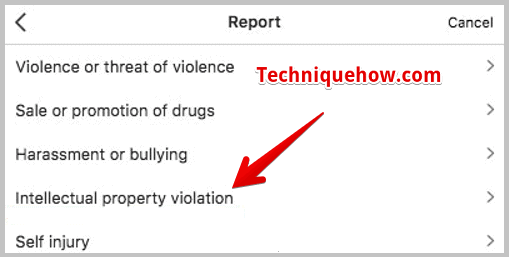 Step 5: On the right side of the screen, click on the blue text 'Learn more' about reporting trademark violations.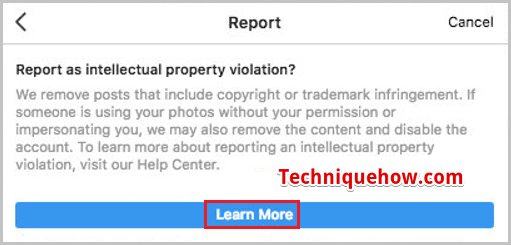 Step 6: Now you'll be taken to the Trademark Page,  click on the text: fill out this form.
Step 7: You'll be taken to the Reporting a Violation or Infringement of Your Rights on the Instagram page, where you need to choose the options Trademark and Continue with your trademark report. Then click on Send.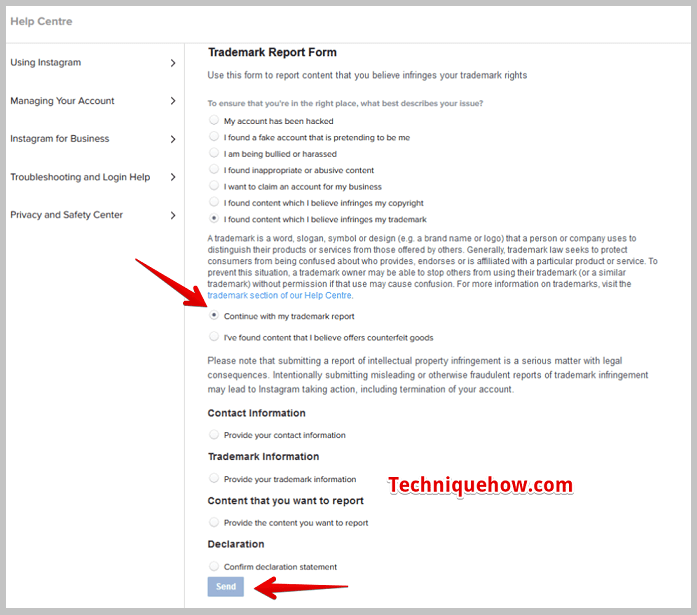 Step 8: Fill out the Contact Information section by providing all the correct details. Make sure you provide all the correct mail addresses.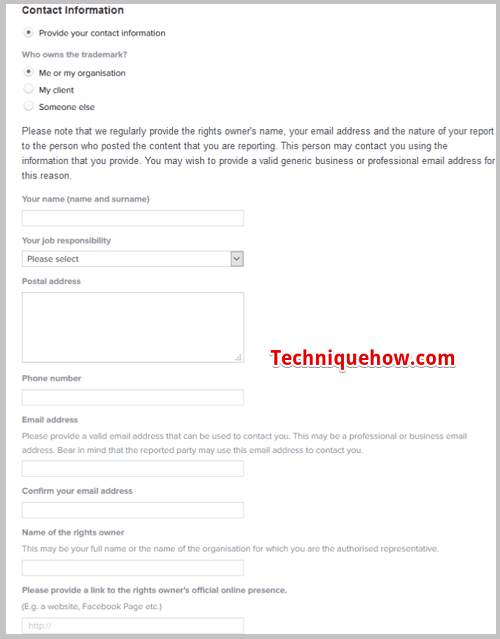 Step 9: Next, you need to fill out the Trademark Information section with the correct details. Provide proof of owning the trademark by attaching the link of trademark registration.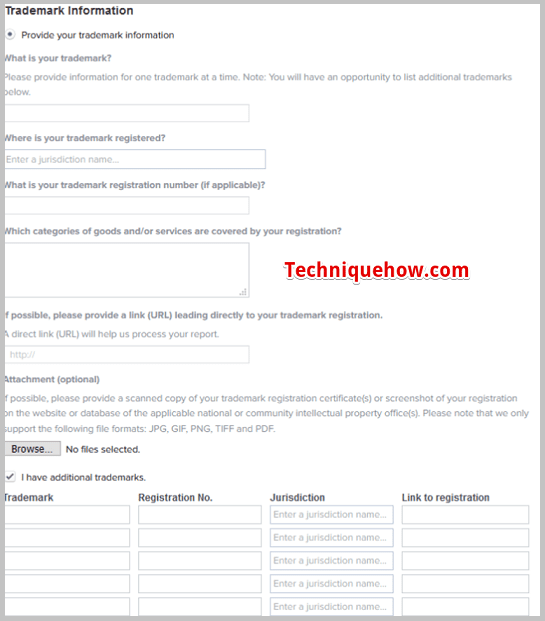 Step 10: For the next step, fill out the Content You Want To Report section by checking the box next to the option Username.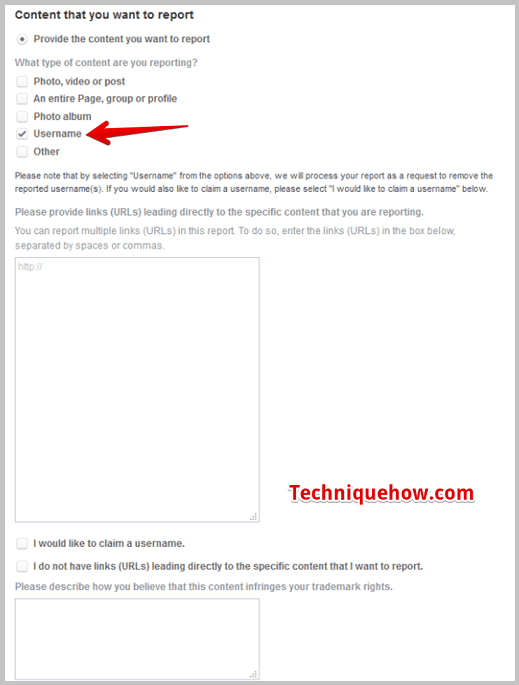 Step 11: Then you've to write a clear statement to explain the issue to get your trademarked username back. You've to be clear with all the reasons to get it back. Click on the blue Send button at the end of the page to report the issue.
You'll have to wait for the Instagram reply about the matter after they review the situation.
🔯 Try Alternative Ways:
If you need to have that username but you couldn't have access to it by any means, you can try and go for the alternative means to use it. As Instagram won't allow you to use a username that's being used by other account users or it's not valid to be used, you can alter the name slightly to make it something closer to the username that you wanted to use, but not the same.
Here are a few ways to modify a username and make it slightly different from the target username:
#1: You can add an underscore between two words, or at the last of the name to make the difference.
#2: You can slightly change it by adding a word of the user's location to the username.
#3: Try to make an abbreviation of the username so that it is no longer the same as the one that's taken by another user.
#4: Shortening the username to modify and use for your account can also be done.
#5: You can add a conjunction to the username to make it a little different from the other one. You can also add an adverb to alter the username.
#6: Try replacing a letter with any number at the start or end of the username.
#7: You can also use phonetic spelling to make a slight change to create a look-alike name.
Why Can't You Use a Username for your Instagram Profile:
If you're failing to get a username for your Instagram account, you first need to check if it's taken by any other account or if it's simply not a valid one to use.
Often when you want to have a username, you don't find it available.
This can be the issue of the username being taken and used by another account. Therefore, you can try and check for the account that's using the same username that you want to have the same.
It's a pretty simple way to find out by searching for it on Instagram. You'll be able to get hold of the account that's using the Instagram name you prefer to have.
In this case, it's possible to get the username by approaching them through direct messages, reporting issues, etc.
But in the case where you don't find any existing Instagram account that is using the Instagram username you want to use, you should know that it's not a problem of the username being used by others, but simply it's not a valid one.