✎ Key Takes:
» You can easily monitor someone's online status in Microsoft Teams by clicking on the 'Notify when available' option either from the chat section or by right-clicking on their name in Contacts.
» Use this feature responsibly and be mindful of privacy considerations to ensure a respectful communication environment within Teams.
» However, If you wish to maintain discretion, consider communicating openly with your contacts and seeking their consent before enabling the 'Notify when available' feature to respect their privacy and foster a transparent collaboration.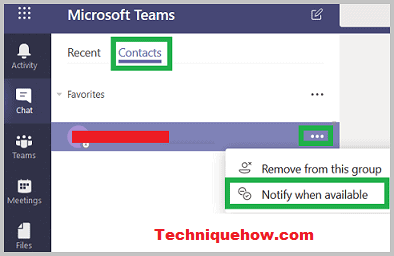 Do Teams Notify The Contact That Their Status Is Being Monitored?
Teams do not notify the contact that their status is being monitored by default. You can check the settings or permissions within the specific application or platform you are using. Usually, some options or features allow Teams to track and monitor the status of users.
Take care to review and adjust your privacy preferences to align with your comfort level regarding monitoring.
If you notice that your status is being monitored and you are uncomfortable with it, you can reach out to the team or administrator responsible for the monitoring. They may be able to provide you with more information or address your concerns.
If Enabled 'Notify When Available' Does The Person Know:
The other person will not be notified specifically that you have enabled the "Notify when available" feature on Teams. The feature simply ensures that the other person receives a notification when you become available.
When you enable this feature, it means that the person will receive a notification whenever you become available on Teams. This can be seen as a small green circle next to your profile picture.
How To Get Notifications When Someone Is Online On Teams:
If you want to know when someone from your Microsoft team's group or contact list is online, all you have to do is follow the steps given below.
1. Enable Notify when available
These steps will be a guide for you if you are new to Microsoft Teams, or if you are still not aware of its special feature.
To get a notification when someone is online on Microsoft Teams,
Step 1: First of all, launch your Microsoft Teams application on your device.
Step 2: Once you open your account in Microsoft Teams, to get notified by the app itself you need to go to the recent chats section and then look for the person for whom you want to receive a notification when he comes online on Teams application.
Step 3: When you go to the recent chat section, you will see three horizontal dots beside their names.
Step 4: Now, click on these three dots then you will see any pop-up, select the 'Notify when available' option.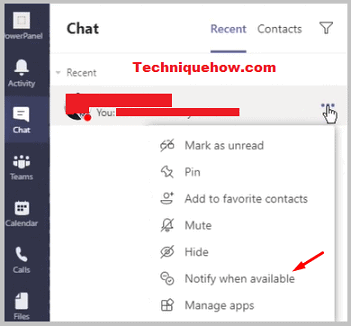 Once you do this, the next time whenever that person appears online the app will automatically send you a notification.
If you ever think of turning off the notification you can do so by clicking on the same three horizontal dots.
2. From the Chat
From the recent chats section, you will find all people at once with whom you had a chat. From there, with a few taps, you can set up the notification alert when someone comes online.
🔴 Steps To Do:
Step 1: First of all, click on the chats icon seen to the left of your screen when you open the app.
Step 2: Now, select one on one users from you who want to get notified when they are available or appear online on teams.
Step 3: You will see three horizontal dots in front of the names click on them, and then click on the 'Notify when available' option
Step 4: When done with the above step, the app will automatically send you a notification when the selected person for whom you have turned on the notification changes status from busy or unavailable to available or online on teams.
Similarly, you can turn off the notification by clicking on the three horizontal dots
3. From the Settings
From the settings, you can just choose people to set notifications for either to keep it on or off.
🔴 Steps To Do:
To select people to turn on the online notifications,
Step 1: Open the 'Teams' application and then click on your profile picture seen at the top right corner of your screen.
Step 2: Click on the Settings icon (gear icon) followed by the notification icon (bell icon) which takes you to the notification settings.
Step 3: Then, just scroll down to 'People' and then click on the edit button.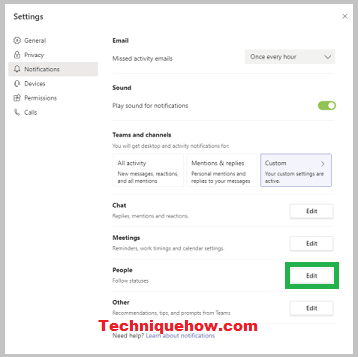 Step 4: This will take you to the 'Manage status notifications' page. Type the name of the people you want to be notified of and make sure it is turned on.
If it says the 'Turn off' option then the notification is already turned on and don't do anything if you want to get notified for the person.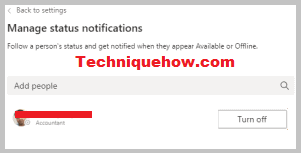 That's all you've to do.