If your Google photos shared library is not showing, may be caused by various technical glitches. Whenever you find your Google photos shared library is not working, the first and foremost step is to ensure that your device is connected to a stable WiFi or data connection otherwise it won't work.
If you want to ignore updating your Google photos over mobile data you can turn off sharing over mobile data to save a lot more data that can be used in this process. It is recommended to have it working over WiFi.
This application of Google can share a picture or even a whole album in several different ways. You can generate links of pictures to share them with others using this app of Google photos.
If your Google photos library is not working, then you can remove and add a partner account again. Like, you can even share the picture or an album by adding a partner Google account or even save it to your device camera roll to be shared later.
In this article, you'll be able to know about the issues causing the Google photos shared library issues and even you can learn to make your Google photos shared library work smoothly and efficiently. If you're facing problems with updating or handling Google photos, this article is for you to check out.
Google Photos Shared Library is not Opening
If you're looking for your Google photos share library and if it isn't working, probably has something to do with your partner's Google account.
It may be because the partner's Google account has been removed. But it can be added again without any trouble by following the necessary steps needed to do it.
When you're sharing a Google photo you must have a shared library, you must add your partner's account there and the user would be able to access all photos added into there.
To add a partner account on Google Photos library:
Open Google photos either on app or site on browser.
After you sign in to your account, tap on the profile picture or your account's DP.
Then select the option Photos settings.
Now click on Partner Sharing and then Tap on Get Started to start it.
Enter your partner's email address to invite.
Select the pictures you wanted for the album which you're sharing.
Then select the option Next.
You'll be able to send the invitation by clicking on Send Invitation.
How to Create a Link to Share Photos?
Google photos encourage and allow the user to share their pictures with other Google users. It can be done by creating a link to that picture and then the link needs to be shared with the person so that when it's clicked it can be accessed and viewed by the user.
But to create a link, you need to know about the correct steps to do that or it might not work when opened.
To create a link to share photos on Google photos,
Open the Google Photos page from your PC and make sure that you logged in.
Now at the top right corner, you'll find the Google app button which is shown as an icon of a set of squares. Just click on it.
From the drop-down set of Google applications, click on the drive.
You can choose the picture you want to upload from the promoting set of picture libraries and click on Open.
Right-click on the image and select the option Get the shareable link and it will get copied in the keyboard.
Share it by pasting it and your friend will have access to view the photo.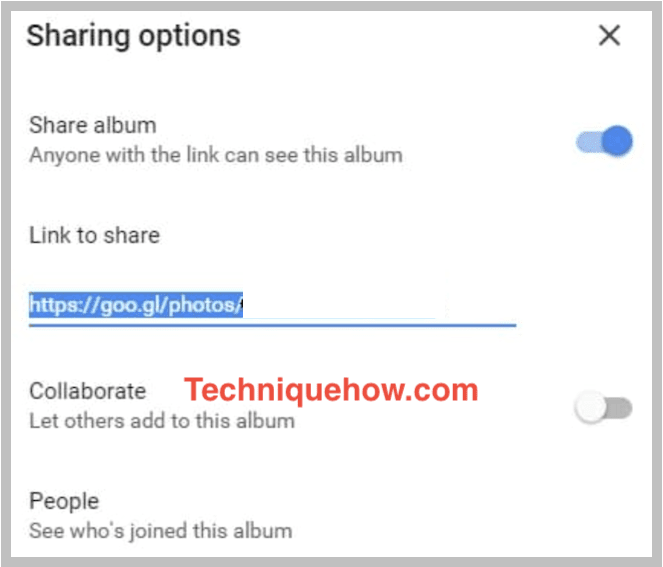 Google Photos Shared Library is not Updating
If you're facing the issue where your Google photos shared library is not getting updated, it is not like there's a major glitch.
Most of the time it's the internet connection or the WiFi which is the root of these problems.
When you're facing issues with updating your Google photos shared library with new photos, you need to first check that you're having a stable data connection in your devices, so that the data connection can support it to get updated.
As Google photos rely on WiFi or data connection to get updated, you always need to have WiFi or a stable data connection. It's an important and foremost step that you check your data connection.
Another reason that can cause the issue of Google photos shared library not updating, is when the update over cellular data is turned off.
It needs you to check in the settings that update over cellular data is turned on or if not, then put it on. Now, not only over WiFi but Google photos shared library can be updated using a data connection.
It makes clear that a stable data connection or a WiFi connection can update the Google photos shared library. Therefore, the point is to check for a stable WiFi or data connection to update it and also choose to enable the update over mobile data.
Google Photos Method to Share Photos
If you can't see all of these photos the owner uploaded, it's because maybe they have shared only some specific pictures or just a single picture to your account and not their whole album.
If they haven't shared their library or an album, you won't have access to all those pictures. It is advised to add those photos also to the albums that you want to show to the partner's account.
You should know that the whole library can be shared at once which needs you to follow the correct steps:
You can share your album by account:
Create an album by selecting the photos.
Then hitting the plus sign will give you two options to choose Album.
Provide the album with a title.
Once you're done creating an album you can hit the share button and add the account of that partner with whom you want to share.
There are two other ways of sharing pictures with a partner.
You can share a copy of your photo:
Click on a picture and select it.
Then click on the Share button.
You'll find so many options to share the picture.
Click on 'Share to' and you'll be able to send a copy of the picture by mailing it or sending it using other applications.
You can Share it by account:
Click on the picture to select it for Sharing.
Then click on the Share button to proceed.
You'll be provided with options with a few Google accounts with whom you'll be able to share it.
Select one account you want and confirm it.
You'll be able to create an album every time and share it. So every time you add a picture, the person will be able to see it and not your whole library.
The Bottom Lines:
This article explained the ways to fix the Google photos album if that is not working or having issues with access permissions.
Also Read: