Either you're on your iPhone or Android there are a few ways that you can use to hide the online status of your WhatsApp profile.
That may include a third-party app on your mobile or the use of WhatsApp settings both can work in an effective way.
But the problem is with WhatsApp's settings is that you'll be missing your friend's online timestamp as well.
You can try the ways to know if someone spies that I got good results with. WhatsApp has such a feature that will help you to hide your online status from anyone you want and use your WhatsApp privately.
This no doubt sends a wrong impression to that person if you're online and cannot reply to messages.
The default settings can help you hide your last seen status from showing to such people who are not on your contact list.
To hide the online status while you're chatting with someone, first install WhatsApp ++ (apk for Android, IPA for iOS) on your mobile and create a last seen that is one day before. Now when you chat with the person that will display an old date instead of showing 'Online'.
To hide online status for all users,
That's all.
But, for the easier way without an app,
The simple method to hide your Online status while chatting, follow these steps:
Open your WhatsApp and tap on the three-dots icon on the top right corner.
Now go to settings, there you've to go to and tap on Account.
Next, tap onto the Privacy settings and you will find the 'Last Seen' option.
Now set it to nobody and your status will never show as 'Online' upon saving the changes.
But, this restricts you to see the other person's last seen as well.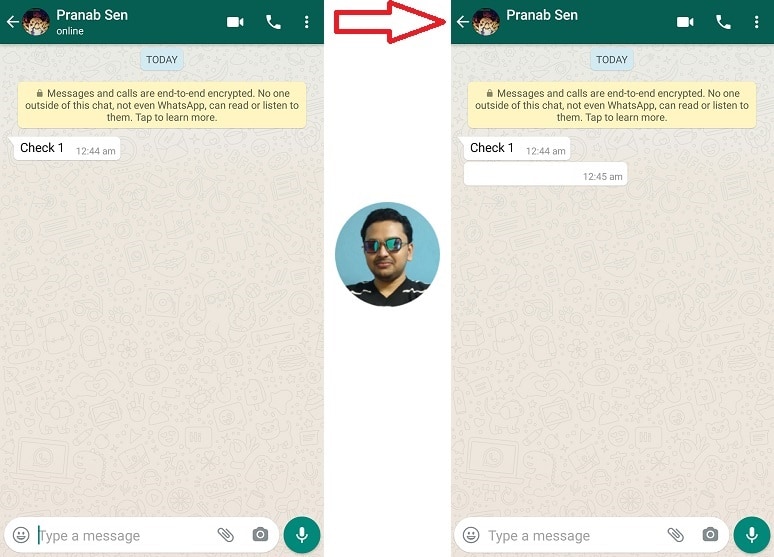 The person will know you have made your last seen hidden from him. However, this will make your LIVE status invisible while chatting.
You can either create fake last seen status or make other choices to be invisible while you're ACTUALLY online on WhatsApp.
Besides, you have other options for
not showing online on WhatsApp
by using few android apps which will make some changes in WhatsApp to present you offline and this works great.
In this article, we have discussed all of the tricks to be invisible or show offline while chatting along with all other primary techniques (work on iPhone) that are usable.
Hide WhatsApp Online Status on Chat
It is possible that you need to trap someone by reading and replying to their messages without demonstrating a blue tick on their sent messages.
However, there are few apps and tricks which might be helpful to appear yourself offline on WhatsApp while chatting.
There are some ways by which you can show yourself disconnected in WhatsApp regardless of whether you are on the web.
1. Changing settings to Disable Online Status (WhatsApp WEB)
If you can relate to me and are looking for ways on how to change your online status, and yet do not miss any important text then you are at the right place. You may be already aware of some of these hacks yet adding some more can help you better.
1. Airplane Mode (Turn On):
Putting on the Airplane mode is simply the most ideal approach to escape from the web, it's more like banging the doors on the faces of any such disturbance.
You may not get the notification simultaneously while showing offline, will get them all once you put this mode off. The pending received messages on your WhatsApp can be read after you go offline by the flight mode.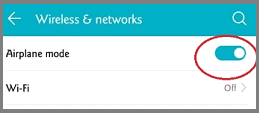 Step 1: Go to settings.
Step 2: Open the Wireless and network option.
Step 3: Turn on the Airplane mode on
Note: You can miss any important message while keeping your smartphone in Airplane mode, as it turns off the whole network of your phone. No calls, no text.
2. Blocking the WhatsApp Contact:
If you are in a very bad mood and do not want any particular contact on your phone to outreach you, then you can always block this particular contact. It will certainly stop them from sending you any text. But, this is the method you should not practice regularly as it is meant for the most extremist situation.
3. Disabling Last seen:
Well, this is one of the most common ways to hide from your WhatsApp contact while still getting all the text and notifications.
So, hello Sherlock you have a great way to keep an eye on what people send you. This does only create an illusion of yourself by not showing people when was the last time you were active. It does not stop any notifications but can reduce them to some extent.
Step 1: Go to settings.
Step 2: Tap on Account.
Step 3: Tap on Privacy.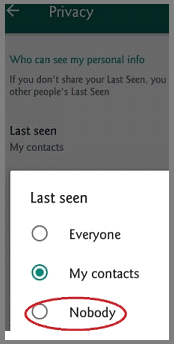 Step 3: Tap on Last Seen.
Step 4: Set it to nobody.
4. Swiping OFF Read Receipts:
We have recently been introduced to the ticks and color variation in the ticks when you send a text to someone. One tick for the sent message, double for delivered and the ticks turn blue when they are read. But you can still hide, by turning off the read recipient in the privacy setting of your WhatsApp.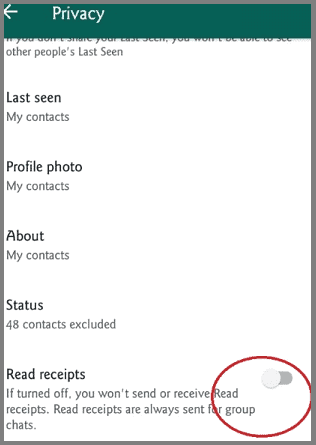 Step 1: Go to settings
Step 2: Tap on Account
Step 3: Tap on privacy
Step 4: Turn off the "Read receipts" option.
5. Hiding status and DP:
Previously we could only enjoy the hiding status feature by we can not remove the Display Picture as well. We often check the status and DP of a WhatsApp contact which gives us an idea of their activity.
Wherefore, if you remove the display picture you can easily create an illusion that you are away and do not what to receive any text or notification.
Step 1: Go to settings.
Step 2: Tap on Account.
Step 3: Tap on Privacy.
Step 4: Select the Profile picture option and tap on Nobody.
2. Appear Offline on WhatsApp on iPhone while Chatting
Well, there is no such special way to make yourself offline on iPhone apart from the above-mentioned common ways. However, one can easily appear offline with a quick tweak in the WhatsApp setting here's how:
Go to: WhatsApp Settings > Chat Settings/ Privacy > Advanced.
Turn off the Last Seen Timestamp option, and select Nobody.
This is more like turning off the Last seen and still, you are able to chat and exchange words. However, this also helps you achieve an escape and at the same time working on the application.
Note: You can also reverse the same by turning on the last seen Timestamps option.
3. Chat without showing Online: 'Hide for WhatsApp' app
Although WhatsApp provides you with an option where nobody gets to see your Last Seen but still when you are online, the status is reflected under your name. 'Hide for WhatsApp' is an application that allows you to use WhatsApp, read or reply, without showing that you are online.
This app actually uses Google Now to send messages so you get to read and reply to messages without being online.
The app requires the following permissions –
Read Notification
Read Contacts
Steps of using the application –

Install the app: Hide for Whats APP.
Accept the 'Read Notification' and 'Read Contacts' permissions.
Read and reply to all your WhatsApp messages through this app.
Using the app will be the same as WhatsApp.
4. How to Hide 'Typing' stamp on WhatsApp
You can hide your Last seen, active status but what would you do if people can still see your typing? Possibly you may not be aware of this tweak but you can also hide typing on WhatsApp on iPhone.
There are basically two ways, the first one to achieve this:
Turn off your internet connection.
Send your message.
Instead of ticks, you will find a clock icon.
Now, turn on your Internet connection.
As soon as you turn it on, your message will be sent and no one can see you "typing".
5. Hide Online Status on iPhone Using WhatsApp ++
If you have your iPhone you can install WhatsApp ++ on your device. Just you need to jailbreak your iPhone to install WhatsApp ++ that will hide your online status.
Follow the simple steps to hide 'online' status on the iPhone:
Jailbreak your iPhone to install WhatsApp ++ into your device.
Now, download WhatsApp ++ IPA app and install it on your iOS device.
Now tap on writing status (Typing) to change anything.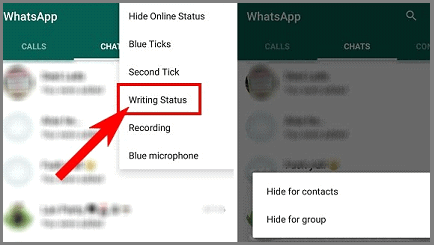 Path: Go to the Settings > Privacy > Tap on Writing Status and there you go, you can hide Typing stamp for WhatsApp on your iPhone.
The Bottom Lines:
If you looking for a way to hide from someone totally then the primary steps are the most useful. However, if you want to show your activity as you wish then the apps might be helpful in those cases.
Also Read: