Your Quick Answer:
» You can activate voice chat on Roblox by ensuring your account is age-verified, a requirement for users aged 16 and above. Confirm your age verification on the Roblox site.
» Try using the "gear icon" on the top right corner after logging in, select "Settings," navigate to "Privacy" in the left column, and under the "Beta Feature" tab, click "Enable Voice Chat."
» If you're 16 and age-verified, enabling voice chat is simple: log in, access settings, choose privacy, and under "Beta Feature," click to enable voice chat. Now, enjoy voice chatting in all Roblox games supporting this feature.
How to Tell If Someone Enabled Voice Chat:
A microphone icon becomes available in front of the usernames, above their 'avatar', when Roblox enables the voice chat.
Roblox has many exciting gaming features, and one such is "Voice Chat". However, the option of voice chat is only available to any user, when a proper age verification and other safety policies are checked.
That means, if the user who is playing any particular game has a voice chat option, i.e., a microphone icon next to his avatar, then, he is verified and ultimately is a genuine person (safe) to play.
How to be Eligible for Voice Chat in Roblox:
Roblox is a gaming website where gamers of all age groups can play a variety of fun and loud adventurous games with people like them.
However, the Roblox community has set certain criteria for the users, and based on their age group and looking at other factors, different types of features will be enabled for them.
Similar is the case for "Voice chat". The voice chat feature is for talking and enjoying the game with the opposite user while playing but, is only enabled when you are 13 years above, and age verified.
Well, the basic eligibility criteria for "Voice Box" in Roblox are:
1. You have to be 13+ years old to Register
The voice chat feature of Roblox is only available for users who are 13 years old and above. If you are below 13 years, then, since you lie under the category of kids, this feature is not for you. Since, children especially the young group, have a different madness when it comes to games and that too, if you will get a to talk and play, it is icing on the madness. Hence, looking at the safety factors, Roblox has allowed the "voice chat" feature only for users above 16 years of age.
2. Have to Be Age Verified
In order to enjoy the "voice chat" feature on the Roblox gaming site, you have to first pass the 'age verification test'. Roblox is an open gaming website, where any and every game lover can enter to play games. But according to Roblox, some features are not so safe for gamers of certain age groups.
Hence, it has kept this age verification process that every user who enters the website has to first go through and as per their age group, features and functions will be allowed to them.
Once you are age verified, the 'voice chat feature will be made available for your account, and by making certain settings, you can enjoy it.
How to Enable Voice Chat in Roblox:
Following are the steps to enable the voice chat in Roblox:
Step 1: Tap on the 'Settings' gear icon
First of all, go to a web browser, search for the official website of "Roblox", open the website and log in to your account. If you are a new user, follow the link to create an account on Roblox > Roblox.
Once done with the account, log in, and enter the Roblox website. On the first page of the site, you will see tons of different games in the middle section of the screen along with many options on the topmost column.

Over there, on the extreme right, you will see a "gear" icon, which is to go to the "Settings" section. Tap on the "gear" icon (Settings Icon) and select "Settings" from the menu.
All the settings options will come on the screen.

Step 2: Make Sure Age is verified
After landing on the "My Settings" page, the first and foremost thing you have to look for is > "Age Verified" check. The second tab on the setting page will be "Personal" details. Over there you will find > the "Birthday" column and in front of that, you will see the "Age Verified".

Check and confirm, whether there is a "Tick mark" in front of the 'age verified' section or not. If a tick mark is there, that means, your Roblox account is age verified and you are all eligible to enjoy the voice chat feature.
Step 3: Tap on 'Privacy'
Now, after confirming the 'age verification', come to the left side of the 'My Settings' page.
On the left is the list of menus for settings. From the menu list, select the "Privacy" option. Click on it and open it. As you open, you have to look for the "Enable Voice Chat" option, which is reported to be under "Beta Features".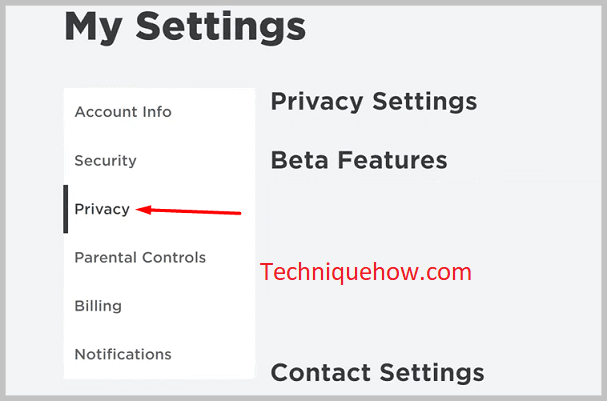 Find it and come to the option.
Step 4: Under Beta Features Turn On 'Enable voice chat'
Under the "Beta Features" tab, you will see the first option as > "Enable Voice Chat". To enable the feature, tap on the toggle and turn it to green. Now, you are all set to enjoy voice chatting with other users while playing games that support voice chat.