Your Quick Answer:
To get unbanned from Roblox, you have to verify yourself with the "Roblox Support" team. 
For that, first of all, go to your email inbox and open the mail that you have received from Roblox.
On that mail, go to the bottom right side, and you will find the "Support Form" link. Click and open that link.
After that, fill out the 'Contact Us' tab. Under the "Contact Information" section you have to enter your username, first name, and email address.
Next, under the "Issue Details" section, select your 'Device' then, the 'Type of help category', > "Account Hacked or Can't log in" and "Account Hacked" and "Submit".
Why Does Roblox Delete the Account:
Roblox deletes the account of its users, only when they violate the rule and harass other users.
When a user goes against the rules of the games and community guidelines and terms, Roblox suspends the user and sometimes deletes the account as well.
Disrespectful behavior and harassing other users on the platform while playing is also not acceptable.
If any user does this kind of activity for the first time, he will be suspended only for a few days. i.e., will be suspended temporarily as a warning. However, if he continues to do the same activities, then Roblox will ban his account forever and also delete his account.
In short, users do not have the right to violate the rules and disturb other users on the site.
On Which Conditions Your Roblox Account Can be Unbanned?
There are only a few conditions where your Roblox account can be unbanned.
1. If your Account was Hacked
If your Roblox account got hacked by someone and that person is creating a mess in your account, then only your account will be unbanned by the Roblox team.
Because it is the hacker who has performed the discriminating and violating activity, not you. Hence your account will be released.
However, for that, you need to prove that your account was hacked by answering all the questions asked by them. They will also check the last few days' log-in IP addresses to confirm your request.
Well, if your account was genuinely hacked, then proving it is not difficult. Just have to follow the instruction said by the "Roblox Support" team.
2. If you have not violated the User policy on Roblox
There are basically two types of punishment given by Roblox: Temporary ban and Permanent ban.
If you have done a minor wrong activity such as for the very first time having argued with other players or have been reported only by a few users, then as a warning, Roblox temporarily bans your account, which after a certain period of days will be unbanned.
However, if you have violated the community rules and are repeatedly disturbing other users, then Roblox will permanently suspend your account and would never unban it.
In short, in case of a minor mistake and no violation your Roblox account will be unbanned.
3. If that is not too Long
If your account recently got banned that is a few weeks or a month back, then also you can get back your account. Even so, you have made the Roblox team understand that whatever the reason for the ban has happened due to so and so reasons.
And if the fault is yours, then it would not happen again.
This tactic will only work if that is not too long, i.e., it is not too long that your account is banned.
How To Get Unbanned From Roblox:
Whatever the reason for the ban, only the "Roblox Support" team has the power to unban the account. So, to get unbanned from Roblox you need to straight to the 'Roblox Support' team and knock on their door. 
Now, let us learn how to do this:
When Roblox bans the user for a severe issue, first he sends an email informing the user that for this particular reason the account is banned.
Also, at the end of the mail, the support team, says, "If you wish to appeal, please contact us via 'Support Form' (link)".
This means the Roblox Support team gives you a chance to prove yourself and unban from Roblox.
Step 1: Open Roblox Notice Page & Tap on 'Support Form'
Firstly, open your email inbox that is linked to your Roblox account. Check whether you have received an email from Roblox regarding the Account ban or Account deletion. 
If your account is banned you must have received an email informing you about the same.
Open that email and read it carefully till last. Here you will get the reason for the ban and also your mistake.
Thereafter, come down to the bottom of the mail and there you will see the "Support Form" link in blue. Tap on it.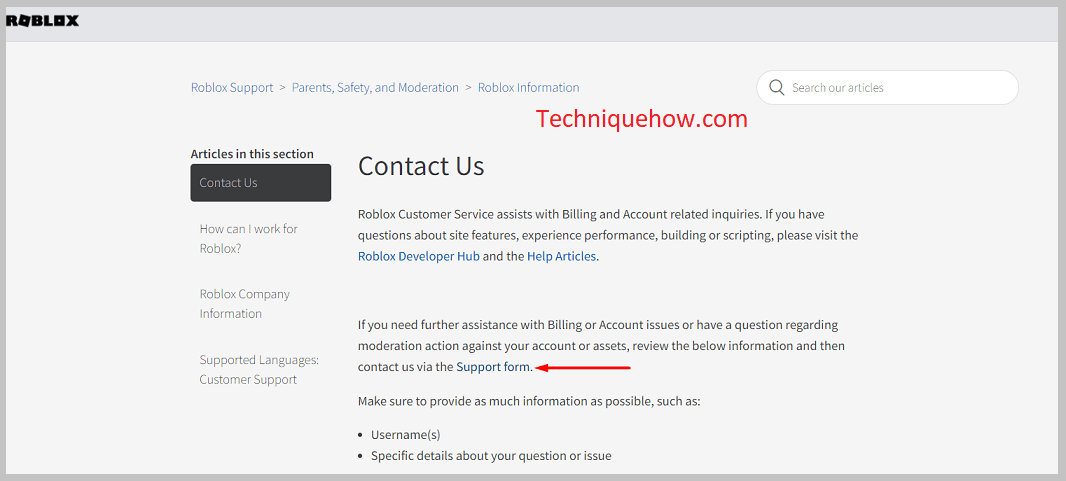 Step 2: Enter Name & Email, Username
After opening the link, you will reach the "Contact Us" page. over there you have to enter all the Roblox account-related details under the "Contact Information" section.
You will be asked to enter your Roblox account "Username", your First Name, and also your email address.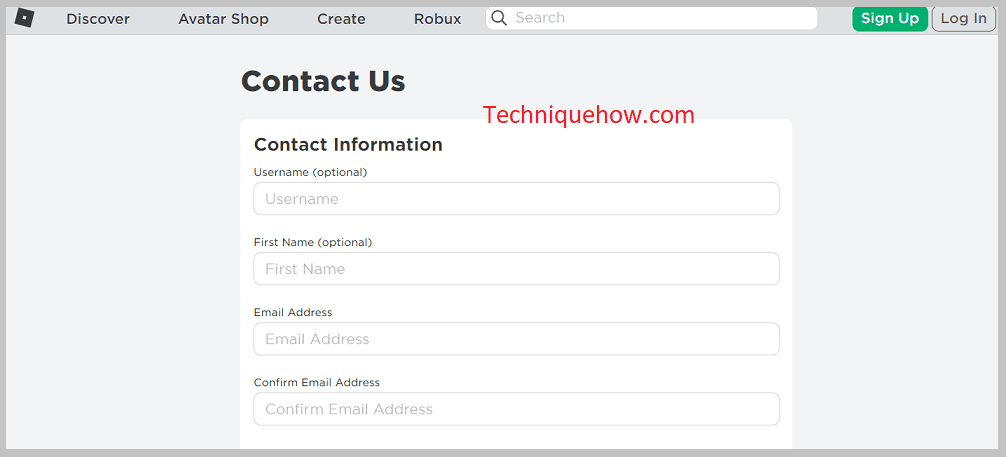 Make sure you enter the email address which is linked with your Roblox account and correct contact information as well.
Because all this information is asked for verification purposes, to check whether you are the genuine person for this account or not.
Step 3: Put Issue Details as 'Account Hacked'
After filling in the "Contact Information" section, come down to "Issue Details" and fill in the details.
Under the 'What device you are having the problem on?' tap on the arrow and select the device.

Next, under the 'Type of help category', select > "Account Hacked & Can't log in" and below that select > "Account Hacked"
Step 4: Describe the Fact and Submit
And in the last, describe the problem and mistake, whatever has happened and why has happened. Explain everything in clear and understandable language and in the end requests them to unban your account. 

Click on "Submit" and wait for the response from their side.
Also Read: