Your Quick Answer:
To get verified on TikTok, the first thing you should try is to write an e-mail to the TikTok officials asking for the same. Add your account username and other info, and request them.
You will find the mail address for this, on the official handles of TikTok on Twitter and Instagram or you can directly send them a message.
Apart from this, the certain parameters you need to consider to get a verified badge.
The parameters are constant growth in the follower's list, high engagement levels, Unique content, and most importantly following the guideline of TikTok.
How To Become Verified On TikTok:
You have the following ways only to get verified on TikTok, let's dive in:
1. Email to TikTok Team
The first and foremost thing you have to do to get verified on TikTok is, to open the Twitter or Instagram handle of "TikTok" and there you have to look out for the contacts, such as "Email address" to get a verified badge on your TikTok account.
Actually, unlike Instagram and other social media platforms, on TikTok, you have a chance to reach out to the official TikTok community and ask for the verified badge for your account.
Obviously, the TikTok officials will check certain parameters, such as the constant growth of your account, unique content, the number of likes, and comments per post, as well as your followers, count, before allotting your TikTok account a Verified Badge.
Official Handles are of TikTok, whom you have to contact (write an e-mail) are:
🏷 @TikTokSupport (Twitter):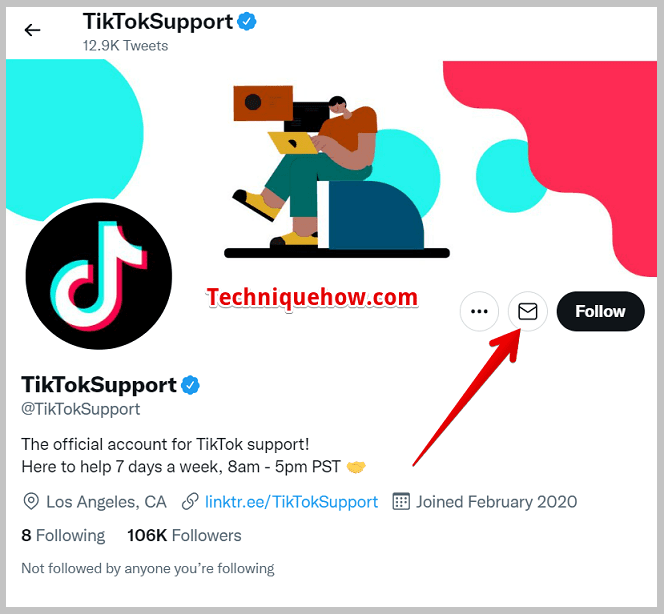 🏷 @TikTokCreators (Twitter):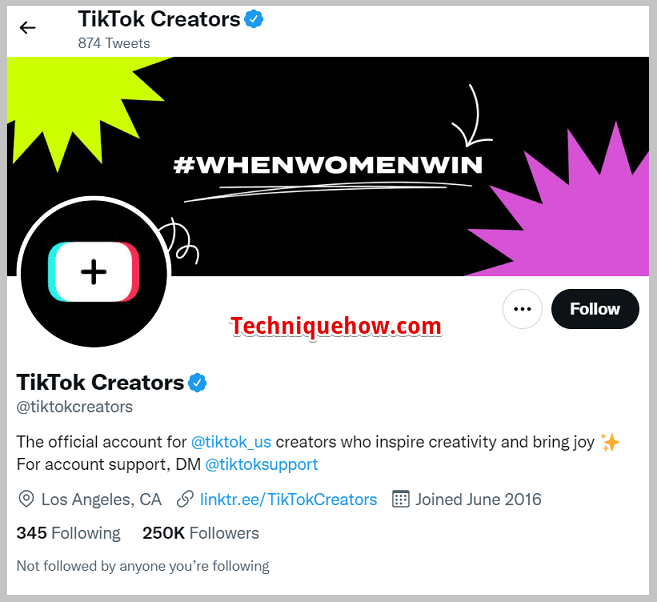 🏷 @TikTokCreators (Instagram):

Although the process is a bit formal, but is safe and guaranteed.
Note: Be very careful with the email Id, you write a mail to and from whom you receive a response. Many scams have been encountered regarding this topic. The official e-mail Id of TikTok will always contain > " __@TikTok.com".
2. Provide your account info/username
In the mail, do not forget to add your account information. The officials will need your account information such as your username, profile picture, etc, except your account password (don't include passwords), for the verification process. For verification, they will only ask you for your general account information, not your account password.
Accurately, provide them your username, give a precise but complete description of your profile, and you are halfway done with getting the verified badge.
3. Ask for a verified Badge
At last, write a short polite note, asking for a verified badge. Add a solid reason to consider and your motive after getting verified. In short, you have to impress the officials through this e-mail.
🔯 Criteria For Getting Verified:
To get this make sure of the following things:
The parameters that TikTok officials look at the time of verification, which you also have to consider are as follows:
1. Continue Growth of Followers List
Firstly, the continued growth of the followers. There is no fixed count per day to show the growth, but there should be a constant increment in the follower list.
Your interaction with your followers should be so powerful, that it pulls you a constant number of followers. For this, every day you can upload interactive stories, and relatable content, and also, try to learn what your audience expects from you.
2. Posts as per Guidelines on TikTok or Unique Content
There is this very simple trick, if you want to be recognized in a group of people, you have to do something really different and unique. Similar is with TikTok.
If you wish to get a 'Verified badge', you have to create unique content to impress. Your content should be engaging, helpful, relatable to day-to-day life, motivational, and at the same time 'unique' from your competitor.
Along with uniqueness, you also have to take care of the TikTok guidelines. Post the content as per the guidelines of TikTok.
Follow, No Violation & No copyright.
How to Get Verified on TikTok Automatically:
You can get verified automatically following these things:
1. Pick a Niche & Be the Best
If you want to prove yourself, you have to be the best. Provide your audience with a daily dose of entertaining videos, helpful resources, and more and more unique content in one particular niche.
Unique in the sense, you do not have to be completely different from others, or do not have to go all the way away from the trending topics, but have to focus on your own unique style. Unique style of talking, style of editing videos, daily posts and stories, and many more.
2. TikTok Values High Engagement Levels
High Engagement Level states more and more engagement on your TikTok videos and posts. All your videos should have a constant increase of views, and likes, and ultimately high engagement with the audience.
There should be at least one video, that went viral and gives your TikTok account a breakthrough. Plan a proper strategy, and unique content to post every day for 1 to 2 months, and try to attract the audience.
3. Focus on Growing Followers
It is reported many times, that users with more than a certain hundred thousand followers, get a verified badge, automatically. No, this is not overnight magic to get thousands of followers, but a result of constant growth in the count from the last many months.
So, you have to make sure your followers grow.
Create happening videos, post content related to trending topics, try to relate with the audience, choose a particular niche, and go.
In a few days only, you will come to know how to attract the audience, how to craft a video, etc.
4. Get Verified on other social media
Having a verified badge on other social media platforms such as Instagram, Twitter, and LinkedIn plays a very crucial role in getting a verified badge on TikTok.
It is suggested, that if you're verified on other social media platforms then chances are higher that your request would be approved for TikTok. So, if you have good followers count, and a constant growth on other social media accounts, first try to get verified there, i.e., Instagram, LinkedIn, and Twitter.
Thereafter, a verified badge on TikTok will become easy.
Frequently Asked Questions:
1. Can you get verified on TikTok without Followers?
No, to get verified on any social media platform, you need to have certain hundred thousand followers on your follower list. There is no fixed count for it, but it is reported, that you should have at least 500K followers on TikTok to get verified.
That too, the growth should be constant. If you are thinking of somehow buying the followers, you will be caught at the time of analytical evaluation by the TikTok official.
2. How Many Followers do you need to get verified on TikTok?
TikTok has not released any fixed number for the same, but it is being understood from many other verifications, that, you need at least 500K of followers to get verified.
Also, this magic of 500K followers should not happen overnight, it should be from constant growth, otherwise, you will be in trouble, when the TikTok community will do a check for giving a 'verified badge'.
3. How to Get Verified on TikTok as Business?
The process is the same for all the users and their accounts. There are no different guidelines and a process to get verified for a business account. The users with a business account also have to have all the parameters checked, similar to usual users.
The only thing is they have to mention it on their account bio. That's it. Other than that, everything is the same as mentioned in the article.
Also Read: