Your Quick Answer:
If you are running a wireless network that has its SSID not hidden or without a password then the security you have is zero.
It is better to hide wireless network SSID on routers to prevent it from being seen by other persons.
Options are slightly different for each router but, almost the same. You just need to get an overview to complete this easily.
You can follow a few simple steps to find the WiFi password.
What is SSID Actually:
Some people may have doubts about understanding the SSID mentioned here. It is the WiFi network name that you will need to connect with to browse the internet.
Service Set Identifier is broadcasted with a password in maximum time. That means you have to input the password to connect to the SSID. It is not the password itself.
⭐️ Are the Hidden Networks Secure or Not:
iOS 10 warns users if they connect to any hidden network as this may expose personal visible information. Although, in Windows OS, you have to connect the hidden networks (non-broadcast). Also, using security for devices is always recommended. Does Hiding the SSID Ensures Security to the Network?
There are some applications available that scan and unhide the network in a few seconds. Also, disabling the broadcast does not turn off the SSID, this just hides it from your neighbors but few scanners can reveal that SSID easily.
That is why it is recommended to use the WPA2 Security password for your SSID. WPA2 is the standard security with the alpha-numeric system.
In this context, you have a step-by-step guide with screenshots on how to hide the wireless SSID.
How to Hide Wi-Fi Network Name in Router:
🔴 Steps To Follow:
Step 1: At first, open your web browser and open 192.168.0.1 or the target router IP (mentioned behind the router) to go to the login page.
[Default username & password: admin]
Note: For some routers the Gateway IP address is different. (Ex. 192.168.2.1; 192.168.1.1; 192.168.0.2; 192.168.0.31). Find your router's gateway IP from the router box where it is printed.

Step 2: Now login and open the wireless option from the router settings page.
Step 3: After that, you have to open the wireless settings on your router and hit disable to hide the SSID.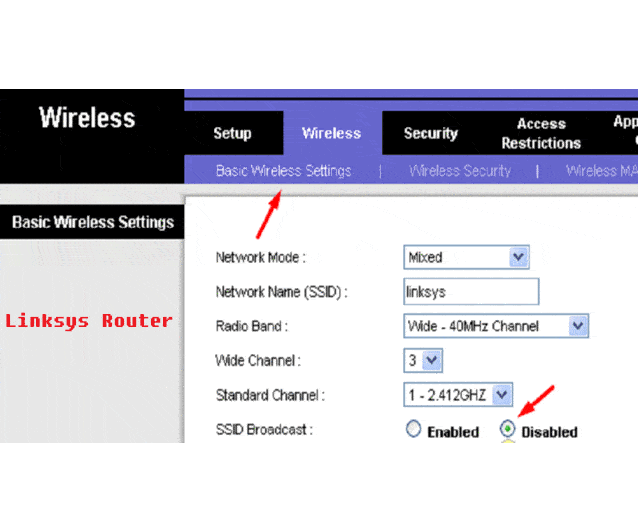 ◘ Linksys: Go to Wireless>>Basic Wireless Settings>>Disable 'SSID Broadcast'>>Save.
◘ Tp-Link: Go to Wireless>>Wireless Settings>>untick 'Enable SSID Broadcast'>>Save.
◘ Tenda: Go to Wireless>>Wireless Basic Settings>>Disable 'SSID Broadcast'>>OK.
After saving the settings, you will see your internet connection is disconnected. Just connect it manually once again with the SSID & password.
How to Connect to Hidden Wireless Network on PC:
After hiding the router SSID, you will not be able to find out your internet network in the open list.
Here is the process to follow to do this:
🔴 Steps To Follow:
Step 1: At first, go to the control panel and click on Network and Internet.
Step 2: Then click on Network and Sharing Center. After that click on Manage wireless networks.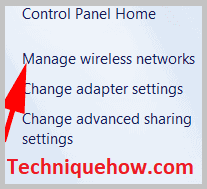 Step 3: After that, a new window will appear with the Add option. Just click on it.

Step 4: Then select Manually create a network profile.

Step 5: Then enter the network SSID name, Security type and password (if any). Then press the Next button.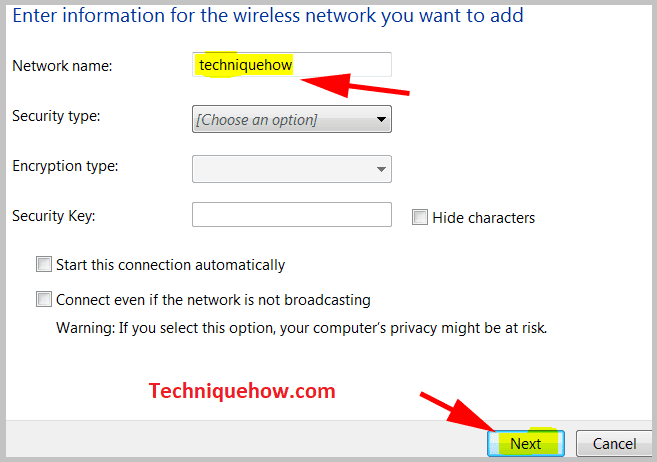 After pressing the next button, you will see your device now is connected to that SSID. Now, the SSID will not be hidden for this device unless you delete the network again.
Also Read: