✎ Key Points:
» To tag someone on TikTok after posting, open the TikTok app on your device and log in. Go to your profile by clicking on the profile at the bottom of the page.
» You can tag whoever you wish to because the setting has been changed. If you see that you still are not able to do it, repeat the process or refresh the app and try again.
How To Tag Someone On TikTok After Posting:
There are some steps that you have to follow:
1. Using the Duet or Stitch Feature
Go by trying the duet or stitch feature on TikTok to tag someone after posting.
🔴 Steps To Follow:
Try the following steps below:
Step 1: First, locate the video you want to tag someone in and tap on the "Share" icon at the bottom-right corner of the video.
Step 2: Just tap on the "Duet" or "Stitch" option, depending on which feature you prefer to use.
Step 3: Just select the specific part of the video where you want to tag the person.
Step 4: So, now you can record your duet or stitch and include the person you want to tag in your video.
2. On TikTok App
You can try the following steps below:
Step 1: Open TikTok & Tap on the Three-dots icon
Open the TikTok app and log in with your usual details. Now the home page appears. Go to your profile now by clicking on the profile icon in the right corner at the bottom of the page.
Now your profile opens, select the video in which you would like to tag that person. Once you open the video on the right side, you will see a series of options like follow like comment, and below that, you will see an icon with three dots. Now tap on that icon.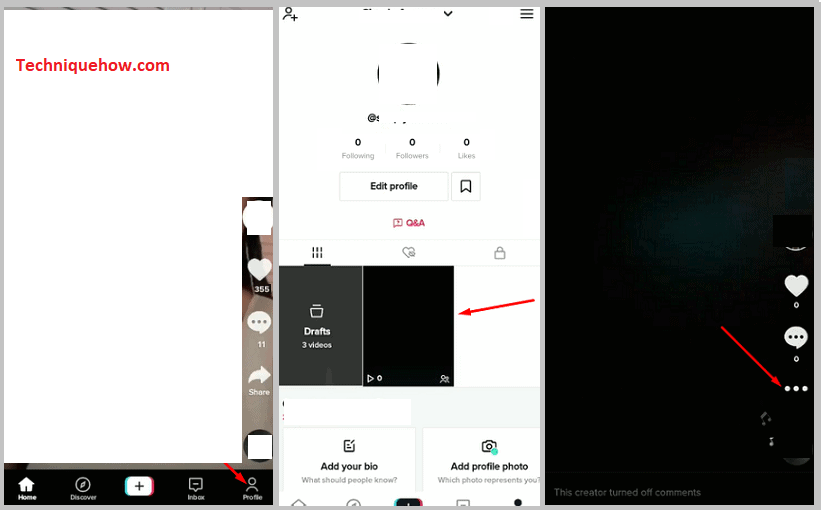 Step 2: Just Edit Privacy
Now come back, and you need to choose the option reading "privacy ."Choosing that slides a panel that has few other options like "who can watch my video," "allow comments," "allow duet,".
Now click on the first option and change your settings of the who can watch my video to the public from private.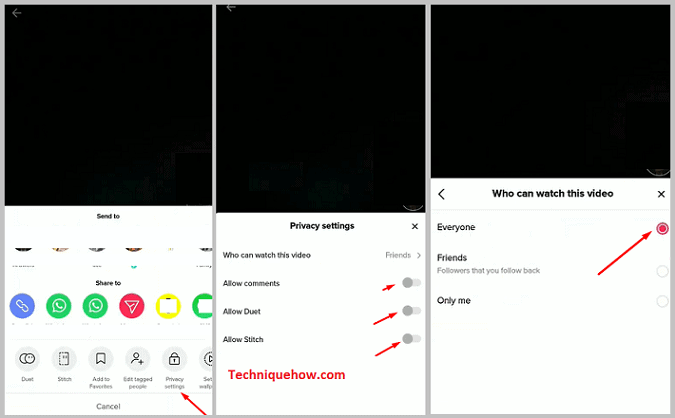 Step 3: Edit tagged people
Now once you have changed the settings of your viewers, you can tag whoever you want. Now again, tap the three-dot icon again, the low panel opens, and all options are visible. Go to the last series you get options like save, pin, duet, and many others, amongst which you choose "Edit tagged people" this time.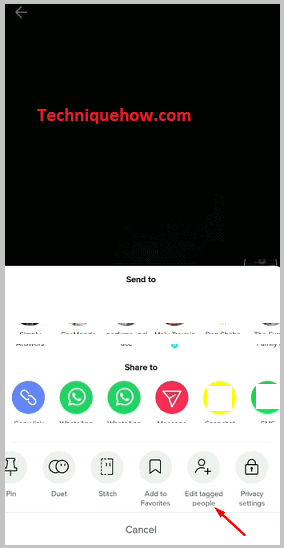 Step 4: Choose people to tag
Once you have chosen "Edit tagged people," see the people you are and will be able to tag. Now you can go and tag whoever you wish to, and now you must be able to do so. If you are not, try refreshing the app or repeat the process.
Why Can't I Tag Someone On TikTok:
Suppose you post something on TikTok and want to tag someone, and you notice that you cannot tag that person.
The reason might be that the person might not be on your viewer list. Meaning whatever you are posting is not visible to them.
1. Privacy and Safety Settings
If you see that you are unable to tag someone on TikTok, it could be due to privacy and safety settings. TikTok allows users to control who can interact with their content. This means that if the person you're trying to tag has their privacy settings configured to only allow certain people to tag them, you won't be able to tag them.
So, if you're unable to tag someone, it's possible that they have restricted tagging permissions. You should check with the person you're trying to tag and ask them to adjust their settings if they're comfortable with it.
2. Account Restrictions
When this happens, it might be due to account restrictions. TikTok has community guidelines and policies in place to maintain a safe and positive environment for its users. Due to these guidelines, certain accounts may have restrictions placed on them, which could include limitations on tagging other users.
This can be a result of violating TikTok's rules or engaging in behavior that goes against their policies. If you encounter an account that can't be tagged, it's because they are subject to such restrictions. You must respect these restrictions and refrain from attempting to tag them.
3. They have Blocked you
While you find it challenging to tag someone on TikTok, it could be because they have blocked you. For this reason, the tagging option is not available to you when interacting with their content. Now, it's essential to respect their decision and privacy. You can still enjoy their content, but you won't be able to tag them or mention them directly in your posts or comments.
If you're unsure whether you've been blocked, try searching for their account or interacting with their content from a different account to see if the tagging feature becomes available.
4. Content Restrictions or Guidelines
You might see that certain types of content or challenges on TikTok come with specific guidelines or restrictions. And this can impact the ability to tag someone.
If you're participating in a challenge that has rules in place, the organizers may restrict or specify who can be tagged to maintain the integrity of the challenge. If you're unable to tag someone in this context, it's because the challenge rules or content guidelines explicitly limit the tagging options.
Just make sure to review the challenge guidelines or content restrictions before attempting to tag someone, and follow the guidelines accordingly to avoid any issues.