✎ Key Takes:
» You can delete messages on Messenger from both sides by using the "Unsend" feature.
» Just use the "Unsend for everyone" option within Messenger to remove the message from both your chat and the recipient's chat.
» If you unsend a message, the person won't receive a notification, but they can discover it by opening the chat and seeing a note that says 'User unsent a message.'
Note: Now in a case, the person will not get notified if you delete a message from chat or the whole if the person has blocked you on Facebook.
How To Delete Old Messages On Messenger From Both Sides:
You can easily make up for your mistakes if you have sent some wrong messages accidentally.
To delete a messenger message from both sides:
1. You just need to tap & hold on to the message you wish to delete.
2. Then you will get the option of 'Unsend' for deletion.
3. Once you Unsend the message, the same will be deleted from both sides.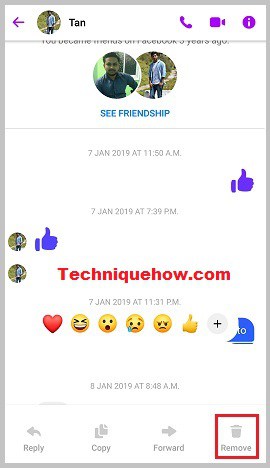 Upon clicking on the 'Unsend for Everyone', this will automatically delete your message from both sides. If you think that the receiver has not read your message from the notification then that message will be deleted effectively.
Later they will not be able to read the text. After deleting one by one you can easily delete the entire conversation from Messenger if you want to remove all messages you have sent to the person, this is much more secure than Messenger.
Messenger 'Unsend' Time Limit:
Facebook will keep a copy of the message on its server, allowing it to review unsent messages for up to 14 days and in some cases up to a year for those people on your friend list.
If I delete a Conversation on Messenger Does the Other Person Know:
When you delete a conversation on Messenger, it means that the conversation is removed from your inbox.
This means that the other person involved in the conversation can still see the messages, even after you have deleted the conversation from your end.
You can try by understanding that deleting a conversation only affects your view of it, and it does not erase it from the other person's Messenger.
If you want to ensure that the other person doesn't see the conversation anymore, you can politely ask them to delete the conversation as well.
You can explain to them that deleting the conversation on both ends would ensure complete privacy and remove it from both of your views.
What do others see if you Delete a conversation on Messenger:
The direct answer to this question is:
Nothing they will see if you delete a whole conversation on your messenger however if you delete or unsend a single message then the person will see that message is invisible to him only If he checks.
If you delete from both sides then the receiver will know that you have deleted the conversation but if you have only deleted from your side then it is quite challenging to know without having access to your phone.
Other people will never know that you have deleted the conversation. If you want to not let the other person know about your delete process then make sure to delete from one side/your side only.