Your Quick Answer:
If you delete the whole chat or some of the messages received or sent on messenger both have different outcomes.
If you delete the whole chat from your end then the person will not get notified where Messenger has its feature that enables you to delete a message from both of you in chat or for yourself only.
If you Unsend a message on Messenger the person will get the message deleted from his chat as well.
That means the message will be removed from that person if you 'Unsend for everyone' but he will not get any notification on his messenger whether the message is deleted.
He can only know this if open the chat and find that particular message that is marked as 'User unsent a message'.
There are only a few things that will happen if you delete any chat on Messenger.
Note: Now in a case, the person will not get notified if you delete a message from chat or the whole if the person has blocked you on Facebook.
Here is the guide to find out if someone has blocked you on messenger.
🔯 Messenger 'Unsend' Time Limit:
Messenger has the beautiful feature of deleting a message from both sides. If you hold a message, you will see an option called "Remove" below. After clicking on it there will be an option called "Unsend for Everyone" and if you click on it, the message will disappear from both chats. You can unsend the message at any time.
Facebook will keep a copy of the message on its server, allowing it to review unsent messages for up to 14 days and in some cases up to a year for those people on your friend's list.
How to Tell if someone deleted a conversation on Facebook:
This has been a really critical thing to understand whether someone deleted a whole conversation on Facebook Messenger, but it's really understandable when a person just deleted a single message from chat just by looking at that message — will be marked as 'User unsent a message'.
Sometimes you might have seen a message which is already been deleted by the senders. This feature is allowed on Facebook messenger as well.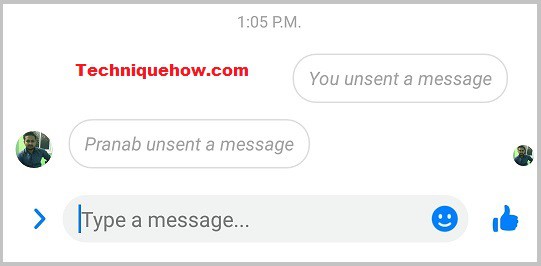 When you send a message on Facebook messenger to someone and you have to delete it so that they can't read the text, then you have to 'Unsend' the messages to delete it from both sides.
When you see delete a message on your Facebook messenger then it directly indicated that the sender has already deleted the messages.
You cannot expect to know if the entire chat is deleted unless the text message is shown as deleted. You can't know normally if the sender has deleted the whole chat with you or not.
What do others see if you Delete a conversation on Messenger:
The direct answer to this question is:
Nothing they will see if you delete a whole conversation on your messenger however if you delete or unsend a single message then the person will see that message is invisible to him only If he checks.
If you delete from both sides then the receiver will know that you have deleted the conversation but if you have only deleted from your side then it is quite challenging to know without having access to your phone.
Other people will never know that you have deleted the conversation. If you want to not let the other person know about your delete process then make sure to delete from one side/your side only.
How To Delete Old Messages On Messenger From Both Sides:
You can easily make up for your mistakes if you have sent some wrong messages accidentally.
In order to delete a messenger message from both sides:
1. You just need to tap & hold on to the message you wish to delete.
2. Then you will get the option of 'Unsend' for deletion.
3. Once you Unsend the message, the same will be deleted from both sides.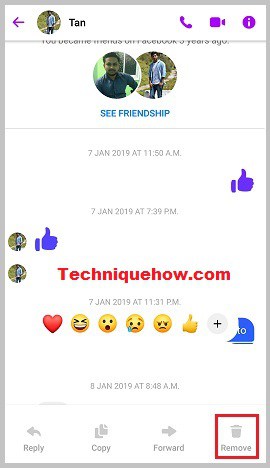 Upon clicking on the 'Unsend for Everyone', this will automatically delete your message from both sides. If you think that the receiver has not read your message from the notification then that message will be deleted effectively.
Later they will not be able to read the text. After deleting one by one you can easily delete the entire conversation from the messenger if you want to remove all messages you have sent to the person, this is much more secure than Messenger.
How to Find Deleted Messages On Facebook Messenger:
Permanently deleted messages are not possible to recover, however, if you are wondering to find the deleted chats that are archived on Facebook messenger then you need to know the basics that how it works. You can easily find & restore the messages on your Messenger.
1. From Archived Section
If you have archived the messages then there is a chance to get back with those messages.
◘ First, you need to open Facebook Messenger on your device or PC.
◘ Now head to the Recent conversation >> Archived Chats.
◘ After that, you can click on the search bar to search for the conversation which you have archived.
◘ When you can find that archived messages then you can simply tap and type something to send to the chat. This will restore your deleted chat to the primary inbox.
This is the only way to get the chat back if that is saved in the Archived section on your Facebook Messenger.
2. From the 'Facebook Download Information' Option
If you just take the whole data backup you will be able to keep your photos, chat, and media on your local drive and access them whenever you wish to.
If you want to download a copy of the information from your total Facebook data then you need to follow the crucial steps to make it successful. To download the copy of the information from your mobile/PC, follow these steps:
◘ At first, you've to tap in the top right of your Facebook profile.
◘ Now, scroll down and head to the settings options.
◘ Next head to the Facebook information and click on the option Download.
◘ Just click on accordingly: Your Facebook information >> Download your information.
◘ If you want to add any categories of data then you can add them to make it easier to find the right side of Facebook.
◘ In case your need photo backup, you can select the quality of photos and other media.
◘ Now you need to create a data range of information and confirm the download request.

Note: Keep the file safe in your device, this is where all of your Facebook data is stored.
The Bottom Lines:
If you delete a conversation on Facebook the chat head will not get notified unless you undo sending each message one by one. However, in single message deletion if you just tap on the 'Unsend' the other person will get to see that error message while seeing into the chat, but there is no notification system on messenger to let them know.
Frequently Asked Questions:
1. What is Facebook's Fast Delete Messages Tool?
You can delete all of your Facebook messages at once instead of deleting them manually. There is a web extension that helps you to delete all messages at one time:
Open your Google browser and search for "Fast delete messages extension" and open the extension on the Google Web store.
Tap "Add to Chrome".
After adding it to Chrome, log in to your Facebook account on Google with your credentials and go to the message section.
Now in the tab section, you can see the extension that you have installed.
Click on it and tap the "DELETE ALL MESSAGES" section and all your messages will be deleted.
You can do the same process on your mobile to quickly delete messages:
Download "Yandex Browser" or "Kiwi Browser" and open your Facebook account there.
Now download the same extension and open your message section.
Now click on the three dots button and click the "Fast Delete Facebook Messages" button.
Then your messages will be deleted from Messenger.
2. Can You Delete 1-Year-Old Messages?
You can delete one-year-old messages from both sides. Just go to your messenger app and log in with your credentials and open the chat you want to delete. Hold on to any one of the one-year-old messages and tap the "Remove" button. Press the "Unsend for everyone" button and it will disappear from both sides. Sometimes there are errors because of which the message cannot be deleted. Try after some time and it will be deleted.
3. Removing Messages for Everyone After 10 minutes:
After the Messenger "Unsend" message feature was introduced, there was initially a 10-minute time limit for unsending a message.
But now Messenger has updated this feature and now you can delete a message from both parties at any time. You can use the "Unsend for Everyone" option to remove the message from your side. In this case, the other person will be able to see your message without even knowing whether you will delete your message from your side.
4. If I Unsend a Message on Messenger will the Other Person Know?
If you unsend a message on Messenger, then the other person will know that you deleted a message from this chat. If you delete a message from your chat, then there will be a line showing that "Someone unsent a message". Similarly, if the other person deletes a message, then there will be a line showing that the other person unsend a message. If you delete the message before it is delivered, the other person will not be able to read it.
Also Read: