Downloading the profile picture is not a visible option on your Instagram app. We know that Instagram does not give such an alternative for downloading any photos as per the security policy.
All you can do on Instagram is just view the profile picture and other images.
Fortunately, there are some profile picture downloaders available which can help you to download any Instagram profile photos instantly.
Also, you can view the Instagram DP of anyone on your Chrome browser and download it in full size if you have the URL copied.
Although, Instagram does not show the profile picture in high resolution for download if you open in a browser.
Which means you have to do some tricks to see the Instagram DP in high quality and download that on your Android.
All of these procedures to download Instagram the display image, work on both PC and mobile devices.
You can complete the action using a third-party app or directly by using the mobile browser. Just you need the profile URL of that Instagram user whose DP you are going to download.
In this article, we will share multiple ways to save Instagram profile picture. The procedures are totally free and should be done online on your Android, iOS and Windows devices.
Save Instagram Profile Picture on Android using Browser
Now Instagram has the responsibility to protect the images and the video uploaded by the users. By reading this article you will know the steps and have an insight knowledge on how Instagram photos can be downloaded or viewed.
Step 1
Open the Instagram app and open your Instagram profile picture or desktop browser or via the mobile app.
Step 2
When you open the app you will notice a three-dot menu present in the top right corner.
Step 3
After clicking on the three-dots icon a small pop will appear with the various options like a report, hide your story and so on. From that pop up select the option 'Copy Profile URL'.

Step 4
Now open a new window from chrome or any search engine present in your mobile app or desktop.
Step 5
Now paste the URL in the address of the web browser.
Step 6
After doing that the web browser will direct you to your Instagram profile page.
Step 7
Right-click or hold onto your profile picture and select the option which will come up as "Open image in a new tab".
Step 8
Now, right-click or tap on the picture where you will get an option known as download image.
After following these steps, it may have become very clear to on how to download Instagram profile picture since this feature is not directly available in the app.
Now if this method seems tough to you then you can use always use the help of online applications, now there are several apps available but some of the best tools are mentioned in this article.
Instagram Profile Picture Downloader Online
The use of instant lets you download your Instagram profile picture in the matter seconds. The key highlight of this application is that it lets you download your Instagram profile picture in high resolution.
Just enter the username of your Instagram profile and click on submit. After that photos of your account will appear. Now tap on the profile picture where a download option will come and by selecting the download option you can download the image.
1. Get IG Profile Image Downloaded from instadp.net
This tool works as same as the previous tool but with the help of this application, you can download not only your Instagram profile picture but also all the other photos present in your amount. Now for using this application you just need to enter your Instagram account and tap on search.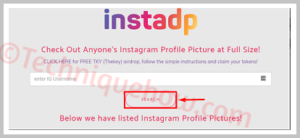 The application will show you all the images and by clicking or tapping on the profile picture you can download your profile picture.
2. Full-Size Instagram Profile Picture using Izuum
Izuum is another awesome third party application that allows you to download your or somebody else's profile picture in large size. The free web tool allows you to download your profile picture in high resolution.
The application is very easy to use and time-consuming at all. In order to get started just enter the username of your account in the white box and click on zoom.

When you click zoom your account photos will appear along with your profile picture. Just tap on the profile picture and download it.
Note: Izuum no longer on its service to provide the full-size Insta DP image.
3. Using 'Insta Big' App
This is a very small-sized application but very effective. The application lets you download the Instagram profile picture with ease on your Android device.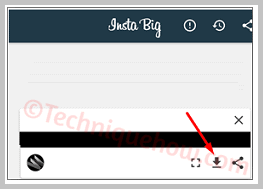 To get it started just download this application in your device and paste the URL of your profile in this application.
When you complete this step you will get an option to download your profile photo.
Conclusion:

These are the steps to download an Instagram DP quickly and easily. You can either use the browser tips and an app to do this. The procedures can be done on both PC and mobile devices.
Also Read: