Your Quick Answers:
To recover a deleted Instagram account, open the 'My Instagram Account Has Been Deactivated' form on the IG platform.
Fill in all your Personal Information in the form which includes your full name, email address, your Instagram account username, and mobile number.
Reason in detail why you're appealing the decision to permanently deactivate this account. Tap on the 'Send' button to send the filled-up form.
Once completed these steps, you will be notified with a verification code by Instagram on your email address.
Why does your Instagram account get Deleted:
There can be many reasons why your Instagram Account can get deleted. Some of these are explained below:
1. For Violating Guidelines on Instagram
Instagram wants its customers to follow certain guidelines to promote a platform that would extensively inspire people worldwide. And hence, its algorithms and artificial intelligence are designed such that there is the least number of improper content and spam. In the following scenarios these guidelines are said to be violated:
◘ Improper content i.e., content with nudity or threats. Instagram does not allow such posts. However, nakedness in art, paintings, or statues of any kind can be posted.
◘ Trading illegal products are strictly not allowed on the platform. No one should indulge to sell or promote any sort of products that are against the law.
◘ Contents that are copyrighted should never be posted. You are only allowed to share or post videos, photos, write-ups, paintings, etc., that you own. If you do not own these, you may only post them provided you are authorized to do so.
2. Passed 30 Days since You Deactivated Your Account
You might at some point in time need to take a break from socializing and so, deactivate your Instagram account. Instagram, however, does not delete your account when you deactivate it.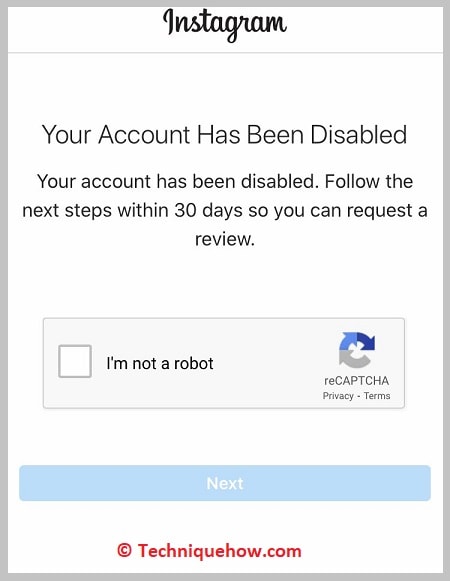 You may keep your account deactivated for as long as you want it to and can access it whenever required. When deactivated, all your account information, posts, photos, and whatever you've shared will be hidden from others.
You might even find the need to delete your account, Instagram lets you do so as well. In that case, too your account does not get deleted immediately. It gets deleted only after 30 days. Once deleted, everything related to your account will be removed permanently from the database and you won't have any access after that.
3. That could be a Mistake from Instagram
You have been running an Instagram account for a long time and you are very active on it. You share videos, reels, photos, inspirational posts, etc. almost every day and people around the globe follow you.
But one day you find your account got deleted and you have absolutely no access to it. It has been often seen that Instagram has deleted people's accounts by mistake.
This might leave you clueless, as neither you have posted nor shared anything inappropriate that might go against Instagram's violation guidelines, nor you have deactivated or deleted your account by yourself. All your efforts over the years have gone in vain. 
Instagram Account Was Deleted For No Reason – How To Fix:
In case your Instagram account gets deleted by mistake, you may recover it by following the below-given steps in detail:
Step 1: Open My Instagram account has been deactivated Form
Instagram sometimes deletes your account by mistake or, you might as well mistakenly delete your account. So, one of the options to recover your account is to fill up a form and send it to Instagram Help Centre.
The first step you need to do is open the "My Instagram account has been deactivated" form in Instagram's Help Centre using this link: https://help.instagram.com/contact/606967319425038.
Step 2: Fill in your Personal info
After opening the form, move to the next step which is to fill in your personal information. This includes details like your full name, your email address, your Instagram account username, and your mobile number. Your full name must be the same as you have used in your Instagram account.
The email address should be an active one in which you wish to get notified. The username is the one that you use on your account and gets displayed below your profile picture. It is generally a short representation of your full name. Lastly, provide an active mobile number that is registered to your email address and your Instagram account.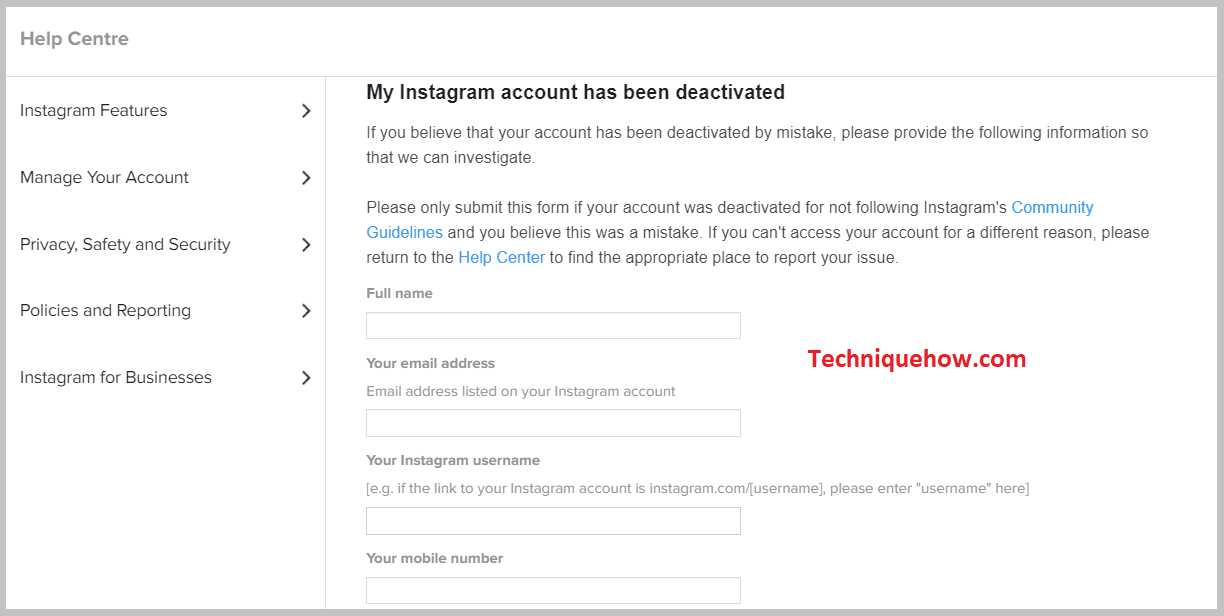 Step 3: Please let us know why you're appealing the decision to permanently deactivate this account
After filling in the form with your personal information, you'll get to see a text box where you need to write the reason for which you think your account has been permanently deactivated by mistake. Explain all the points and how you wish the recover your account back as soon as possible.

Step 4: Tap on Send
Once you've successfully filled up the IG form with all the required details, go through the entire form once again to verify whether all the information you have filled in is correct or not. Make sure to have a spell check.
After complete verification, you'll find a "Send" button at the bottom of the form. Tap on the "Send" button to send the filled-up form to Instagram's Help Centre so that your account could be up for verification as it mistakenly got deleted.
The Bottom Lines:
After sending the form, you'll receive a verification mail comprising a code on your email. Once you get the code, you now need to be calm and patient. IG customer service will take some time to respond to you.
The usual time taken by Instagram to respond is a few hours to at least two days. Till then you do not need to fill up any more forms.
Most of the Instagram users whose accounts got mistakenly deleted were able to recover their accounts just by filling up and sending this form.
Also Read: