Your Quick Answer:
If you're just stalking someone on Instagram then you must be sure in all cases that he/she does not catch you in anyways.
You can view the Instagram stories anonymously and this can be done with a few methods but more openly there are some apps that can do this job more easily even without any hefty processes.
You can do it manually or use any of these apps that will share in this article for both iOS or Android devices.
To view the Instagram story anonymously using apps, you must understand that these apps just download the story first on your mobile.
This way you can see the story video or images without even accessing the story section on your Instagram app.
You can try some tools that you can use as story viewer tools for Instagram directly from the PC.
If the Instagram account is private then there are a few private story viewers tools that can do the job for you.
Remember: In order to view the Instagram stories, you have to log in on those apps with Instagram credentials and may be needed to allow some permissions to view those stories anonymously. So, be aware of this while allowing the permissions. Now, let's dive into more details with the features and step-by-step guide for the apps.
If you're on a desktop then you can use some chrome extensions to download the Instagram story.
Does viewing Instagram Story after downloading make it anonymous?
Instagram stories that you update remain there for a day/24 hours. As a tip, you can access those from archived files and select them as highlights on your profile page.
You can follow these tips and use apps to download Instagram stories without the user's knowledge. The best way to save all photos from other Instagram profile stories is to take a screenshot. However, you'll need a third-party app to save video stories from other profiles.
For Android:
You can use the 'Story Saver' app (one of the most user-friendly).
Download the app from the play store and log in with your Instagram account.
Select the Instagram story and press Download.
For iOS devices:
You can use Story Reposter to save Instagram stories shared by other users.
On your Desktop:
You can use StoryDownloader to save Instagram stories shared by other users.
Here I have enlisted the best apps for your mobile below:
1. Profile+ Followers Tracke‪r (iPhone)
Profile+ Followers Tracke‪r is the best story downloader tool for your iPhone. This app can track your followers as well besides this. Let's discuss the methods to use and some features.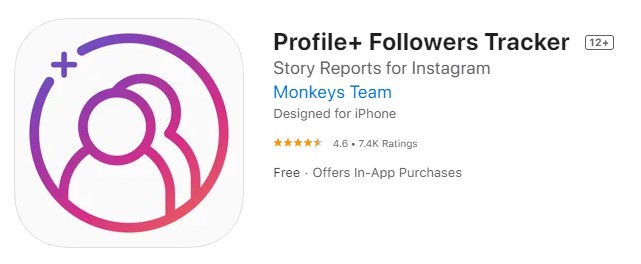 ✪ Features:
With Instagram Profile Plus, you can view one Instagram profile in 24 hours.
Profile Plus lets you view Instagram posts along with the stories.
Story Reposter allows you to view public user's stories. You can view Instagram stories of popular private accounts.
You can save posts, view HD-quality photos, and watch stories.
✎ How to Use Profile+:
First of all, Install Profile+ from the Apple store on your iPhone.
Tap on the "Settings" option on your iPhone.
Head on to the Story Reposter section on the app.
Tick next to the Read and Write text box.
Tap on the Photos button.
You do not need to post the photo or video file to Instagram for saving it. Select to repost the story to Instagram.
That's all you have to do to become anonymous while still watched the story.
2. BlindStory (Android)
If you're on your Android device then BlindStory might be a great fit for your anonymous viewing of stories on Instagram. You can do multiple things with the BlindStory app on your android devices, I've added the features and the guide to use it.

✪ Features:
BlindStory App lets you download and oom HD Instagram Stories without a trace.
You can save photo and video files with a click using your device.
Story Magnet tracks and saves Instagram story before it gets deleted.
Search by the username to get highlighted stories.
✎ How to Use BlindStory:
Firstly, install the BlindStory app on your mobile device.
On the search box, type the Instagram user name with the story that you want to view.
Blindstory app lets you see all the stories without getting traced.
Use the search box to view the Instagram story of users that you don't follow.
That's all you have to do to view the stories privately on Instagram.
3. Story Saver for Instagram (Android)
Story saver for Instagram, you can download photo and video stories of Instagram accounts. You can repost stuff, see stories and do a lot more with this app. I have added the basic features and methods for this app.

✪ Features:
Download stories from Instagram profiles.
It lets you repost stories on your Instagram profile.
Allows you to browse from your feed or search stories of other Instagram profiles.
You can pin any Instagram user and access their Instagram stories.
✎ How to Use Story Saver:
First, Install the app from the play store and open it.
Type the username in the search field on the app.
You will find the recent stories shared by the Instagram user.
You will likely find a download link at the bottom of the page.
Tp on the link to download photo and video stories.
That's all, it's an easy method to download the story to view that later from your gallery without the person knowing it.
The Bottom Lines:
These are the apps that you can use to view the Instagram story of someone else privately and you become an anonymous viewer of the story. Actually, these apps help you by downloading that story video on your mobile storage and you view that from your gallery. These are the all tricks that you play here and I hope these apps are perfect for doing this.
Also Read: