If your cellular network is showing no service then you might not be able to access the internet on your iPhone. If the issue happens due to the plan expired then just by renewing the plan you can restore the internet but if the issue is something else then in order to get internet access restored you might fix those things ASAP.
The reason could be the expired plan or the device itself and I have tested on my iPhone that restarting the mobile can fix the network issue easily and instantly, maybe this happens due to the fresh searching of the network.
To fix the iPhone network not available issue, just check the plan or re-insert the SIM and check if it's damaged. In other cases, if the internet is not accessible on your iPhone just make sure the WiFi is turned off to browse through the mobile internet.
There are several settings that you can change in order to optimize a few features on your iPhone and if the issue is the network then just try switching the mode of the network from 4G to 5G consistently.
In this article, I will explain the reasons if the network error that happens and the fixes that you can apply in order to restore your internet or network on your iPhone.
Why do you see No Service or Searching on your iPhone?
Mainly the no service is very common. If you see 'No Service' or 'Searching' on your iPhone then there must be some network issues. If you are not in an area with proper cellular network coverage then this problem can occur.
Though, the best solution is to make sure that you are in an area with the proper cellular network coverage.
If you are still not able to access better networking then make sure to turn cellular data on or off from the settings. After that make sure to tap on cellular or mobile data. If you are using an iPad then you can also see settings and cellular data.
Make sure to prefer settings and tap on cellular, after that choose cellular data options and access data roaming.
Why is your iPhone Saying No Service?
Sometimes, you must have faced the issue of saying No Service. There are mainly three reasons for that:
1. Maybe due to device problem:
If your iPhone is saying No Service then there must be some hardware problems. Mainly due to the hardware problems, iPhone says No Service and does not allow connecting easily. For that, you need to use and implement some effective steps. If you are facing No Service issues then make sure to check the settings of your iPhone as well.
If you see that there is another reason then make sure to take a look at your iPhone's software. Make sure to have a proper inspection of your software and hardware to get better results. This will help you to overcome the issue of No Service.
2. Your plan is Expired:
The issue of No service can also be possible due to the issues with your cell phone plan. If your phone plan has issues then you need to fix that instantly. We all know tag no one size fits all solutions to the issues. Or so crucial to troubleshooting with the help of the most effective solutions.
If you want to fix your phone then make sure to refer most effective solutions for that. If you discover issues are being caused due to a phone plan then make sure to check out every detail and ensure everything is fine or not.
3. Your SIM card is deactivated:
Sometimes, no service can also be the reason due to the iPhone is disconnected as the carrier suspected fraudulent activity or when the payment of the customer is large then you need to give the carrier a call. Sometimes Your phone also says No service if your account was canceled.
This is the most common reason. If in case, you came to the exact reason for No service issues then make sure to give a carrier a call and desire that everything is Okay.
If you discover that No service is being caused due to the carrier then make sure to check out your cell phone plan comparison tool to know and understand how can you save hundreds of dollars a year by switching up the things.
Cellular Network not Available on iPhone – FIX
Often, the cellular data is stopped and does not work on your iPhone or iPad. There are certain ways that you can implement to fix the problem instantly.
1. Insert SIM card Again:
Try to remove the sim card and then insert it again. Sometimes it happens that the sim card is dusty and reinserting can allow your phone to improve the cellular network.
2. Turn on Data Roaming:
If you are not able to fix the cellular network then make sure to apply this step. You can turn on the roaming from the setting of your iPhone. Most people who have experienced Phone Data outages have been able to be found this as a reliable solution to fix the cellular network.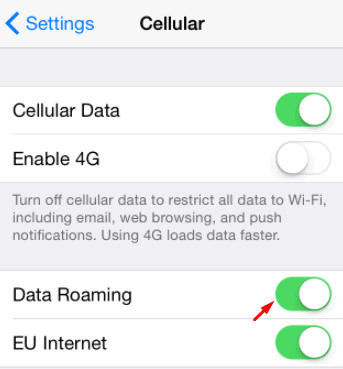 3. Turn off your Wi-Fi:
If you're on your WiFi & you're seeing the internet is not accessible then maybe your WiFi is not working if you're connected to any. Now, in order to access the internet from your iPhone mobile network, you must turn off the WiFi and then restart the phone if the network is not available and you will be able to access the internet on your mobile network.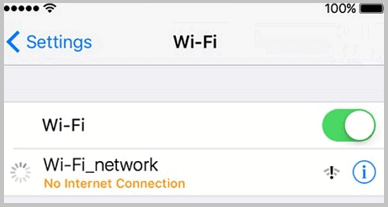 Fix if your iPhone Cellular Data Settings Missing
You can change the LTE settings, make sure to look into the settings app of your iPhone and then see if cellular data are setting missing or not. If it is missing then move to the further steps.
Ensure to check your device compatible with the LTE network. Hopefully, this will fix the issue.
You can also reset the settings of the network to fix the issues.
Manually Update Carrier Settings on iPhone
Carrier setting bodies allow your network and other wanted setting to enhance the cellular network connectivity and overall performances.
Carrier settings updates mainly support the feature such as VoLTE or WiFi calling. You can easily manually check and install carrier settings update with the following steps:
Tap on settings options.
Click in general.
After that make sure to go About and from there you will see an option to update the settings of your carrier.
If you want to see the version of your carrier settings on your specific devices then make sure to go on settings and then click on general. From there you can look next to the carrier from the about section.
The Bottom Lines:
This article explains the reasons for those the issue occurs and the methods to fix it if the network is not available on your iPhone.
Also Read: