✎ Key Points:
» Be cautious of fake emails containing malware attachments and requesting sensitive information like bank details, credit card information, or personal details.
» If you spot typos, spelling errors, or grammatical mistakes in the email, it's likely a fake PayPal communication.
» Report suspicious emails by forwarding them to [email protected] to protect yourself and others from potential scams.
How do I know if a PayPal Email is Fake:
You have the following things to try:
1. Asking for Clicking on Link
Fake and scam emails have become a common way to trap users to get money out of them. However, if you get aware of it then you'll be able to save yourself from falling into this trap. Here are some tips to identify and know if a PayPal email is fake.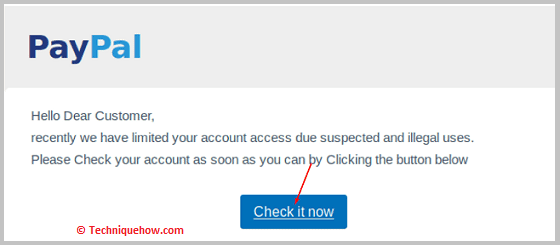 Any email claiming to be from PayPal but asking you to click on links to third-party websites is not genuine. These links are a trap, which when clicked gets your details to the scammers.
You should never click on any links attached to any emails sent by unverified email IDs. You need to look for links in the emails and if you find one, know that it's fake.
2. Malware as Attachments
With certain emails, you'll find some attachments. These attachments are malware that when clicked gets a virus on your device that steals your information.

You need to look for the attachments in the email you've received. Check if there are any attachments or not. Never open or click on them as they can be malware.
3. Asks for Personal Information or Credit Card Details
Emails sent by PayPal will never ask for your bank details or any other kind of personal information. You need to know that any email that claims to be from PayPal but is asking for your credit card details or bank information is a fake one.
You should immediately report the email to PayPal and then block the ID as it's a fake account.
4. Mistakes in Lines: Typos, grammatical errors
Another clear indication that can help you find out whether a PayPal email is fake or real is mistakes in the line. You need to look for typos in the emails to find out whether there are spelling mistakes or not.
If you see that there are many grammatical mistakes and spelling errors in the email, it means that the email is composed by a scammer. When an email is sent by a reputable company, it can never have any kind of spelling errors or grammatical mistakes.
The emails sent by PayPal are always constructed in a proper convenient manner. You need to check for construction mistakes and quality to see if it's fake or not.
How To Identify Fake PayPal Emails:
Try these things:
1. Asking for your Bank Information for Credit
When you receive emails that claim to be from PayPal, don't always believe that it is sent by actual PayPal because they can be sent by scammers too. PayPal never asks for your personal information or personal details such as your bank or credit card information, your CVV, etc.
This information is very crucial and should never be handed to anyone other than the account owner or close ones.
If you reply to the email or send your bank details to the email, you'll fall into the scam and your bank balance can also be lost too. Never send your bank details to anyone via email.
2. Knowing you About a Prize
Another very common way of tricking users to click on links and fall for scams is by saying that they have won a big lottery or a cash prize. This kind of email excites the user and they click on the link that is attached below the email to claim the reward or the price which is when their details get recorded they fall into the trap.
These messages and emails are constructed on purpose by the scammers so that out of greed users would fall into the trap and lose their money and privacy. This problem has been increasing constantly. 
How to Report Fake PayPal Emails:
If you've received fake emails that claim to be from PayPal but are scam emails, you need to report those emails and address the issue to PayPal about it.
You can send a mail directly to PayPal describing the issue in detail, and attach the ID from where you've got the email. Another way that you can use is to report the emails by forwarding those directly to PayPal.
You need to forward the fake emails to the ID attached: [email protected].
This is the official PayPal ID that is used for reporting fake emails. Once you report it, PayPal will take action against it.