Your Quick Answer:
There could be many reasons to have more followers for your Instagram profile and it looks cool to have more followers than the following list on the account.
So, if the ratio of having the people that you're following, also follow you back then there would be more followers for your Instagram account.
You can find out if those persons whom you have followed actually did not follow you back and if you want, you can remove them from the follower list.
It becomes necessary to monitor your online activity after some point in time.
If you want to find out who just viewed your Instagram video, check it out.
If on Instagram, you might be curious to know who follows you and who doesn't.
There are some steps you can follow to see who does not follow you back on Instagram.
How To Know If Someone Follows You Back On Instagram:
You have two ways to do that,
1. From His Instagram Profile
If you are using an updated version of Instagram (most of us are) then it is much easier to do the same because the Instagram app provided its users with the 'Follow Back' button not long ago.
You have to open up a profile and check the big blue bar. If it says 'follows you' or 'Follow Back' then you are good to go.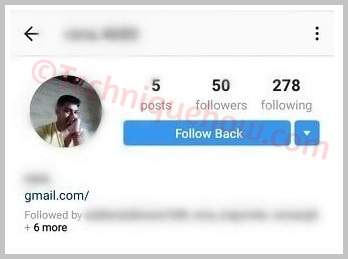 You've found your loyal follower finally!
There are certain apps too that can monitor your Instagram activity for you. Especially to check who unfollowed you and stuff like that. If you are on a business profile on IG then it becomes more than essential for you to keep a tap & track of your followers.
You'd also need insights and stats to know about the demographics. Though Instagram provides you with the same a better and easier option is always welcome.
2. Using Apps To Check
There are several apps to check the people who just did not follow you back while they are on your following list. You can perform the action on both Android and iOS devices.
🔯 Unfollow for Instagram
This app gives you a list of people who recently unfollowed you and also allows you to unfollow them from the same list.
An eloquent game of 'tit for tat' this app is people's favorite one.
🔗 Link: https://play.google.com/store/apps/details?id=app.follow.unfollow&hl=en&pli=1
🔯 Instafollow
If you are up to the task of handling some adverts and stuff that comes along with app installation then this is the app for you.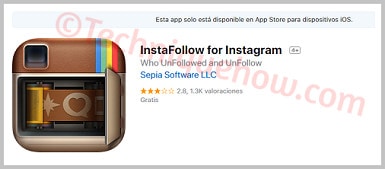 Gives you a decent stat of people who have followed you and unfollowed you. The rest is up to your discretion.
🔯 Followers Track for Instagra‪m (iOS)
Followers Track for Instagram‪m is the best iOS tool if you are looking to find out stalkers on your Instagram profile. This Follower Track is available to use on your iPhone or iPad devices and this is completely free to use.
🔗 Link: https://apps.apple.com/us/app/followers-track-for-instagram/id1236012496
Just visit the apple store and search for the word 'Followers Track for Instagra‪m'. You can also Google the keyword to find out your targeted apps that you can use to list out people who followed you on Instagram.
Apart from this, there are certain apps that assist you to build your Instagram audience. From hashtags to suitable images for uploading, they make operating Instagram as a web tool very easy.
Why Does Instagram Stop You from Following People:
Instagram won't let users follow more people if the user has followed more than a limited number of people as Instagram restricted the amount which is 7500 or if the user is trying to follow someone who keeps their account private.
In simple terms, it means that you cannot follow more people above 7500 or people who have a private account (unless they accept requests).
1. Hourly Problem
Now if you want to follow more people, then it is recommended to free up some space by unfollowing people who do not follow you back.
Please keep in mind that Instagram's hourly rate policy states that if you follow more than 120 people in an hour then the chances are there that your account will get limited.
2. Report Centre
Now if you have tried all these points stated above and still did not able to follow people then go to settings and uninstall the application.
Install the application again and perform an update.
Now go to your profile and in the upper right corner, you will see a gear icon.
Tap the icon and perform scrolling until you find an option that says "Report a problem ".
In this section write down the issue that you are facing and hopefully, the technical support team on Instagram will be able to solve your problem.
3. Help from the Third-Party Application
Now if you are already following a lot of people whom you want to unfollow in bulk, then the best available option would be using a third-party application.
This tool is very useful if you want to unfollow people in mass clearing up space and giving the facility to follow new people.
How to Tell if Someone Follows You on Instagram:
Whenever someone follows you, you'll get an instant notification. This happens when your account is public i.e. visible to all. However, if you have a private account then you get a 'Follow request'.
In this manner, you can moderate and manage who can follow you and view your stuff.
Step 1: If you have a large follower base and you want to find out a single follower then you must go to their profile.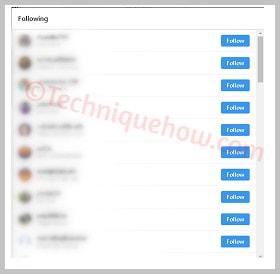 Step 2: Open up their 'Following' list.
Step3: In the list that appears you can search for your name. If he followed you then your name/username will appear on the list otherwise not.
You can open up your own followers' list and locate try to locate them over there.
It's Simple.
If you happen to be a popular fella with great connections on Instagram and also, the person you are looking for has a very difficult username then – it gets more than difficult to pinpoint the person you are looking for.
Also Read: