If you're seeing a few visitors are missing from your story viewers list for a few last updates, they might have muted your story or not using Facebook. However, it's pretty easy to confirm if someone is using Facebook or not just by looking at their profile updates.
This is quite unobvious to understand if someone has muted you on Facebook messenger or story but there are a few techniques that might be helpful for you to find out if someone just had muted you.
If you made your story's privacy settings public then the same can be viewed anonymously using other profiles or also the people who are not in your friends would be the viewers.
To know if someone muted your story on Facebook, post stories continuously for a few days, and wait to get viewed by the person. If that does not happen, send a message to the person and if that gets one-tick (unfilled) then this means you're muted by the person on Facebook.
Experts recommend this to set the privacy to 'Freinds' only so that other people cannot view the story and in case you want someone to not view your story, then just exclude his name from the story viewers list.
This article will explain a few methods to identify whether it's possible to know if someone muted your story or messenger and you will be directed with the methods to follow, step-by-step.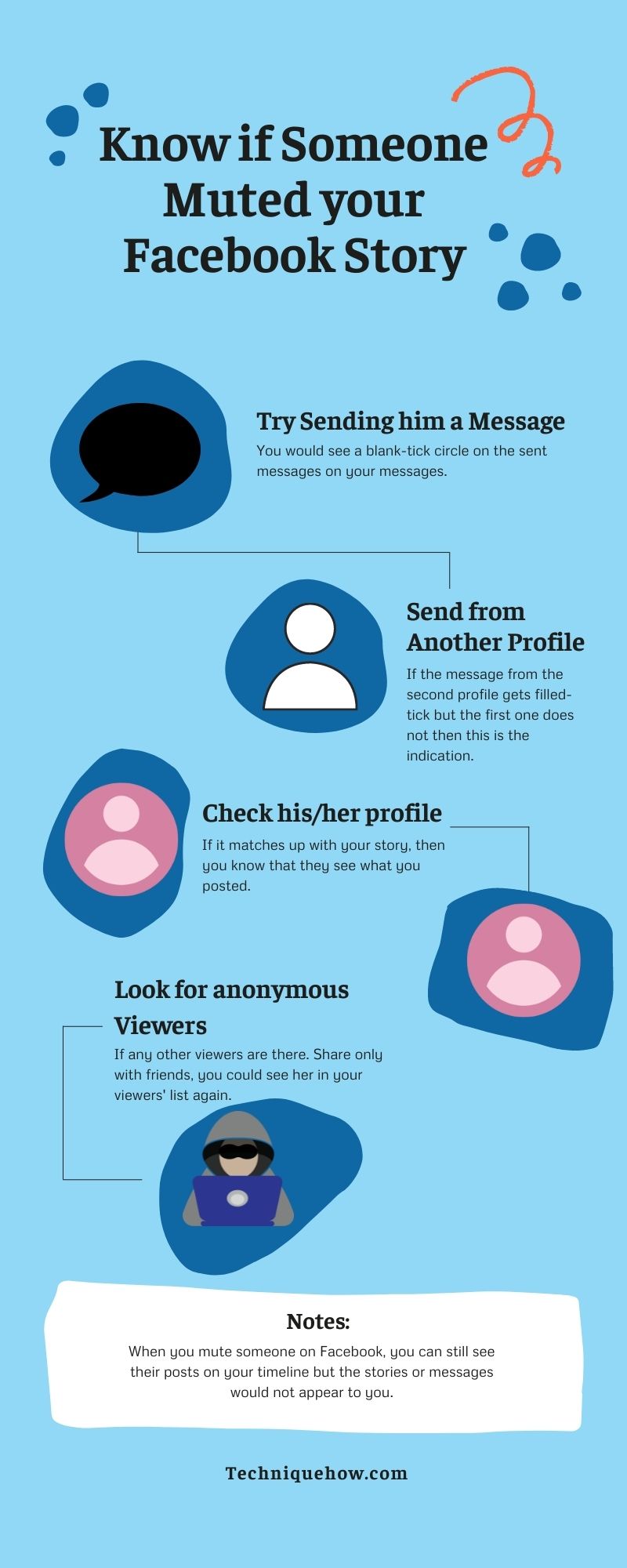 How to Know if someone muted you on Facebook?
If you're not getting any reply from a particular friend on Facebook, this might be the person muted or ignored your messages from Facebook, and finding that out you have to take a few steps. You will see a single tick on the sent messages and this could mean the message from you has been muted on Messenger.
You must know that if someone just unfollows you on Facebook then most probably your profile stuff will no longer be shown to the person's wall even if he is on your friend's list.
To find out if someone has muted you on Facebook,
1. Send him a Message
If you want to know if someone has muted you or not then just send him a message on Messenger then you would see a blank-tick circle on the sent messages on your messages.
If that tick does not fill that means the message is not on the person's inbox rather it is on the way to or in the spam folder.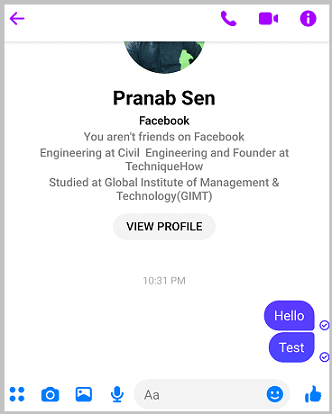 2. Send from Another Profile
Now if you have any other profile then just send a message from that profile or you can send blank messages just to verify a certain thing.
If the message from the second profile gets filled-tick but the first one does not then this is the indication that the person has muted you on Facebook or ignored your messages.
3. Check for Read-Receipts
If there is an "open blue circle + checkmark" after sending a message in Messenger, that person is avoiding you.
A Filled blue circle + checked means that Facebook delivered your message but not seen.
When the blue circle is replaced with a small profile icon, it means that the person sees your message.
Know if Someone Muted Facebook Story
There are a few things that you might consider while looking for indications to know whether you're muted.
To find out if someone just muted your story on Facebook,
1. Check his/her profile:
It is probably the easiest way to determine if the person has muted your story. If you go over to the Facebook website, pull up the person's profile, and check what he/she has posted or commented on recently.
If it matches up with your story, then you know that they see what you posted. After checking, you will be able to ensure that the person has muted your post.
2. Look for anonymous Viewers:
It is also an easy way of finding out if someone has muted your story. Ask him/her to order you in a post that he/she has recently made. If he/she sees what you posted, it should show up right there at the top or somewhere near it on their page.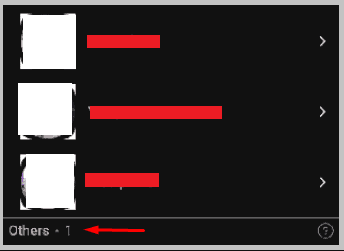 In some cases, the person looks at the stories from the unknown profile if your story is public and if you just make it share only with friends, you could see her in your viewers' list again.
3. Changes in your Facebook profile:
Look at the recent changes on your friend's profile. If you see that he/she has only a few settings, you should know that something is up. One thing to be mindful of is that people can change their Settings, but their profile will not.
If you see that he/she has a few unexplained changes, then there's a good chance that he/she has muted your story. It is one of the most effective ways to know if your account has been muted.
4. Search for the recent posts:
Go to your Facebook search bar and type in the name of your friend. If you see that the person has been posting a lot on social media, there's a good chance he or she has muted you. If that's the case, you'll have to keep trying to figure it out.
How to Mute or Unmute Someone on Facebook?
In case you need to mute someone so that person does not become able to view your posted stuff on Facebook then you can just mute.
While you muted someone on the Facebook story the person's story would not be visible to you and the way to mute someone on messenger is also added below as well.
For Muting Facebook Story:
In order to mute someone's story on Facebook,
First of all, just open the story and tap on hold for the options to appear.
Now just tap on Mute Name's Story in order to mute his story.
Then finally, confirm the muting tapping onto the 'Mute' option.
That's all complete to mute someone's story and his new story would not show up to you.
Unmute Person whose stories blocked on Facebook:
Now if you need to unmute a particular person or all people you have muted then just follow the simple steps,
First, go to the 'Settings & Privacy' option and from there find the 'Stories' section.
Under the stories section, you would notice the option 'Stories You've Muted' and then tap on the Unmute option.
In order to unmute, just tap on the unmute button beside that person's name.
These are the simple steps to unmute the person on FACEBOOK STORIES.
Mute Messages or Chats on Facebook Messenger:
Go to the person's Facebook page and find out who they are.
Then click on their name to go to their profile.
Click on the message button on his profile.
After Opening the message box. You will find an arrow sign beside the person's name. Click the arrow.
Choose Mute conversation.
Here, you will get five options to choose how long you want to mute the person.
In other words, when you mute someone on Facebook, you can still see their posts on your timeline but the stories or messages would not appear to you.
The Bottom Lines:
You can use the tips provided here to find out if the person has muted your story or stories from you. You may also find that if your friend has more than one account or else make your anonymous one.
Also Read: