You will not find any official way or method provided by Twitter itself to check the name of someone who viewed your profile.
It becomes too tough to manage or keep up with the post, likes, followers, tweets, and retweets. Even recently users are found enthusiastic about knowing their secret fans or names of those who are viewing their profile on Twitter.
As Twitter doesn't have any direct feature to get informed about it, it's not an easy task. By turning on the analytics feature of Twitter, you'll be able to know about the number of people who visited your profile, but you won't be able to know their names.
To know who viewed your Twitter profile, first, Turn on the Analytics for Twitter then look at the option 'Profile visits', and then see the number of people who viewed your Twitter. Tools like Hootsuite, Crowdfire can help the users of Twitter know about the number of secret admirers who have recently visited your profile several times. You can use these third-party online tools by simply setting it up using the correct information and keeping track of recent updates in the dashboard about the account's performance.
If you're looking for techniques or methods to know who has stalked you in recent times or have frequently visited the profile, you can read on to find out about the tools in detail. Over here it's about the methods and the tools that can be used to know about the ones who viewed your profile and you'll even get to know how it works so read on to get the knowledge about it.
Can you Find Out who Viewed your Twitter Profile?
Twitter doesn't provide you with features to view the names of those stalkers who are frequently visiting your Twitter profile. But enabling the analytics feature can give you some idea about how many people are viewing your Twitter profile.
Normally, Twitter analytics shows some details and informs the user about the performance of his or her account like the no. of views of tweets, mentions, impressions. But it doesn't notify the profile name of those people who have visited the profile of the user but it surely displays the number of people who visited the profile. Even from the notifications that you receive on Twitter, you'll be able to know who reacted to your tweets or retweeted your tweet.
But unfortunately, you won't be able to directly figure out the name of those peeps who are visiting your profile even if you're using the Twitter analytics feature. Sadly, only the viewer's number i.e number of people who stalked or viewed your profile is only something that they'll be able to help you with.
See who Viewed your Twitter Profile – Tools
There are some tools that you can use in order to check who viewed your Twitter profile. Let's get to the tools name:
1. Hootsuite:
This third-party online tool is a very useful one for social media management.
It has got some amazing features for its user which makes it super easy to handle social media accounts without any issues.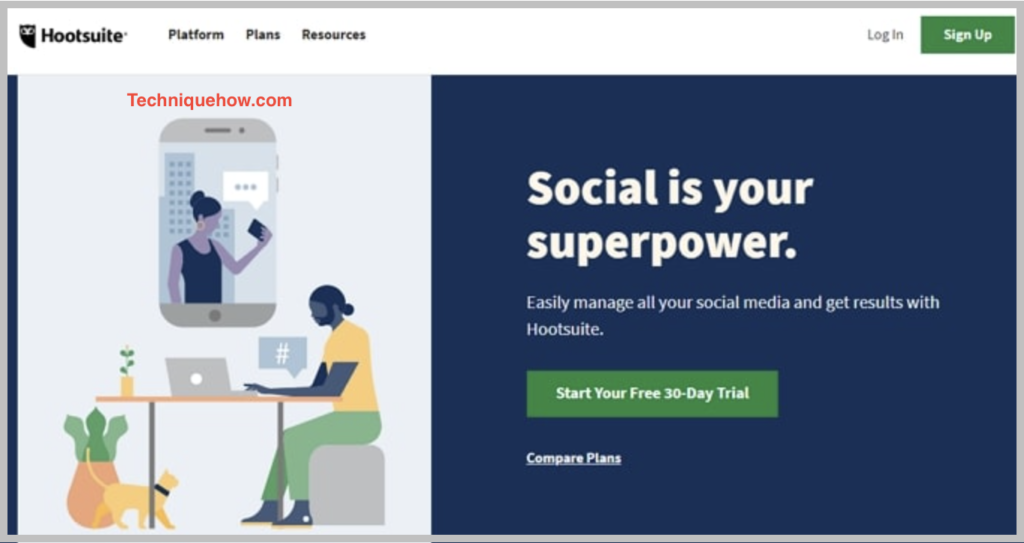 ⦿ Features:
Post scheduling is the first classic feature, which enables the user to schedule a post by using Hootsuite to be posted on some particular day or date. You'll get to select the date and time and you're done scheduling it to be posted on that day.
The streaming feature of Hootsuite helps social media users monitor his or her different social media channels so they won't miss out on anything and respond to it quickly. It is a great tool for the creation of new content.
Hootsuite Analytics feature provides users with a quality dashboard that would cover the performance of individual Social accounts or you can even have a mixed dashboard. Some key metrics like fans and followers, posts and tweets, etc are all covered by these features. Even advanced metrics like Performance by content, total clicks per country, performance by post, etc are also included.
Assignment features of Hootsuite offer the users a feature to assign members to different tasks to carry them on without any delay.
The content library is the feature that is available for the business users which helps the marketing teams in a great way by allowing the users to set up stylish templates and pre-approved pictures to be posted later.
⦿ Steps to Set up Hootsuite:
If you are new to hootsuite.com you need to register yourself first and for that, you need to click the big green register button that you will find on the website which says Sign up now.
For the next step, you need to find the owl at the top left corner of the dashboard. Click on it to proceed to the next step
Once you have to click the owl on your screen, you will find yourself with a drop-down menu on the screen prompting you to select the options. From the options, click on the settings to have a sub-menu appear on the screen.
In the sub-menu, click on add social networks.
To link with Twitter, click on Connect with Twitter.
Provide permission to Hootsuite to access the profile by entering the password, email or username then click the blue button to allow.
Now on the settings dashboard, you can find Twitter once it's added.
There in the Twitter analytics home dashboard, you'll be able to see the no. of people who visited your profile and top followers who visited your page.
Now when you've linked your Hootsuite with Twitter, in the dashboard you'll be able to have information about the accurate insights, no. of new tweets and increase to followers, etc.
2. Crowdfire:
This is another social media application that has rich features to benefit users.

⦿ Features:
Some of the classic features which had become users favorite management tools are:
Scheduling social media posts: Drafting posts for social media accounts and posting them at some exact time is no longer a problem as the tool Crowdfire provides a master calendar feature that lets you schedule them at a specific date and time.
Supporting multiple social media platforms: with a busy schedule, it becomes pretty difficult to manage and take out time to check every social media network. To remain active in all and every social media channel, this tool will let you monitor them all at the same time.
Access and check social media analytics: the analytics feature of this tool is simply amazing and enough to deliver all the info about the performance and metrics of different social media channels with just a click.
Tracking the mentions in social media: it's easier with this app to track all the mentions of your accounts. It even categories it into a total number of mentions, pending and closed mentions.
Hashtag recommendation: to make the posts more attractive and engaging it recommends suitable and appropriate hashtags that are happening and trending.
⦿ Step to Connect Crowdfire:
The detailed and comprehensive steps below will help you find out the technique to connect Twitter with Crowdfire.
Install the Crowdfire app on your device.
Open the application and tap on the profile option in the bottom bar.
On the next page click on add an account and then select Twitter.
The analytics dashboard will show you all the information regarding your account's performance including the no. of people who recently viewed your profile or visited your page in recent times.
Find out How Many People Viewed your Twitter:
Although you cannot see the profile name of those persons who laid eyes on or stalked your profile, you can know how many of them visited your Twitter Page.
For that you just need to enable the Twitter analytics features by following the simple steps enlisted below:
Open the Twitter application on your device.
Now Click on the option More which you'll find on the home page itself.
On the next page, click on the Turn analytics on option.
Then you need to select Profile visits.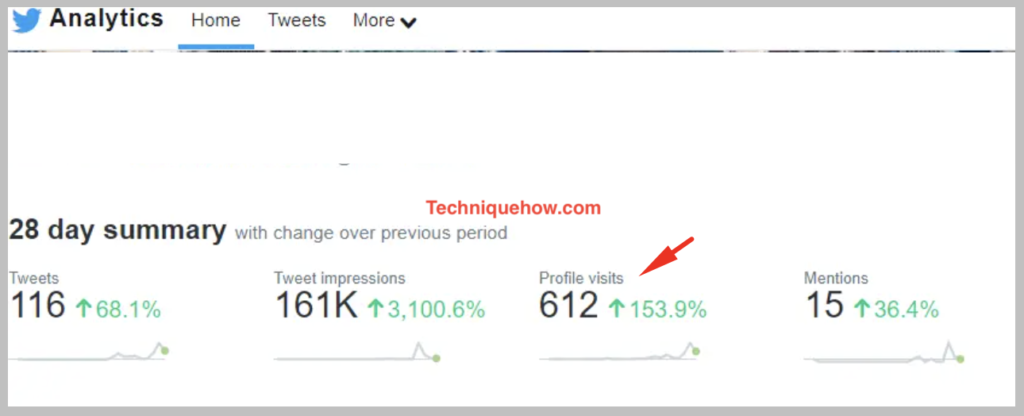 Now you can see the number of people who have recently viewed your page or profile.
The Bottom Lines:
As Twitter doesn't have a clear and direct feature to let the users know about their stalkers or fans who have frequently visited the profile, the analytics features can help you with that by letting you know the number of stalkers. The online social management tools mentioned above can help know about your recent profile visits. It can even make your posts more engaging. You need to know that it's there for you to make the maximum advantages out of it.
Also Read: