Snapchat has many features that you can make use of but there are a few things that are normally you can't do it. There might be some privacy concerns or Snapchat does not feel unsafe for you and those features are not implemented still now.
While you've too many friends on Snapchat people don't actually have an interest in browsing the whole list and so if you want to hide a friend from your Snapchat that appears on the list from random people who look at your profile then you can add multiple friends and most probably that particular one will go beyond the list that is hard to find for anyone. This is the algorithm for most of the chatting apps, so may work for your Snapchat as well.
But that could not be the exact solution if that thing is too much important to hide someone from the list or make friendships private. I just searched for many ways to private Snapchat friends and in this article, I will explain everything.
To make friendships private on Snapchat, you can minimize the reach of your profile by changing the settings for 'WHO CAN Contact Me' to 'My Friends' and disable the 'Show me in Quick Add' option in order to hide from someone's view and if anyone can't see your or you can control who can see you then people would not be able to view your friends on Snapchat as well.
Let's check the guide that I've explained step-by-step.
How to Hide Someone on Snapchat without them Knowing?
To hide someone on your Snapchat means that you do not want anybody to invade privacy when they have your phone in their hands. It is safer for you to hide anybody you wish to so that notifications for any person do not appear on phone. There is a feature on the Snapchat app that you can use in this regard to turn off the notifications to hide someone on Snapchat.
Now, this method is to hide the notifications on phone for any person on Snapchat so that his name does on appear on your phone and you can set the app lock key for Snapchat so that it can't be accessed without your permission and nothing to get viewed.
To hide anyone's message notifications on Snapchat that pops up on your mobile screen,
Step 1: First of all, open your Snapchat account.
Step 2: Tap on your profile or the bitmoji on the top left corner of the screen.
Step 3: On your profile page tap on the ⚙️ icon seen on the top right corner of the screen.
Step 4: Scroll down to 'Message Notifications' and tap on it.
Step 5: The only thing you have to do is toggle off by tapping the 'Mute' option.
The moment you Mute this, you will no longer receive any notification showing that you have received any message on Snapchat and no name will be visible on your phone for any incoming messages.
How to Hide Friends on Snapchat – Snap Hide App
Snap Hide app is a modded version of Snapchat which gives you more additional features as compared to the original Snapchat app features.
Features of Snap Hide:
This Snap Hide app is free. You can download it from your browser by searching it from Google. This app is compatible with both iOS devices as well Android devices.
Hide a particular friend.
The snaps will not expire.
Simple and easy to use.
You can hide friends on Snapchat if you use this modded app on your mobile and you will see the option to hide a particular person from your friend list. NOTE: This type of app can steal your data while you're logging in to such a mod app.
To hide a particular friend on Snapchat from everyone,
Open the browser of your mobile phone and type Snap Hide on the search bar. You can even search it from a third-party site and proceed with the installation.
The page will open showing injection required. Tap on the 'Start Injection' button.
Complete any two offers by downloading any two apps displayed once you complete the injection process and then run those apps for 30 seconds to verify that you are a human being and not a computer. (If that is required).
After that, the Snap Hide application will be downloaded and installed on your device.
Now open the Snap Hide application and then select a particular friend whom you wish to hide.
There you go, it's done.
Can You Make Friendships Private on Snapchat?
You can make your account private on Snapchat. Snapchat does allow its user to receive requests from only known people or friends thus allowing the users to make private friendships on Snapchat.
To make the friendships private on Snapchat,
Step 1: First of all, open your Snapchat account.
Step 2: Tap on your profile or the bitmoji on the top left corner of the screen.
Step 3: On your profile page tap on the ⚙️ icon of 'Settings' seen on the top right corner of the screen.
Step 4: Scroll down to 'WHO CAN' and then tap 'Contact Me'.
Step 5: Select 'My Friends', this makes your Snapchat private.
Now only your friends can contact you and no other people ever will see the contact option.
Snapchat Settings to Make Best Friends Private
You can make your Snapchat account private., the steps are pretty easy. Follow and create a private Snapchat to make your best friends private.
Step 1: Make you open the Snapchat app, you are logged in to your account.
Step 2: Tap on your top left corner of the screen to open your profile page.
Step 3: Now tap on the gear icon to open the 'Settings page.
Step 4: Scroll down to 'Who can' and tap on 'Contact Me' and select the 'My Friends' option.
Once you change the settings of your Snapchat app as indicated above, you won't be able to see snaps sent to you by a person who is a non-friend. You will only receive a notification indicating that the person has added you as a friend. Your account will become private and the public cannot send messages to you.
Hide Your Profile from Non-Friends on Snapchat
Snapchat has this special feature called 'Quick Add' that allows users to appear to people who are mutual to your Snapchat friends or you have their contact number saved in your device or someone close to your location. This feature helps you to expand your Snapchat friends through this Quick Add feature. For instance, if you add any of your friends through Quick Add, the contact, or friend that you both have in common will start to appear in your Quick Add. It will also be their friends in your Quick Add not merely just the common friends and vice versa.
This feature of Quick Add can be turned off. Doing this will help you prevent your Snapchat account from appearing to your contacts who have your contact number saved, friends of friends, or even location-based friends. You can hide your profile from them & make it private and avoiding unnecessary, and unwanted Quick Add friends.
To disable the Snapchat Quick Add or to hide on Snapchat,
Step 1: Open your Snapchat account. (Make sure that you are logged in)
Step 2: Open your profile page by tapping on the profile icon on the top left corner of your screen.
Step 3: Open the 'Settings' page by tapping on the gear icon of the profile page seen on the top right corner.
Step 4: Scroll down to 'WHO CAN' and tap on 'See Me in Quick Add'.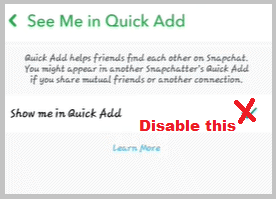 Step 5: You will see 'Show me in Quick Add' and turn it 'Off' by tapping on it.
Once you turn off your Quick Add, you will no longer be seen in other Sanpchatters Quick Add.
The Bottom Lines:
This article explained every detail that you will need in order to hide your profile as well as the friendships on Snapchat. Note that directly you can't hide friends but using the above methods you can control your profile and hide everything including friends on Snapchat.
Also Read: