Adding multiple locations with the same business name is only possible on Google My Business listing when you have different office address present at those places. For my Google My Business page, I had customers from other nearby cities, not only from the exact city where the main office was situated. That clearly means if you can get listing on more cities that will result in more customer but Google would not let you show the business until you verify the business.
If you want to manage multiple locations for your Google My Business page you must put different addresses along with a different link and phone number for each page.
The additional suggestion is that you can add toll-free contact numbers for your work that is permitted for brands to show on different places for the same business. But, for small businesses, you might not get it approved and may have trouble in the listing.

Well, in this article, I will be telling you how you can manage the multiple locations for your small or brand business and what measure to take to stay listed on Google. The steps are straightforward, but a bit hard working that definitely will help you to stay listed on Google permanently.
Can I Have more than one business on Google My Business?
If you are asking about the different businesses then absolutely yes. On the same account, you can add multiple businesses just you need to verify that with real details. Make sure that the listing on the correct category. Now, in case you want to have two different pages for different places where you have physical address present on both of the cities, you definitely can do it. Just put a different link on the city name and mobile number to help identify this for your customer.
I have this helpful and listed when the same business is verified completely and the information added should be different from each other like website link [same domain] and mobile number.
Google My Business: Multiple businesses with the same address
If you want to add genuine business with different name & category on the same place this is allowed to do. As the business and category should be different you would not have trouble verifying these ones, maybe you need to verify each of them manually to show up listing publicly.
I managed to add multiple Google My Business page and customer's page, Most of those was on same places with different name & category–those are still on Google listing and will stay there as those are genuine with good Google Review rating.
Does rating help business stay listed on Google? You have to keep business updated in order to stay listed and get reviews.
Google My Business: Multiple Locations with the Same Name
Adding your business with the same name on multiple different locations is possible when either you have physical address present for your business or otherwise add different location groups mentioning different links and phone numbers for different addresses. The simple answer is yes, you can add with a few T&C.
You have to maintain:
i) You should have to use a different mobile number in case of the small business.
ii) You should add a different link and containing full information about services on that particular location. In this context, I will describe more about the method of how to place links and manage the design on those pages to get the listing.
How to Use Multiple Locations for your Google My Business?
On your Google My Business, you can add multiple locations to show up your business to gain more clicks on your page and increase sales. Definitely, you have many steps to manage such business pages in order to stay listed on Google search results. Here, in this article, I have entitled a few follow-ups that you might use on your Google My Business page:
⦿

Become a Brand: Use the same name

Google provides value to brands and lists them up on priority, so if you're not a brand just get your company registered with trademark and most probably your listing will not get banned. Moreover, you can use the same business name to get listed on many locations with this authority that protects your listing to stay long.

On my collection of experience with the brand Vs small business, the brand tends to rank better than the small businesses over time and this is due to the authority it gains for the brand-value. This ould not cost you huge to register your trademark with the correct category and the process might take a few weeks to get it completed.

So, now once you're a brand just use your trademark as a business name and you can rank the business with different locations on Google.
⦿

Use Multiple Different Webpage-Links:

If you're using your Google My Business and want to get rank on different locations, two things you must consider to set differently: i) Mobile Number & ii) Webpage Link. The website might be the same but the targetted links should be different. Example: if your business to get listed on New York, use a link like: techniquehow.com/services/New-York and the same business in other location should have a link like: techniquehow.com/services/North-Carolina. The different links should be linked to different GMB pages along with proper design and targetted stuff on those pages.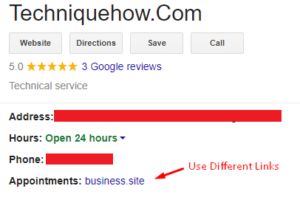 Creating just different pages is not only the case you end. Adding customer reviews on those pages from those exact location pages, adding additional info including address map or service type or working hours can help your page raked on listing. Although the process may take time, the listing will be permanent with this genuine purpose.
⦿

Add Different Mobile number or Toll-Free:

The second thing that you have to make sure that is different from each other is the mobile number you add for every page. If you want to add your business with multiple locations then you have to put the different mobile number for each page that listed on a different address and thus Google detects different business location on My Business.

I have noticed personally that if you use the same mobile number for all Google My Business page with multiple locations to rank then Google deletes the duplicate location listing from the search results. So, better with different primary number while adding locations or use Google business as a brand and you can add the same toll-free number. While you are making the second page of your business on another location put a different mobile number in that case.
⦿

Add Images and Service Details:

Make sure you have added images of that local office as this measure the business as legal on Google's eye as more authoritative and the listing chance is more if you add images to your Google My Business and a few additional images of that place. You have to select a correct category in order to get listing on exact category.

People noticed that adding more unique images with correct service details does not get removed from listing. That is why add your office images and on the web page link add map details of that location and the images of that location to get it listed for every location differently.

The listing would be shown on exact keyword search if the business page is optimized with exact details and the parameters that already mentioned in this content.
Avoid getting penalized by Google for using Multiple Locations
If you want to avoid getting penalized by Google listing you should follow these rules that you have to maintain while managing the Google My Business page with different locations. You have to follow these rules that Google takes as measures while listing any business on the search results:
⦿

Don't Create Doorway Pages:

You have to avoid doorway pages that Google detects to rank in a bad way for multiple locations on Google and once this detected by Google PANDA these pages are removed from Google listing and sometimes the whole website. Doorway pages are the dummy pages which were created by copying and pasting the same stuff by creating multiple pages. This is a bad approach to SEO to rank on multiple locations but this is really going to hit that business if Google detects this as spam.

You will get the doorway pages info that declared by Google itself to stay away from creating such page to trick the search engine.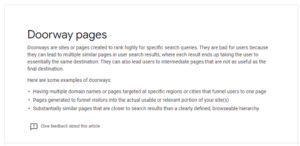 ⦿

Focus on Getting Reviews:

You should be focusing on the Google reviews that your customer gives to your business upon their services received. Getting some good reviews really helps to rank on top on Google search results. Either you take Google reviews on My Business or add them on your website page both work well to rank better on Google.

Let's get reviews from your customer, you can request the review from your customer if you collect the personal details on your business and make sure to follow the privacy of your customer as per law in this regard.
⦿

Don't Use the same Link or Number on Every page:

This is the repeat to this content as I have already asked to follow these two steps and this is the MUST-TO-DO thing while creating multiple Google My Business pages for your small business. Make sure for both pages, you have different locations along with different webpage link & mobile number. This simply means you have another physical branch of your business that operates on that location. So, if you're on creating Google My Business page add a different mobile number, webpage link and map location for every page.

If you add the same mobile number and same URL or Homepage only URL most probably your business going to dismissed from Google Listing. Hope this makes sense.

☟ The Steps in Short

i) If you are making different Google My Business pages for different locations, then you should have the physical address present for your office otherwise you might see listing to get removed even it is approved now with the same name.

ii) If your business page is having different mobile number added for every listing page for different locations, your listing might get approved and will stay for permanent.

iii) The same is for the website link, like if you have link 1 in the first location then you should put link 2 on the secondary page with a different address on the same name. You have to maintain this along with the mobile number to stay listed on Google.
The Bottom Lines:
The topic describes how you can manage your Google My Business with different addresses and the parameters to take in consideration before you start the page listing for your business. Just make sure you're adding different mobile numbers for different locations and use different page link that is optimized correctly according to the location. So, when you start a fresh business page with a location make sure you manage these things well to get it listed and to never get hit by Google stay away from doorway pages.
Also Read: