Do you own a business and want to promote this to people to get more likes?
You have two ways to do that.
Either you get auto likers or use the promotion system and in both cases, will need action. Where the tools used here are free and on the other hand, the Ads are paid. But, which one should be best, let's take the free ones and describe these.
Most of the people avoid Facebook likers as they don't know the use of these tools. The things are not so bad if you use the auto-likers on your post or pages.
In this article, I will explain on which cases such tools Vs promotion works.
What do the Auto-likers do?
Auto-likers actually increase your post likes, comments and you can set the region to get likes. Now, these tools do not generate real people likes who are actually interested in such topics as the developer of these tools unable to run algorithm into their system.
If you just need branding and increase value but no need of customers over online with page likes and post likes then auto likers are the best.
Facebook Auto Likers to get more likes without Paying
Facebook Autolikers can help in liking Facebook posts in order to increase brand value and make your business page visible on the top of Facebook search.
Before using these likers note that your account may get suspended as Facebook does not allow this and you may see some unusual activity on your account.
Here are some of the best auto-likers to boost your page likes and followers:
1. Vipfb – Facebook Auto Followers
Vipfb is the most older in providing service and this is developed and updated more frequently to make user profile safe.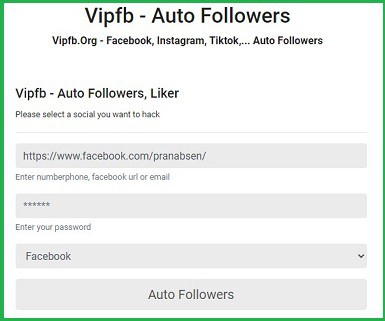 2. Vivoliker – Facebook Post Likers
If you want more safe Autoliker that can send mass likes to your posts then Vivoliker might be your choice.
The chance of getting lock is less with Vivoliker with their spam control technique (as they mentioned). Also, this supports custom URL or ID, means you can send likes to other public posts as well.
3. Wefbee – Facebook Autoliker
Now, let's talk about free Autoliker that can generate free page likes to your posts and pages. Wefbee is one of the best Autoliker.
With likers this tool can send auto-friend requests, send reactions to posts, group posting, etc.
Get Likes on Facebook Page with Ads
Don't pay people to write reviews and likes posts rather reach to original customers who can like and share your post to get original likes.
However, in case you need customers on your business and real page likes increases the chance to get targeted followers on your topic as this generate sales and that is only possible when your run Facebook ads.
At first, you have to create a Facebook page to take the advantages of Facebook for your business and then you have to promote that page to easily reach thousands of people on Facebook. But, the maximum number of people don't know how to advertise products on Facebook.
Promotion is a very important part of every business which needs successful results. On this article, we are going to discuss the process for promoting a page on Facebook. The steps are given below:
Step 1
At first, go to your Facebook page which you want to promote using your admin account ID.
Step 2
After opening your Facebook page you will see the Promote option on the left side of your computer screen. Just click on the 'Promote' button.
Step 3
After that here a new dialogue box will appear with few options. Click on 'Show more', it will display rest option and find for option 'Promote Your Page'.
Step 4
Now, just click on 'Promote Your Page'.
Step 5
Then a new screen will appear in front of you. It is Promote page. Here you can select and fill different field as per your requirements.
Note: You have to choose the age of your advertisement viewers. After that here you will see the location section where you can select different countries or any particular places for your products and service. Then you have to select related interesting topics and the budget.
Step 6
You will be asked for business and tax information. Just fill those then select the payment method to pay the amount and press 'Continue' after you will find a new window where you can see everything about your page's advertisement.
After completing this work, you will definitely find good results for your business as your promotion is targeted to the places you wish to make your sales.
The Bottom Lines:
If you want to get more likes on Facebook then either you choose tools to do this at a low rate or you run ads on Facebook. Getting customers through Facebook is 99.9% is targeted where at Autolikers this is only 0.01%. So, it's totally your decision to increase likes and followers either with the real audience or not.
Also Read: