Your Quick Answer:
The order of the friend list depends on how many mutual friends match your profile has.
There are 6 or more friends on top and the other people are invisible or below them.
Also, in your friend list, now that it is updated you get a synchronized list of alphabetical names but it actually isn't so.
They are mutual friends that are common between you and that person and the rest people are listed beneath it.
In the same way, there will be these friends' suggestions that keep coming in between your surfs. Certain people are able to make their way into it though you have no friends in common.
You would see many people on the top of the friend list and those are the people someone become friends with recently.
You can look at a few things to know with whom someone is mostly connected on Facebook.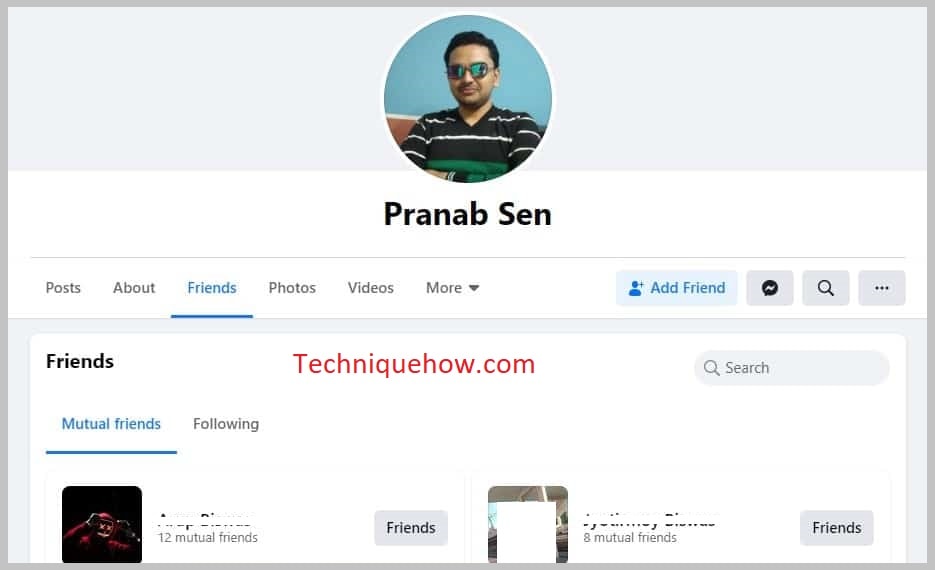 Facebook actually does identify the people who have some kind of one-sided association with you. You just need to understand the signs.
Here, you'll know the algorithms which Facebook uses to order a Facebook friends list on someone's profile.
How does Facebook Order Your Friends in Messenger?
If you are looking for the algorithm that Facebook uses to order friends on Messenger, this is more consistent you chat with someone who will be on the top of the Messenger list.
That cannot be changed just in a single day by chatting with someone else to replace the top position. Facebook understands if someone is consistently chatting over years even with fewer hours with person A Vs with someone person B for fewer weeks, this algorithm takes person A at the top of the Messenger Active friends list.
How Does Facebook Decide to Show Friends on Chat or Profile?
The top six friends on the Facebook timeline/someone's profile will be determined as per:
Interactions on Facebook: Recent interactions play a large role in the ranking process.
Added Most Recent Friends: The most recently added friends are shown at the top of the friend list as per the new Facebook algorithm.
Profile Views: How many times a profile is viewed and such.
Tagged Photos: If you have photos in common.
Wall Posts: What you have posted on your wall and if the person has been on your wall recently.
1. About people who are present in your network:
Facebook find your interaction with your friends and in that way they highlight and give a certain priority to their posts. This way you get to know about your social interactions and activity too.
Facebook allows you to arrange friends in your contacts too. Though, whenever you make a search you can find that not more than ten people are shown in an alphabetical search. If you happen to be a very friendly and social person this might be a problem.
Facebook has introduced this feature of close friends wherein you yourself can add people to that list. This way you can easily have management and access to your dear ones.
2. About people who aren't a part of your network:
They keep popping in your friend's suggestions anyway. Though you maybe not have even one friend in common or anything you still find them on your page.
It is observed that there is this group of 9 people, these suggestions that might be totally random at times that tends to creep people out. After much discussion and speculation about the same, it was agreed upon that most of these people are the ones who stalk your profile—one-sidedly, and hence Facebook gives you a loop point to know about it.
If you are into the habit of using Facebook for some light stalking here and there then this is your cue to limit your activities otherwise your crush will know what you're up to!
Many more factors are taken into account with all these. Stalkers beware, Facebook is watching.
Frequently Asked Questions:
1. Who Shows Up First on Your Facebook Friends List?
It relies on the Facebook metrics algorithm, these metrics work to show friends who have the most activity with you at the top of your profile. There are two main things that can make your friend list stand out:
Recent Friends – Recent friends also naturally appear at the top of your friend list. It happens when you interact with them on Facebook. Sometimes you may find that a recent friend (with lots of conversations) can be transformed into your top friend on Facebook (with fewer conversations).
Mutual Friends – Facebook takes this as a sign that will benefit from adding someone to your network that you may know them. Other reasons are the people you talk to and communicate with frequently on Facebook, the profiles you see the most (profile views), the ones you tag most or comment on, the likes on their posts, the people you like the most.
2. How to Change the Top 6 Friends on Facebook?
To change your list, first, you need to remove your top friends from the list, just unfriend them and the list will change. If you want to put a specific six people at the top, remove them from your friend's list and add them again in a day. Then they will be at the top because they will be treated as newly added friends to your profile activity. You can also go to the "Custom List" section of the Facebook website. There you can create your own friend list. It's up to you to decide which ones to choose and which ones not.
3. How to Change the Whole Friend list on Facebook to Private?
To change the privacy settings of your friend list on your Facebook account, you first need to open the Facebook app.
Then tap on the three "horizontal lines" icon. On an Android, it's in the top right.
Open the section and tap "Settings and Privacy", then tap "Settings". Now scroll down the page and go to the "Audience and Visibility" section and tap on "How people find and contact you." Then "Who can see your friends list?"
Now choose who you want to enable to see your friends list. There will be options, i.e. 'Public', 'Friends', 'Friends except..', or 'Only me'.
If you select "Public", it will be publicly visible, otherwise, for 'Onle me' the total list of friends will only show mutual friends.
4. How to Change Friends Layout on Facebook?
You cannot make changes using the Facebook mobile application. Go to the browser and set the desktop site from the top three-dot sections. Then log in to your Facebook account.
Click the 'Friend' option on the left side of your profile page and find the "Search by name" option on your "Friend" page, to the right of the search field to find two buttons.
The left button has three rows of three slabs. The right button consists of three rows of slabs following a line, which represents the general friend format by presenting a friend's picture next to the friend's name in a single vertical column.
Click the left button with three rows of three slabs to change the layout of your friends. Your friends will now appear in six rows, with each friend's picture directly above his or her name. This layout makes better use of space and makes browsing faster and easier for friends.
Also Read: