✎ Key Takes:
» If Twitter rejects your phone number, choose the "Use email instead" option during registration, enter a valid email, verify details, receive a verification code via email, and complete the sign-up process on Twitter.
» You should get a temporary phone number, and use it during Twitter sign-up.
How to Fix Please enter a valid phone number on Twitter:
You have the following methods below to fix this issue:
1. Virtual Number To Sign Up: Burner
You can use the Burner app as a solution if you're encountering the "Please enter a valid phone number" issue on Twitter. This app allows you to obtain a new phone number that you can use to sign up for Twitter if your current number is not being accepted.
With the Burner app, you can easily generate a temporary phone number that can be linked to your Twitter account for verification purposes.
🔴 Follow these steps:
Step 1: First, go to the Burner app website: https://app.burnerapp.com/areaCode. This is where you can select an available area code for your new temporary phone number.
Step 2: Then, find the option to "Get Started" on the Burner app website. Click on it to begin the process.
Step 3: Click on "Sign In" and log in to your Burner app account. If you don't have an account, you can create one easily.
Step 4: Now, you can generate a new temporary phone number through the Burner app. This new number can be used during the Twitter sign-up process.
Step 5: You'll find your newly generated phone number. Use this number when prompted to enter a valid phone number on Twitter.
Now, complete signing up on Twitter for your account using the Burner app number.
2. Sign Up with Email Instead
You can use the following steps to sign up for Twitter using your email address:
Step 1: If Twitter is not accepting your phone number, look for the option that says "Use email instead." This option will allow you to proceed with the registration using your email.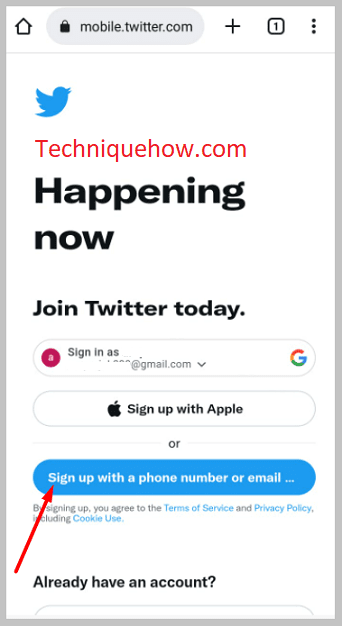 Step 2: Once you choose the "Use email instead" option, you'll be prompted to enter your email address in the provided field. Make sure to enter a valid email address that you have access to. After entering your email, click on "Next" to proceed.
Step 3: Once you've entered your email address and other required information, Twitter will verify the details you've provided. If everything is correct, you'll see a "Sign up" option at the bottom of the page. Tap on it to continue.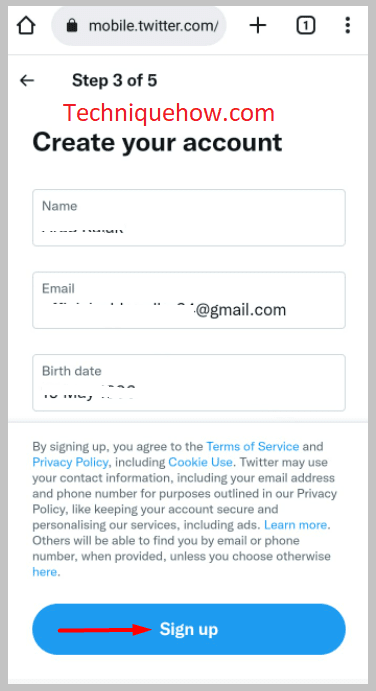 Step 4: After signing up, you'll receive a verification code via email. Check your email inbox, including the spam folder, for the verification email from Twitter. Open the email and find the six-digit verification code provided. Copy the code or remember it.
Once you have the verification code, return to the Twitter verification page and enter the code in the provided field. After that, you'll be directed to set a strong password for your Twitter account. Choose a password with more than eight characters, and make sure it's secure. Click on "Next" and you're all set to access your new Twitter account.
Why Does It Say Please Enter A Valid Phone Number On Twitter:
There are a few reasons why you might face this issue on Twitter:
1. Twitter Won't Accept Phone Number
If you've previously used your phone number for another Twitter account, you won't be able to use it again for a new account.
Twitter may have certain restrictions on phone numbers from specific regions or countries. In some cases, phone numbers from certain providers or virtual numbers may not be accepted by Twitter's system.
2. Make Sure the Country Code is Correct
Whenever you're entering a phone number to create your Twitter account, you need to enter your country code first and then enter the phone number. You need to make sure that you're using the correct country code. If you don't know the country code or are not sure about it, you can search for it on the internet and see the code.
Country codes are there to help Twitter know your location and therefore, it gets easier to send the verification code to verify your phone number. Do not put the country code after the phone number.
3. You typed the wrong Number
As the number you're entering is required to send the verification code, you should always make sure that the phone number is correct and is working.
If you enter an incorrect number Twitter won't be able to accept it for creating your account and therefore it will show this message Please enter a valid phone number.
Twitter uses the verification method to prevent bots from accessing your Twitter account. Therefore, whenever you get this error message you need to erase the number and enter a valid number and you're one hundred percent sure about it.