✎ Key Takes:
» You can recover a deleted Facebook account within 30 days by logging in through a web browser and selecting 'Yes, Continue to Facebook' on the prompted pop-up, restoring your account to its previous state.
» Go to the Facebook Help Center to contact Facebook within the 30-day recovery window, submitting a form for them to review and potentially restore your deleted account.
How to Recover Deleted Facebook Account:
You can try the following methods below to recover deleted Facebook account:
1. You can Cancel Deletion
Follow the below steps:
Step 1: Log in to Facebook.com
To recover a deleted Facebook account, first, you need to log in to your Facebook account on your PC. Open the Chrome browser on your PC and search for Facebook.
Now, after entering the official Facebook log-in page, there, in the Email box, enter your email id, and in the Password box, enter your password and tap login.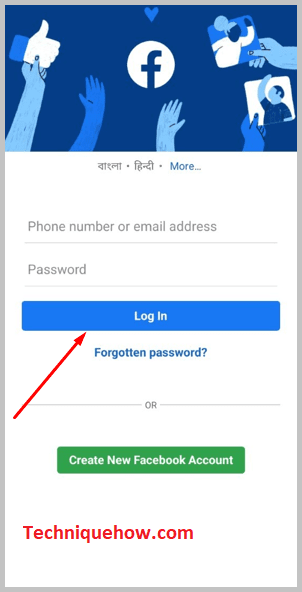 If you forget your password, tap on the Forgotten Password option and generate a new password for your account using your recovery email or phone number.
Step 2: Tap on 'Yes, Continue to Facebook'
After entering your credentials, if your account is found and your ID and password are accepted, you can see a prompt containing two options: Confirm Deletion and Cancel Deletion; now, if you want to retrieve your account, then tap on 'Yes, Continue to Facebook' otherwise Facebook will start the deletion process after 30 days.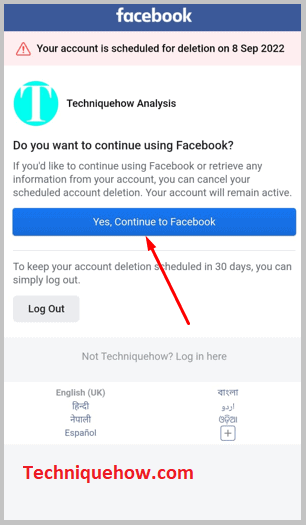 A scheduled date will be mentioned over the prompt, after which you can not access your Facebook account. After tapping the Cancel Deletion option, you may be subjected to verification. For that, they may ask you some security questions you must answer to access your account.
Step 3: Your Account would be Recovered as Previous
After doing all these things, you will get your Facebook account back, which will be the same as your previous account. You can see your profile picture, photos, videos, posts, and everything a normal user can do.
You can find new friends, and start chatting again with your new friends, and all the other features available on Facebook can be accessible to you. Keep one thing in mind that this whole process you have to find within 30 days; otherwise, they will start the deleting process, which may take a max of 90 days, and you will not access your account. 
2. Contacting Facebook
If you break the terms and conditions of Facebook, then Facebook may disable your account. If you try to recover your deleted account and you see a pop-up that your account is disabled, then there could be many reasons why your account is disabled.
Before deleting your account, if you have posted any content that breaks Facebook's terms, used a fake name, or contacted people for harassing or promoting, then Facebook will disable your account. In this case, after reactivating your deleted account, you can not access your account as it is disabled. If you think that your account was disabled mistakenly by the Facebook team, then:
🔴 Steps To Follow:
Step 1: Open your Google browser and search for the Facebook Help Center. Enter the official Help Center Page of Facebook, and search " Why is my personal Facebook account disabled? " in the search box.
You can also use this: https://www.facebook.com/help/www/103873106370583/ link to go directly to the page.
Step 2: Scroll down the page under What can I do if my account has been disabled? In the section, you can see a blue option 'use this form to request a review' Click on it, and you will be redirected to a new page.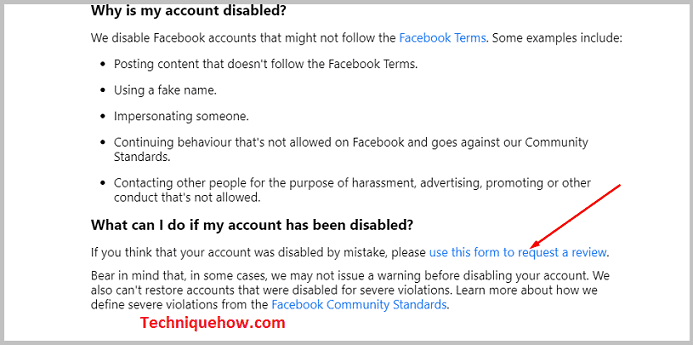 Step 3: Here on this page, you must enter your login email address, full name, and a JPEG photo of your ID and tap Send.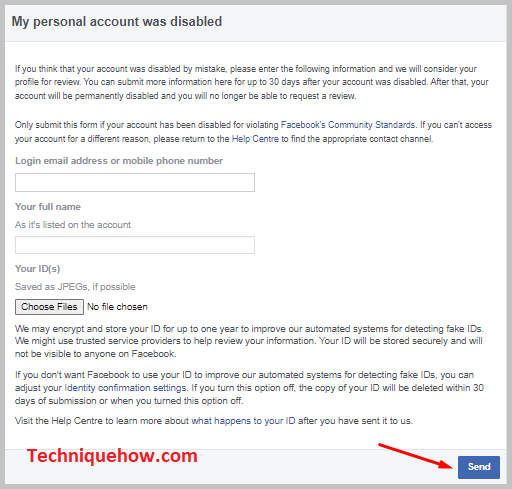 Step 4: Ensure you send them the request within 30 days of disabling your account. Wait till they reply to your request.
How To Recover Deleted Facebook Account After 30 Days:
Facebook has introduced many features that become very helpful for users; recovering deleted Facebook accounts is also this kind of feature. Previously on Facebook, you could not recover your deleted accounts.
Still, after reading and understanding the user's reaction, Facebook makes the changes on its server, and nowadays, you can recover your deleted accounts. Facebook stores the account deletion requests for 30 days; if you want to retrieve your account, you can do it. But if that has passed 30 days, you can not retrieve your account.
Frequently Asked Questions:
1. How Long Does Facebook Deleted Accounts Stay?
Facebook deleted accounts stay there for a maximum of 30 days to recover. After 30 days, you can not recover your deleted Facebook account, and all of the photos, videos, and posts will be permanently deleted from Facebook. Sometimes it may take up to 90 days to delete all the posts and contents from your account.
During these 30 days, all of your photos, videos, and profile pictures will be deleted. Only the messages you have sent to someone are still in the friend's chat; otherwise, Facebook will delete everything related to your account. Even the Facebook Pages you controlled will be deleted. If you do not want to delete the Page, then give someone else total control of your Page and delete your account.
2. How to recover a deleted Facebook account after 1 year?
If you deleted your account long ago, you could not recover it. Otherwise, using your credentials, i.e. email ID and password, you can reactivate your account again.
But in this case, if you forget the credentials, you have to take the help of Facebook Support. On the help center page, go to the identification confirmation page, upload a photo of your ID, and enter an email related to your account.
After submitting your ID, compose an email to [email protected] and tell you about your problem and what you have done so far. It is unnecessary to mention your unique ID there; mail them about your issue and wait till they reply.