Your Quick Answer:
To recover deleted WhatsApp chat you can either use the Google Drive backup file just by uninstalling & reinstalling WhatsApp, but if you don't have the backup then you could load up the custom backup that is saved on your iCloud.
Although to read a deleted WhatsApp message that is deleted for everyone, you can see it from the notification log or you can install an app called 'Notification History Log' on your mobile that will show you WhatsApp's incoming deleted messages including messages, videos, gifs directly from that app.
There are many things that happen once you uninstall your WhatsApp. If you can don't have the files on the external SD card then recovery is the only option that you can proceed with.
How To Restore Old WhatsApp Chat That Skipped To Restore:
If you want to recover the deleted WhatsApp messages on your mobile device then you can follow the different methods either from the backup or getting the custom backup to recover your deleted chats. Now your custom backup means that you have to create another backup if you cannot see the backup on your cloud drive.
Now further to recover those deleted chats you have to uninstall and reinstall your WhatsApp then choose the backup that appears at the time of installation and upon selecting the file your chat will be restored on WhatsApp.
Let's understand through this step-by-step guide:
1. After Uninstall
When you want to recover your deleted WhatsApp messages then you have to uninstall and then reinstall your WhatsApp directly on your mobile device. Now whether it is iOS or Android does not matter, you can easily restore the deleted chats through the backup that appears at the time while reinstalling WhatsApp.
To make the guide easier to understand, here is the step-by-step guide that you can follow from your mobile device:
Step 1: First of all, just uninstall your WhatsApp and then reinstall it. At the time of registration, you will be asked to use the backup to restore deleted WhatsApp messages.
Step 2: Now, you have to tap on the 'RESTORE' button from the screen.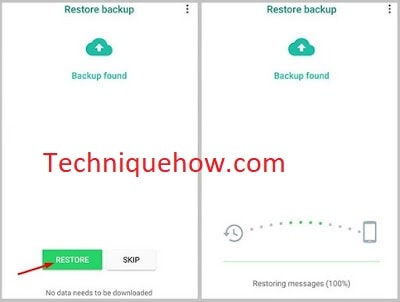 Step 3: After that, all of your deleted WhatsApp messages and chats will be restored from that backup file.
If you just tapped on the 'SKIP' button mistakenly, still you can use the method to recover deleted messages through the old Google Drive backup file.
2. From Local Custom Backup
In case you deleted some chats recently from your WhatsApp then you can follow a few simple steps, you have to create the backup file from the local storage and then decking up with the same process.
Step 1: If you have an Android device, you have to go to this location: File Manager >> Phone Storage >> WhatsApp >> Databases.
Step 2: From the databases folder, you will find a file named: msgstore.db.crypt12. To skip the overwriting of this current backup file you have to rename it to something like msgstore_important.db.crypt12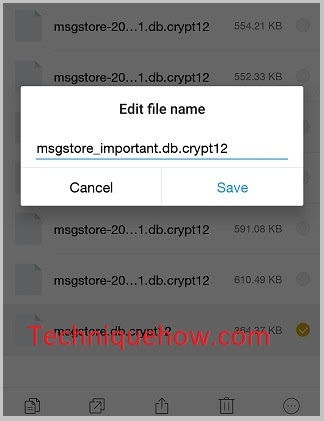 Step 3: Now, in that same folder you will see the other backup file with dates, just replace that name to: msgstore.db.crypt12.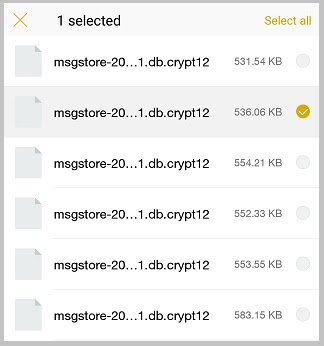 Step 4: Now from the chat backup settings on your WhatsApp just tap on the 'BACK UP' button and the chats will be restored.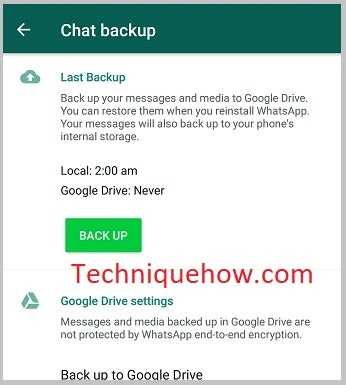 Note: If you backup through this custom file then you may still not be able to recover some of the messages as that one may not be present on that backup file. This method is actually recommended when you have deleted the iCloud backup and by repeating the same method you can actually back up from phone storage.
How to Recover Deleted WhatsApp Files from iCloud:
The simplest method that you can choose to recover your deleted WhatsApp videos, gifs, images, and messages as your WhatsApp, will be using iCloud as the default storage to store all of the backups from your iPhone or iPad.
Through iCloud storage, you can choose the backup file that you want to restore on your WhatsApp to recover all deleted chats and messages.
Note: iCloud is the default storage for all iOS devices and if you have set iCloud as the default storage for your WhatsApp on your iPhone or the iOS device you are using, you can retrieve it easily.
How to See Deleted WhatsApp Messages that are 'Deleted for Everyone':
You may have seen the option 'Deleted for Everyone' while you are sending a message to your friend or in a group. If it's someone who does this and the message actually gets deleted from the chatbox then to see that deleted message you have to follow some simple steps.
This method is actually done by a third-party app that you can easily find on Google Play Store:
🔯 Notification History Log:
Notification History Log is the best tool available on the Google Play Store that can help you get all of the logs that record all WhatsApp notifications into the system.
This Notification History Log actually works by collecting the data that your phone receives for any incoming WhatsApp messages, and through this app, you can see all of these messages that got copied on that app as a notification.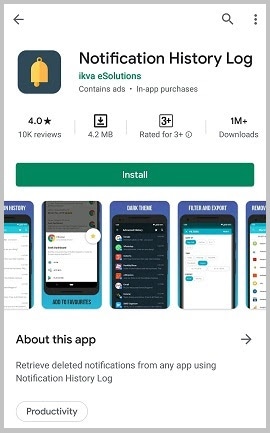 Step 1: First of all, install the app 'Notification History Log' on your Android device from the Google Play Store.
Step 2: Make sure you allow this app to access the notification logs of your mobile and then select WhatsApp on the app's terminal.
Step 3: Now if someone sends you any messages on your WhatsApp and if this shows through the notification log then it gets also recorded on that third-party app.
The best part of this is, if the person deleted the message after sending it, you can see this deleted WhatsApp message through this app.
Frequently Asked Questions:
1. Can I Retrieve 1-Year-Old Deleted WhatsApp Messages?
If you want to recover deleted messages back which are 1 year old then you have to find them on your cloud storage. If you're on iOS then look to open iCloud on iPhone or in case you're on Android just find it on Google Drive.
Just follow that method and reinstall WhatsApp & select that backup to restore these old chats or messages. But, not guaranteed that all messages will be restored but the accuracy is 78%.
2. Can You Recover the Whole Chat after it's Deleted?
If you've just deleted some WhatsApp messages or a whole chat from your WhatsApp chat box and are looking for ways to restore it back to its place then definitely you have to take the help of the backup that you have stored on your cloud storage.
Whether it is your Android or iOS, WhatsApp actually keeps the backup file on your cloud storage that you have to use at the time of the installation of your WhatsApp.
Also Read: