If you just connected your Gmail account to someone else's mobile then you should know that Android operates with Gmail account that might have always unique for your phone. Mistakenly if you connect that account on other phones, your search queries and interest will be visible on that phone. This is you can say that you are being monitored unwillingly.
If you have just only one Gmail account that you want to be removed from other devices then you can just change your password directly but if the person has access to the recovery details or you are unable to do it completely then you have the other methods to remove the Gmail account from that device.
I found it really hard to change the password as I forgot the password and even if I can reset that password I did not have the recovery email or mobile with me. That is the reason, I just have got into the Google Account settings and used the login device access to remove that phone from my Gmail account was connected.
Now, let's get into some step-by-step guide where you can find these options and how to make it happen completely to remove the Gmail account from Android or iOS devices.
On which conditions you can Remove a Gmail Account:
If you just have logged in through someone else's mobile always remember to use the incognito mode to access and always log out before your leave that phone. If you just have logged into and forgot to log out still you can manage to delink that Gmail account from that mobile.
On that case, you have to change the password or you can just reset the password if you have the recovery mobile added into your account using the OTP received on that number. Now, once you reset your password to a new one the account on other devices automatically will be removed.
So, if you have the access to the recovery details or additional details like account creation date, etc then you can reset the password.
How to Remove Gmail account from Other Phones?
If your Gmail is registered on another phone then you can remove that one from your mobile phone. In order to do that, you have a few steps, either you can do this from your mobile or from your PC.
From Your Mobile
If you are on your mobile and want to remove the linked Gmail account from a different mobile od someone else then you have to either remove the device from Google logged in device settings or just change the password.
Let's understand what are the processes,
i) First, you have to sign in to your Gmail account or if already in just check the devices logged in with that account.
ii) Now, upon signing in just go to account settings and check recent login where all devices with the account connected, will be displayed.
iii) Next, just remove that login device by identifying the login with time and browser.
So that the person would not be able to log in again with that account either you can reset the password or place a two-step login method.
Using a Known PC
If you're have forgot your password and having recovery option present with you, you can reset the password that will help to log out of the account from other device and recover the account for you.
Now, if you have such a PC that you were logged in with the Gmail account previously can make these steps really easy.
i) First, just open the Gmail account and from the top right section tap on the name and go to account settings of your Google Account.
ii) Now the same you have to do by removing the Google account device that is logged in with that account.
iii) Next, either reset the password or set a Two-Step verification for login to the device.
By using the PC that is logged in already or was, you can recover the password from the old password if that was changed by someone else. This step is required and marked as helpful while you are into this type of trouble.
How to Remove Gmail Account from Android?
If you have the access to that other device you can remove the Gmail account either by turning off the account sync or just directly remove the Gooogle account from that device. Let's discuss both methods:
If you want to turn off the Gmail Sync just go to Settings > Accounts > Google.
Now all of your linked Google accounts will show up, just tap on that you want to turn off Gmail sync for and just slide the button left to make changes.
Now if you want to remove the account from that device you have to follow these steps:
1. Go to Settings > Account and select Google account.
2. Now select the account and just tap on the three-dots icon and tap on remove.
The account will be removed from the device if you have not an additional account linked to that mobile just add one in order to use other Google services.
How to remove Gmail account from iOS?
If you're on the iOS device then in order remove the Google account from the device your have many options to do this in iOS. Either you can remove the Gmail account from the Gmail app or you can delete the Google Account from iPhone's Account settings. Let's know the steps:
How to Remove Gmail Account from Gmail App:
Step 1: First of all, you have to go to the Gmail app.
Step 2: Just Tap on Three dots icon and tap on EDIT then tap on Manage Accounts.
Step 3: Once the account remove option appears just tap on it and the account will be removed from that device.
Deleting Gmail Accounts from iPhone Accounts:
On the iPhone, you can add Gmail account to use it for multi-purposes like calendar, Gmail, contacts and that same you can remove from the account settings on iPhone.
Step 1:
Just go to Settings on the iPhone or iPad.
Step 2:
Now tap on the 'Passwords & Accounts'option to find all accounts.
Step 3:
Now on the list, you will see Gmail accounts added onto your iPhone along with other accounts. Just tap onto that Gmail account you want to remove.
Step 4:
Just tap on the 'Delete account' button to remove that from your iOS device. Note all the associated services with that account will not be accessible or missing upon removal of that Google account.
Unsuccessful? : Reasons and how to Fix This
If you are successful in removing the Gmail account from other's phone then you have a few reasons and some easy setup to get it fixed. Either the issue that troubles you when you forgot the password or just the recovery phone you can read this extra guide.
Forgot the Password:
If you have just forgotten the password of your Gmail account you would not able to access the account in order to remove it from account settings. You have to restore the account before you can make any changes on it. So, if you don't know the password this is impossible to recover it unless you recover it.
I noticed a thing that when I just forgot the password I used to follow the same method using the known PC that
saved my password
to login but someone had changed my password and I was unable to login.
Unable to Reset Password:
You are stuck to the password you can reset this. But, having issues while trying to recover this by resetting the password is another poll to fix at first. If you have unable to reset that means you have no access to the recovery email or mobile. On recovery, the mobile number is considered to be used mostly.
So, let's take the mobile number recovery as another issue when someone has changed your recovery number. Yes, Google still has an option for you even you no longer has access to that mobile.
If you are having trouble in removing an account from another device while the account is not logged in on your mobile then this is because the person changed the password or recovery mobile to steal your account.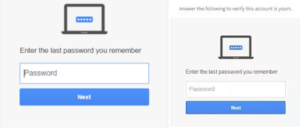 In such case, I just used the last password I had and requested no access to recovery and with a few details like account creation date and DOB, Google was able to identify the real owner and resorted back my account to me.
How Do I Fix?
In order to overcome this situation, you have also a few tips if you want that account to remove from other phones. And you can do this either by recovering your account password or recovering the mobile number.
i) First of all, you have to recover the mobile by identifying the exact mobile that you have set on that account.
ii) Now, if you have lost the recovery phone you can regain this by replacing it from your nearby telecom company or you can enter a few details so that Google can recovery the account for you by verifying you the exact owner.
iii) Additional details like account creation date, your date of birth and mobile recovery number are required in order to access the account and remove those logins from that account and place a secondary verification method for logging into your account.
These are the simple and easiest methods to fix the Gmail account if this is stolen and need to be removed from someone else's phone.
The Bottom Lines:
This content describes how you can remove a Gmail account from a device either that is present with you or someone else, you can remove that by changing the password or removing the login from account settings. If these options you are unable to access, you can try recovering the account using mobile number or email.
Also Read: