Your Quick Answer:
To remove the Instagram shadowban, you have to prevent bot activity from your account as Instagram doesn't allow users to use bots.
Always follow the terms and conditions of Instagram and comply with them.
Disable all the logins from other Third-Party apps. Don't use any hashtags which are restricted or banned by Instagram.
If any of this doesn't work, then take a break for days or weeks from Instagram.
How To Remove Shadowban Instagram:
To remove the Instagram shadowban, you have the following things to maintain:
1. Avoid Doing things that get Reported
If you continue doing what other users might report, Instagram will ban your account. One of the most common reasons to get reports from other users is to post inappropriate and abusive content. Suppose you are posting some abusive content on Instagram that is against the community guidelines of Instagram.
If you give any abusive comments to anyone's posts, you will also be banned from Instagram. There is some misunderstanding created between the users and Instagram that borderline content like LGBT models or pole dance instructors is also considered inappropriate content.
Users can't understand what they have done wrong. However, based on the above reasons, if someone reports your account and a large amount of reporting accumulates, Instagram may shadowban your account. So avoid doing the things that get reported and create the chances to shadowban your account.
2. Prevent the bot's Actions on Account
Bots activity is strictly prohibited on any social media platforms. Instagram is also no exception; they will ban your account if you are using bots on your Instagram. Using bots is strictly against the terms and conditions of Instagram.
Many users on Instagram love to use the features like 'auto-post,' 'auto-follow,' and 'auto-commenting.' The only reason for using bots is if you open Instagram for marketing purposes and need organic growth on your account, but you do not get to appear in searches and do not get as much user engagement on your account or page.
But still, Instagram does not allow it, and you might be inclined to try and purchase ads to help grow your account. Instagram is improving its algorithms every day. If anyone uses any automation software, they know about it, and you will be shadowbanned.
3. Honor Instagram's Terms of Service
As you are using the Instagram app, you should follow the terms and conditions, i.e., the guidelines of Instagram. There are some restrictions that you can't do as an Instagram user. Before sharing something publicly on Instagram, you have to be sure that you have the right to share it; otherwise, it will be considered copyrighted content.
Instagram doesn't allow inappropriate images(i.e., nude images), except paintings or sculptures. Any unwanted comments or harassing communications(i.e., spamming) are not allowed on Instagram. Illegal content like terrorism, offering sexual services, and selling firearms and drugs are strictly prohibited.
If any videos shared on Instagram are found that create graphic violence, then they also are removed. There are also some restrictions like if you through hate speech or abusive comments, it also breaks their guidelines. Moreover, you have to avoid these restrictions if you don't want to be banned. Be safe from your side and use Instagram by complying with their guidelines.
4. Disable logins on All Third-Party Apps
It could be the one reason that if you log in to your Instagram account on third-party apps, then you might be shadowbanned. Because Instagram doesn't allow anyone to use third-party apps, disable all the logins on third-party apps if you don't want to be shadowbanned.
To disable all logins and remove active account logins, follow the steps.
🔴 Steps To Follow:
Step 1: Open the Instagram app and log in to your account, and you will be redirected to the Instagram Home Page.
Step 2: Click on your profile icon from the bottom right corner, and after that, you enter your Instagram profile page.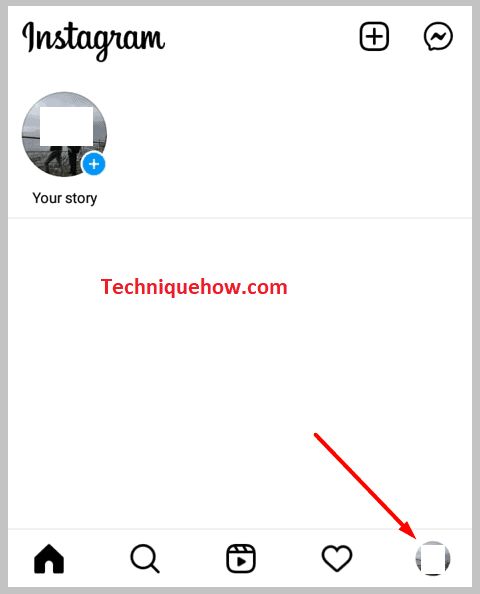 Step 3: After entering your Instagram profile page, tap the "three parallel lines" icon and tap on the "Settings" to go to the settings.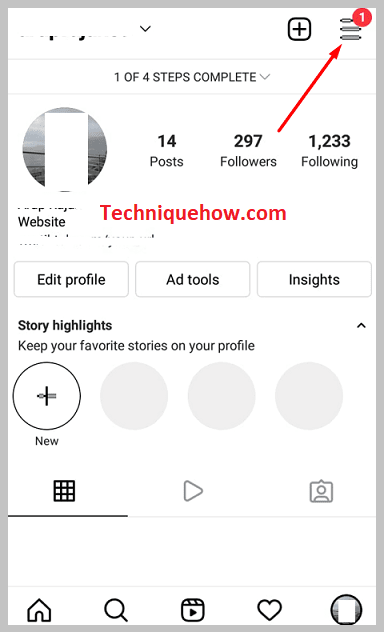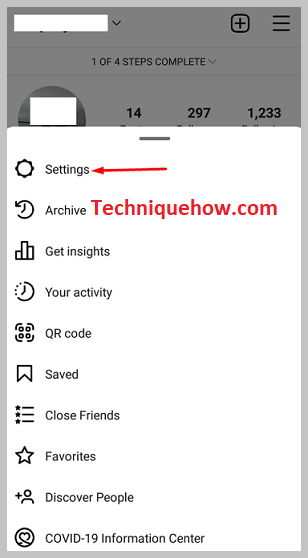 Step 4: After that, probably in the middle, you can see the option 'Security.' Click on it.
Inside this section, tap on the option 'Apps and websites' under the section 'Data and history.'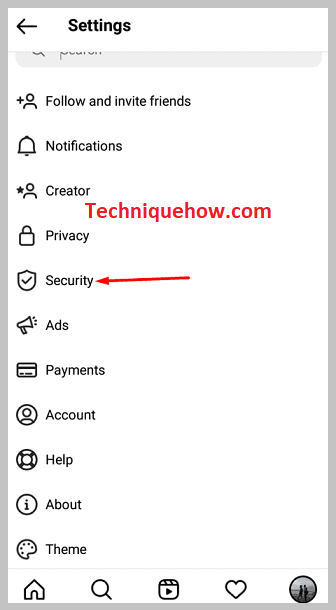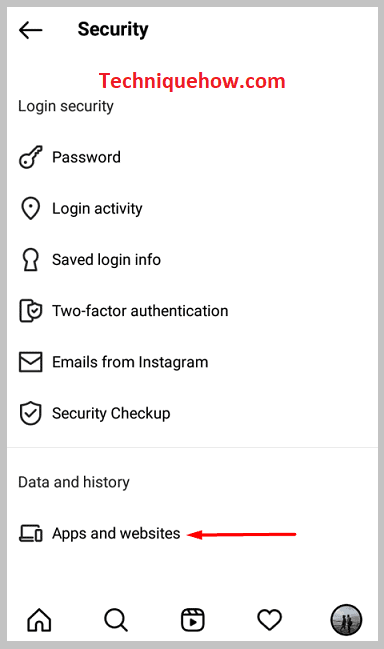 Step 5: After that, you can have three columns: 'Active,' 'Expired,' 'Removed.' If you log in to any third-party apps, it will be shown in the 'Active' list.
You have to tap on it and click on the 'Remove' option. Again click 'Remove,' and Instagram will remove your account from the third-party apps.
5. Don't Use Restricted Hashtags
As all social media users know the importance of Hashtags in every post, there are some restrictions for specific Hashtags on Instagram. There are lots of Hashtags available that contain inappropriate content, which breaks the terms and conditions of Instagram.
Instagram will sometimes ban this type of Hashtag from its server, which means if you post something that includes banned hashtags, then Instagram will hide the list from the feed, which may hurt your organic feed and account visibility.
If you ever use this type of banned Hashtag in your account, Instagram will remove your account from the search and pass a shadowban. So never use this kind of restricted hashtags; it may ban your account.
If you have used this type of restricted Hashtag before, then delete them immediately, and keep in mind that you will have to avoid this type of restricted Hashtag in the future. Even if you are using the same hashtags multiple times for a post, then also Instagram will ban your account.
6. Take a Break for Days or Weeks
If any of these ways does not work, you should take a break for days or weeks to see if any changes occur. According to the former shadowbanned victims, avoiding using the Instagram app is the most effective way not to get banned.
So, you may also stop using your Instagram account, don't post any new content for a few days for a fresh start. Doing this will reduce the chances of banning your Instagram account permanently; you can say that this process works as a "reset" for your Instagram account. But keep one thing in mind when you come back again to use your app, follow the Instagram community guidelines.
Also Read: