Your Quick Answer:
To search for someone on TikTok without an account, go to the official website of TikTok, and in the search bar, search for his name.
Now you can see the results; find the person and tap on his Profile.
You can also use this: https://www.tiktok.com/@username direct profile visiting link whereby changing the last part of the link 'username' you can write the targeted person's name, and you will be redirected to his Profile.
You can not see the TikTok comments of your friends if you do not have an account; you see the number of comments.
To see TikTok videos without downloading the app, turn on the Desktop site of your mobile and go to the official website of TikTok.
If TikTok is banned in your country, you can use VPN, and by changing its server location to the USA, you can again use it.
There are some steps you can follow to find someone on TikTok without username.
How To Search On TikTok Without Account:
Using the TikTok Search bar feature, you can easily find anyone's Profile. But if you want to find anyone's Profile without having an account, you can also do so.
1. From Web Browser
Follow the below steps:
Step 1: Open https://www.tiktok.com/ on Browser
If you want to do it from your Web Browser, you must first enter the TikTok official website. Microsoft Edge, Google, Mozilla, or whatever you are using, open the Browser and search for the TikTok official page, or you can go through the https://www.tiktok.com/ link to jump directly to the desired section. 
Step 2: Search Name on TikTok Search bar
After entering the TikTok official account, you can see the Log In option at the top right corner and the left column.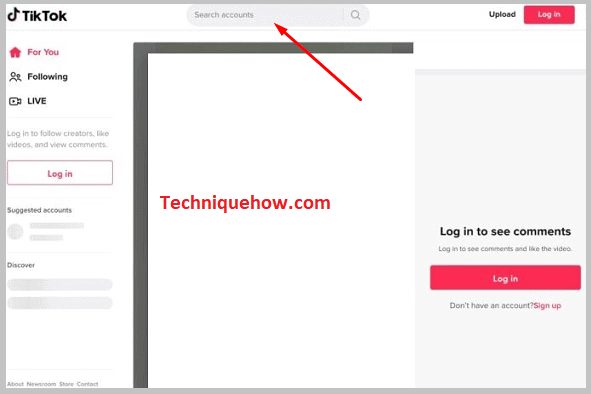 If you tap on it, you can see many login options and the sign-up option, but you don't need those options because you will not use any TikTok account. You can see the Search bar at the top of the Home screen. Tap on that TikTok Search bar and enter the person's name you want to search for.
Step 3: See the Results and Click on Particular Profile
After searching for his name, you will get many results regarding your search. You have to find the person's Profile from the list, and you can ask the person about his TikTok profile picture.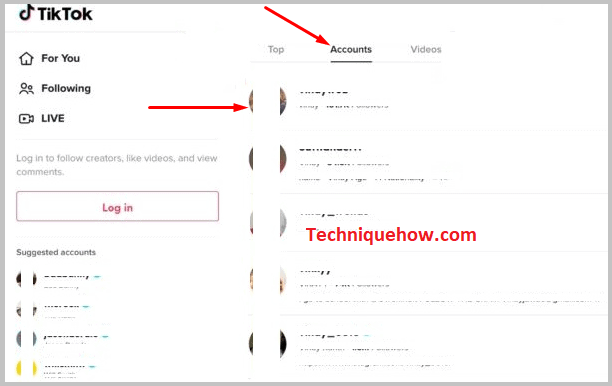 It will be beneficial for you to find his name. You can also use other parameters to find his Profile, and after finding it click on his profile name and enter his TikTok profile page. From there, you can see his account's activity.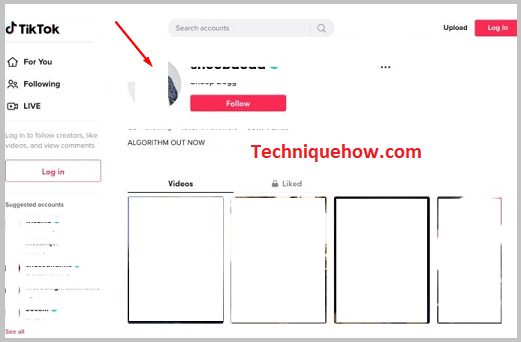 2. Directly Visiting Profile Link
If you are not choosing the web browser option, you can use this different way to search for someone's TikTok account. You can do it on your PC and your mobile Browser's desktop site.
🔴 Steps To Follow:
Step 1: Go to Google Chrome, click the Three dots icon and tap the Desktop site.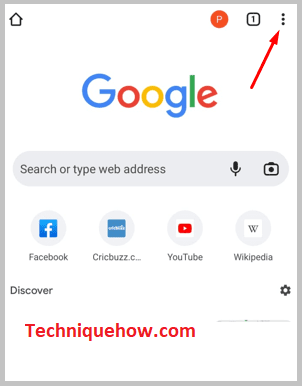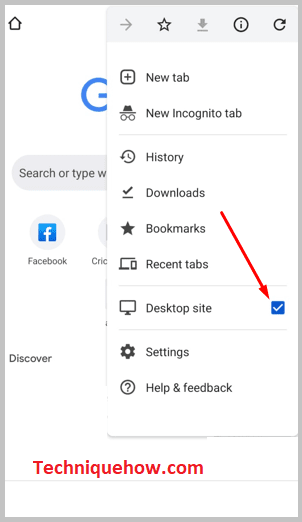 Step 2: Then go to the https://www.tiktok.com/@username link on your Browser.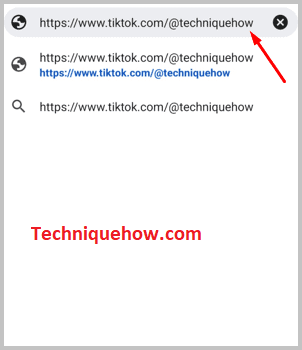 Step 3: Here, you can see at the end of this link it is written 'username'; replace the 'username' with the targeted person's name, and you will directly redirect to his TikTok profile.
The Bottom Lines:
If you want to watch TikTok videos of your friends or celebrities, but you don't want to create a TikTok account, then you need to know the trick to do so. Hopefully, after reading this article, you understand the tricks and can easily search for someone's account without having a TikTok account. 
Frequently Asked Questions:
1. Can You See the TikTok Comments?
No, without logging in to a TikTok account, you can not view anyone's TikTok post's comments. Like other social media platforms, TikTok does not allow guest comments; you can only react to a post if logged in.
TikTok allows guests to watch videos without an account, but in the case of following a TikTok creator, you need to create an account, and you can like or comment on their videos. Moreover, even without your login, you cannot see who has liked or commented on their videos; they see the number of comments the post received. So, TikTok requires a login from every user to view such things.
TikTok has massive security and does not allow anonymous followers, comments, and likes because they know bots can misuse this feature. Stalkers can harass innocent creators, and they can abuse the platform.
TikTok introduced the feature to detect such accounts created to do mischievous activities, and creators can also block such accounts. It helps the TikTok community to grow with real followers.
2. How to Watch TikTok without App on Mobile?
TikTok has a huge fan base worldwide, and in terms of the number of downloads, it also holds a good ranking globally.
But if any person doesn't want to download the TikTok app for storage issues or whatever it is, and still wants to watch videos on TikTok, then from https://www.tiktok.com/, the official TikTok website, you can watch it.
Go to this official website and turn on the Desktop site on your mobile Browser. To turn it on, open your Chrome browser, tap the Three dots button from the top right corner, and select the Desktop site option.
3. What to Do if TikTok is banned?
If the TikTok app is banned from your country for any legal issue or anything, you can not find the app available anymore on Play Store or App Store. But still, you can use the TikTok app with the help of the VPN. You can use the VPN on your Chrome browser (on PC) or the VPN app on mobile, and by changing the country to the USA, you can use this app. To do that:
🔴 Steps To Follow:
Step 1: First, you need a good VPN app; for that, open your Play Store or App Store, whatever you have, and install a popular VPN.
Step 2: Now sign up for a new account and log in.
Step 3: Now select the USA server or any other preferred server, and you can use the TikTok app again.
So by using the VPN and changing the server location, you can use a banned app in your country.
Also Read: