Your Quick Answer:
The "First seen by this device" is a feature of the Messenger secret conversation; it means when exactly the owner of the device first enabled the secret conversation with a chat.
The date stamp just means when the secret conversation was first seen on the current device.
You would not see the secret messages on chat if you log in from another phone.
What does First seen This Device Mean in Secret Conversations?
Many of us are confused about what it means to be 'First seen_this device' in a secret conversation. That means the messages in the secret conversations are viewed by a specific device.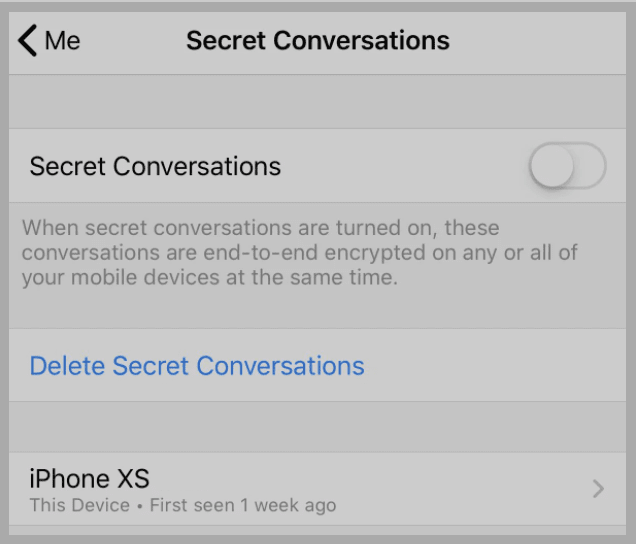 It also states when the conversation was first opened or viewed from that device. For instance, if it shows as 'First seen 2 weeks ago', it means the device first opened the chat 2 weeks ago and only the messages received after that time, are there.
Where the device model is displayed on the screen and 'This Device' mean that is the current device you are using.
🔯 What does it Mean for Secret Conversations on Messenger?
As mentioned above, the Secret Conversations feature allows two Messenger users to chat in a protected location with end-to-end encryption, which is saved only on the application. This way you will keep your privacy safeguarded from your people, friends, and even Facebook itself. Before using this feature, you should know that you can view, read or send messages from the same device from which you activated this feature.
For example, your conversation under this feature won't open on your PC or Laptop if you have previously formed it on your Android. If you want to see the old messages under secret conversation, you will have to log in to your old device from where you started to use it.
In case, you'll start using a new device, only new messages will appear in the secret conversation instead of the entire chat history.
In this, you have one more facility in which you can put a limit on viewing the message from which the message has been sent and once it is deleted, it's gone.
Why There are Two Chats of the Same Person:
When you have a secret conversation with someone, you have both that chat and the normal chat in the chatbox.
It means you both will have two Facebook messenger conversations.
The reason behind two chats with the same person is that you are already having a regular conversation with someone.
You will see both chat options separately in your mobile application. The only difference is that a padlock icon will appear next to the profile picture of the user with whom the chat is secret, indicating that the Secret Conversations feature is turned on.
You'll still be able to report and block users just like a normal Facebook conversation. This way two chats of the same person will appear on your Messenger application.
You can delete the old messages from your phone but you're not able to delete the same chat from other devices after a new login.
The feature is designed as a secret place for chatting, but the only drawback is that users are still able to take a screenshot of their secret conversations with others to share later.
🔯 Can You Use a New Device to Open Secret Conversations?
Of course yes! But, there is some restriction that you'll see.
There are a set of rules to track the secret Messenger conversation.
To use this option on a new device instead of the primary device, you need to install the Messenger application and sign in to it on that mobile phone or any other device. When you log in to Messenger from a new device, you can't view old conversations with that person on the new device that are under the secret conversation.
In addition to that, you will receive a notification in the previous secret conversation letting you and other members know that you are active on a new mobile phone or any other device, and new messages will start coming on all the active devices.
To view old messages, chats, or entire conversations, you'll have to sign in back to the old device from where the secret conversation started (not in case of re-installation).
🔯 What are the Advantages of Secret Conversations:
There are numerous advantages of using the secret conversation feature on Messenger.
Some of the notable benefits include:
☛ Under this feature, you can set a time limit for viewing conversation or sensitive content, so that it can be deleted after a limited period.
☛ Much more than this, you can keep your chat private, not only from a third person but even from Facebook itself.
☛ Your secret chats will not be fully displayed because the information of the old chat will not be shown on the new device.
☛ You can share pictures, stickers, do video chats and video recordings with more privacy and safety in this secret conversation feature.
☛ A special lock icon will appear so that you will know with whom the secret conversation has been started.
The Bottom Lines:
The secret conversation feature is available to all users on Facebook whether for a long time or temporarily. With added safety and privacy, you can encrypt secret content from a third party, plus you have a great experience of feeling safe.
Also Read: