Your Quick Answer:
As Snapchat provides the features of privacy settings to its users and hence this privacy policy decides who can have a glance at someone's friends on this app.
If you want to add a few people to your friends that can be done through the Quick Add feature on Snapchat.
To see someone's mutual friends on Snapchat, just go to the 'Quick Add' from the Add friends option.
You would notice the people under the Quick Add displayed the mutual friends in numbers below the name.
If you want to find friends that are not on the list then there are also a few ways to find deleted ones.
In this article, you will get the exact steps in order to see someone's friends on Snapchat.
Why Can't you See Someone's Friends on Snapchat?
There are a few factors responsible for not being able to see someone's friends on Snapchat and these are described below in detail:
1. As per Snapchat's privacy policy
According to the privacy policy of Snapchat, the extraction of someone's friend's list is a quick task. This app is more private than other social media apps like Facebook or Instagram and that is why accessing the names of someone's friends on Snapchat is not easy. Neither does it have a wall like Instagram or Facebook nor does it conserve the snaps for more than a day. It is more of an individual-to-individual interaction. The Snapchat user can decide whether to share the identities of his/her friends with other users or not by choosing or rejecting to add you as friends.
2. No Such Feature
At present, this image and video messaging application does not have any such direct feature to enable you to procure the friend list of your Snapchat friends. This app allows you to see someone's Zodiac signs and Snapchat score along with his/her name or username but no such feature to see someone's friends is available.
3. Private Account has limited information
Snapchat also provides you an option to choose your account to be a private account and hence limited information is available on such a profile. The private accounts furnish you with the alternatives to interact with only those whom you have added as your friend through snaps. Also, these accounts cater the limited information depending upon the choice of the account holder to other users.
That is why accessing the names or accounts of your friends on Snapchat is unlike other social media platforms and you need to make some extra efforts for this purpose.
Video on How to see someone's mutual friends on Snapchat:
Watch the video to see someone's friends on Snapchat:
How To See Someone's Mutual Friends on Snapchat?
In order to see the friends on the profile of someone on Snapchat, you have many options:
Add him on Snapchat:
To see someone's friends on Snapchat, you are required to send them a request to become friends on this platform. You will be able to access the information of their account and ask them to send their friend list to you.
Initially, Snapchat offered information related to the friend of friends but now nothing is the same.
To make things simpler for you, there are some steps to follow the above procedure:
Step 1: Firstly, if you do not have a Snapchat account, create it or login & open it.
Step 2: Now send the friend request to the person whose friends you want to see.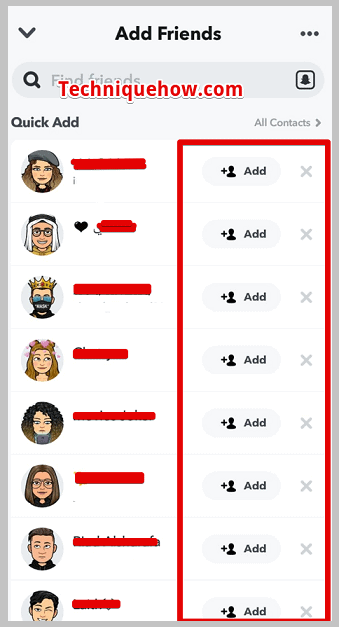 Step 3: Once they add you to his/her friend list, you can see his/her information on the profile page.
After this, you can directly need to ask the person to send a friends list screenshot or you can get his phone to access his profile and see the friend list. Just by adding him as a friend you are able to send a Snap or chat.
Well and good if that person shares the names or accounts of his/her Snapchat friends with you.
If not you can try out the next alternative to get to see mutual friends.
Asking the person for the names or accounts of his/her friends is the only option because currently, Snapchat does not provide you the friend list of your Snapchat friend. This privacy policy of Snapchat has made this application comparatively more private and secure.
How to See Mutual Friends On Snapchat?
There is an easy way to see mutual friends on Snapchat and it is mentioned below with all the relevant information.
From Quick Add feature:
You can see a number of mutual friends from the Quick Add feature and get an opportunity to add some friends to share snaps with them.
Apart from this, steps are also explained below to help you out with the procedure:
Step 1: Open your Snapchat account and head to the profile page.
Step 2: Spot the Bitmoji on the top-left of your mobile screen, then Tap on it.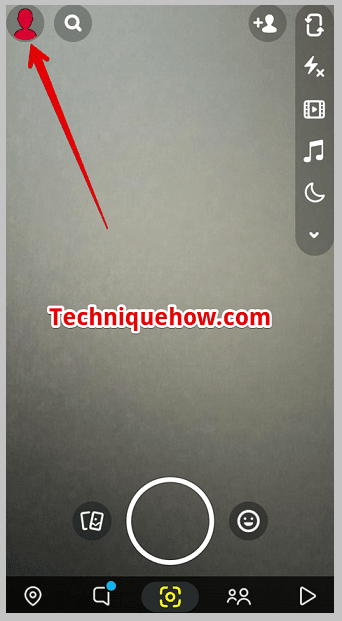 Step 3: After tapping on it, a list will appear including mutual friends listed by names along with the username.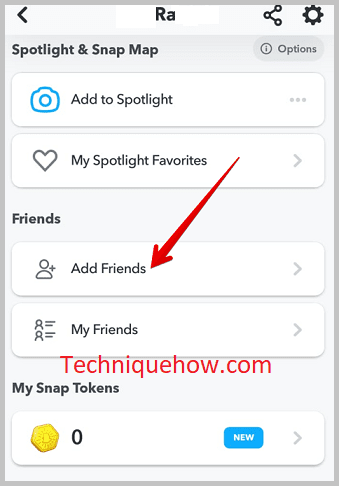 Step 4: The Quick Add feature list also contains the number of mutual friends you have with that person or user.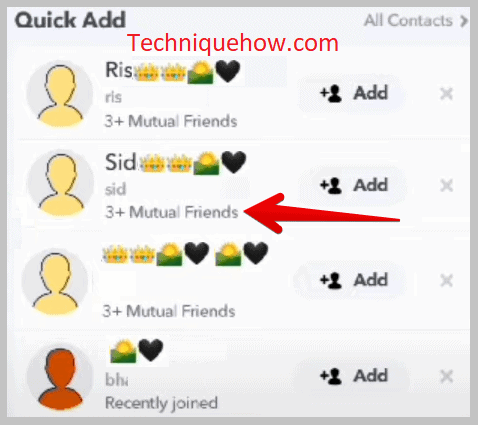 You can send friend requests to them if you want to add them as your friend on Snapchat and start sharing snaps or making streaks with them.
This feature allows you to see the profiles of the users with whom you have mutual friends and from here you can add them as your Snapchat friend.
The Bottom Lines:
This article explained the methods that you can try in order to see someone's friends on Snapchat. As Snapchat does not have the direct method to see someone's friends, you can still see the mutual friends numbers from the Quick Add feature while adding people to your friends list.
Also Read: