You might have wondered to sell your textbooks at a good price and there are some online services that purchase your old textbooks. But, you will see that Chegg was the best option that paid readers for selling their books online but recently the buy or rent services are stopped at Chegg and you can use the GoTextbooks service that also buys your old books. You just have to put the 10-13 digit ISBN number to check how much you are going to be paid for selling that book.
To sell your old textbooks at Chegg, first, go to Chegg Buy/Rent services page, and then it shows you a link to GoTextbooks where you should sell your textbooks. Just enter the ISBN number of that book and it will show you the price that you will get for selling that old textbook. Now, just ship that book for free and once GoTextbooks received the shipped book, you will e paid.
Now, if you're from the US mainly, then there are some other services where you can sell your old textbooks and I will mention all of these and steps you have to follow to sell your old textbooks.
In this article, you will get all the list of services that buy your old textbooks, so let's start.
Can I Sell Back Textbooks on Chegg?
Unfortunately, you no longer can sell your old textbooks on Chegg anymore as the website has discontinued this feature. However, this does not mean that you will have to return disappointedly from the Chegg website as when you will visit chegg.com it will direct you to the GoTextbooks.
GoTextbooks is a website that deals in selling your old textbooks and will pay you in return for your books. Not just GoTextbooks there are several other websites too on which you can earn money by selling your old textbooks.
Sell Back Old Textbooks on GoTextbooks
You can easily sell your old textbooks on GoTextbooks.com and get paid for them. However, you must first check the condition of your books before listing them on the website.
Your book cover should not be severely damaged.
There should be no missing or torn pages.
It must have an ISBN or any edition which is different from the ISBN that was initially quoted.
As the GoTextbooks suggested by Chegg, it is too much trustworthy.
Note: An ISBN is an acronym for the International Standard Book Number. It is either a 10–13 digit number that represents a specific book. After this, you need to follow few simple steps to sell your books and get your cash when your book has been sold from the website.
To sell back your Textbooks online,
Step 1: Firstly, go to the Chegg services for Rent / Buy books and this will ask you to go to https://sellback.gotextbooks.com/.
Step 2: Then take your book and look for the ISBN.
Step 3: On the webpage, you will see a column to fill that ISBN. Enter that.
Step 4: Then the website will show you the amount you can get after selling your books.
Step 5: After that, you will need to print your free shipping label.
Step 6: Then ship your book to GoTextbooks using that label.
Step 7: Then you will be notified when your book is received by GoTextbooks.
Step 8: You can get your payment in usually 7-14 days.
Best Alternative Sites to Sell your Old Textbooks
If you're looking for the best alternative to Chegg or GoTextbooks then there are some lists of services that pay you for old textbooks.
1. Cash4books
Selling your old textbooks on Cash4Books is a very simple, quick as well as free procedure. It is also an extremely convenient and safe way to sell your books in just three simple steps.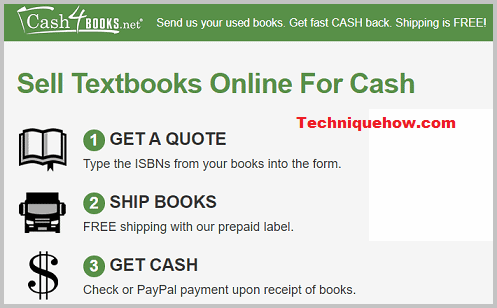 To sell your old textbooks,
Step 1: Go to the official website of Cash4Books.
Step 2: Then enter the ISBN mentioned in your books.
Step 3: After that, you will get a free shipping label.
Step 4: Using that prepaid label ship your books to their warehouse.
Step 5: Once your books reach them, you will get your payment through PayPal as per the receipt of the books in just 13 working days.
2. AbeBooks
AbeBooks is an amazing website to sell your old textbooks. However, it requires a little more work in comparison to other book-selling websites. In simple words, you have run your book store there. But on the bright side, AbeBooks provides a great deal for your books in return for this hard work which is worth it.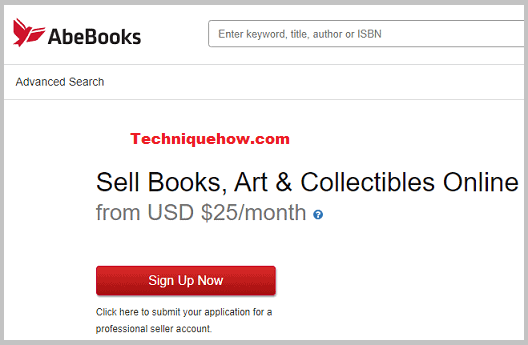 You will need to follow the following steps to sell your books on AbeBooks.com:
Step 1: Visit the webpage of AbeBooks and click on "Create Account".
Step 2: Then enter all the details asked such as email and password.
Step 3: Then read all terms and conditions and agree to them accordingly.
Step 4: Choose your preferred language and enter a profile name.
Step 5: Then describe your bookselling business and decide how you are going to submit your book inventory to them. Click on "Save".
Step 6: Enter your country and fill in the tax information respectively. Then fill out your bank details.
Step 7: To submit the fees, enter your credit card details and US tax information. Then sign in the remaining agreements.
3. eBay
eBay has always been a popular site for buying products but on the same hand, you can also sell your items there even your old textbooks. You can know the prize value of your book and sell it accordingly.
To sell textbooks on eBay,
Step 1: First of all, install the eBay application on your device.
Step 2: Then search for the book you want to sell. (This will also help you to know the market value of your books)
Step 3: Then click on "Sell one like this".
Step 4: Then make the necessary edits in the listing just to make sure that it's accurate. Add photos of the book.
Step 5: Then select a Media Mail for the shipping
Step 6: It's up to you if you want to accept the return or not so decide accordingly. Then click on either auction or buy it now option. Fill in a price for the book.
Step 7: Then wait for your book to get sold. You can pack and ship your book when you are paid for it.
4. BookByte
You can sell the textbooks you don't need anymore on BookByte by just following few simple steps. The only condition is that your book must be in a good and resalable condition so that other people can use it too.

All you have to do is:
Step 1: Firstly, go to the website of BookByte.
Step 2: Then either enter the ISBN or title of your book in the "Sell" search bar.
Step 3: Then you will see a copy of your book and the price that they are offering you for that book.
Step 4: If you are satisfied with the price then click on the "Continue Sale" option.
Step 5: Then you will get a free shipping label by which you can ship your books to them free of cost.
Step 6: Finally you will get your payment within 4-14 working days after they have received and accepted your book.
5. BooksRun
If you are still in confusion and looking for the best place to sell your old textbooks then BooksRun can also be the best option for you as they also offer quick and fair procedures so that you can sell your old textbooks online and get paid without any chaos.

To sell old textbooks,
Step 1: Firstly, go to BooksRun.com.
Step 2: Then enter the ISBN or title of your book.
Step 3: You will get a prepaid shipping label.
Step 4: Ship your books to them using that label.
Step 5: If your books are in good condition and selected then you will get notified.
Step 6: Once they have received your book, you will get your payment through check or PayPal after your order has been processed.
That's all.
The Bottom Lines:
This article explained the steps that you have to follow to sell the old textbooks online on Chegg or other alternatives. I also have included the best sites that one can follow the steps to sell back their textbooks.
Also Read: