Your Quick Answer:
Any message that asks for bank account details, debit card number, social security number, or any password is fake. 
If someone asks you to transfer your money for any kind of service, it's a scam message to get money out of you.
Scam messages often offer you rewards and cash prizes by telling you that your phone number has won some kind of contest.
Even scammers use threats or act like they can deny you some service if you don't provide them with certain personal information or password.
It may be sent to you as a message of refund from a company about a canceled order.
In that case, check if it has the company's caller ID. Companies normally don't text you refund messages unless you have canceled any order. These details are informed by the apps via notifications and not by private numbers.
These scam messages demand immediate action like the transfer of money immediately, clicking on links then and there, etc so that they can put pressure on you to do so.
They may even pretend to be someone from your family and can fake an emergency message too.
These messages are generally composed with a lot of grammatical mistakes and incorrect spacing between words. You'll be able to recognize their improper structure by reading a scam message.
To spot a fake message, you can use Truecaller or search the number on Google to get information about its owner. 
You can even look for the company's information online to find out whether it's an actual company and look for its correct phone number too. You can also use a reverse phone number lookup tool to find the owner of the fake number.
There are some steps you can follow to find out who sent a text message.
How To Respond To Unknown Text:
Here are a few signs that can help you identify a scam message. Receiving scam messages is no longer uncommon or rare but you must not fall for it.
1. Asking for your Personal Details
The most common type of scam message is the one that asks for your personal details. The main intention of any scammer is to get some money out of you in some or the other way.
These scammers send messages pretending to be someone from your bank and then ask for your confidential bank information in the name of verification or confirmation.
Always remember that you should never provide any banking details or any information related to your bank account as these scammers know innumerable tricks to get your personal details for any kind of minor information.
The messages that ask for your bank account number, CVV, or debit card details are scams. These messages might appear as some kind of verification or confirmation text but it's not.
No banks ask for your debit card or account details via messages. Even be sure to never provide any password or your social security number to anyone as these hackers can use it for hacking into your account.
2. Asking for Money
As scammers do scams to get money out of you, you should know that any messages from unknown users that are asking for money from you by offering some kind of service are a scam.
You should never transfer any money or respond to messages that are asking you to send money. They may send texts about solving some kind of financial issues or provide an unbelievable offer or insurance but these are not true at all but lures to make you fall into their trap.
3. Offering Rewards and Cash Prizes
You can at once detect that a message is a scam when you see that it is offering some kind of reward or cash prize.
The scammers send a message that tells the users that their number has won a lucky draw contest or some kind of competition and has prizes waiting. This is the bait that will make the users fall into the trap.
This message is often sent by scammers along with an attached link. They ask the users to click on the link and confirm to receive the prize. These links lead to viruses and malware in the device which can hack into the system.
Therefore, when a message offers a prize or asks you to click on a link, you will need to know that it's a fraud message. 
4. Threatening/Denied Request
Often the scammers send texts pretending to be someone else. They may pretend to be someone from your bank and send a text informing you that your account will be closed unless you verify it by clicking on the link or providing some kind of password.
Don't fall for this as they issue this threat just to scare and trick the users into clicking on the link or providing some kind of personal or confidential details so that they can hack into your account. 
No banks will ever ask for sudden verification or confirmation of an account. Do not get tricked because banks or other legitimate organizations have a long and healthy process of carrying out things that don't involve threatening users over SMS.
5. Refunds Messages
You may find messages informing you that they have initiated a refund process for some kind of online order and wants you to confirm it. This is another kind of scam in that people get tricked into thinking that they'll get some kind of refund for the order that they didn't place in the first place.
It's a way to make you click on a link or provide some kind of important details that can help the hackers get access to your bank account.
If you've not placed any kind of order or have canceled one but you're still getting refund messages, then it's a scam message that needs to be reported. Real refund texts are never sent by unknown numbers but they are sent by the company or the bank itself.
Therefore, you should never believe a refund message or click on a link attached to a refund message as it can lead to malware. 
6. No Company's caller ID
When a message is sent by a company or any app they have a caller ID attached to their number. If any message claims to be sent by some company and asks for your passwords or other confidential information, do not fall not for that as these companies don't send messages using private unknown numbers with no caller IDs.
Always check for the caller ID of the sender's number. Never, provide any password or information to someone over SMS as most of the time these scammers pretend to be someone else to trick you.
No app or company can ever ask you for passwords or bank account details. Therefore, if you get these types of messages check the caller ID and the message. If it asks for money or confidential details, it's a fraud.
7. Weird Composition of Text
Texts that are sent by apps and companies are constructed by professionals whereas the message that the scammers send is composed incorrectly with inappropriate grammar and poor construction.
If you check the sentence construction or the grammar of a fake text, you'll be able to understand that it's not constructed by professionals.
The sentences in these texts have longer spacing or gaps and often these texts are kept unfinished too. If you see a lot of spelling mistakes, poor grammar, or incorrect use of words, then it's a fake one.
8. Demanding immediate action (clicking on links)
Most of the time when a scam message is sent, it asks you for an immediate response to the text. It may tell you to click on the attached link or provide your email password to respond to the message.
You should know that no banks or formal companies can demand immediate action via SMS. The scammers try to put you under pressure so that you fall for the trick.
How To Identify A Fake Text Message:
There are a few things that you must look at:
1. Searching on Google
If you're getting messages from unknown private numbers, search for its owner's information on Google. If the number is of a scammer, it must have got reported by other users too and therefore may have the Spam tag attached to it.
You need to enter the number of the search box of Google and search for its owner. Even if Google cannot provide you with the details of the owner, it will be able to tell you the location of the number as well as inform you if it's a spam message or not.
2. Use Truecaller
You can use the Truecaller application to find out if the messages that you've received are spam or not. Truecaller marks the spam messages under the Spam section in the app. This application can also help you know the actual caller ID of the number.
⭐️ Features:
◘ It's compatible with both iOS and Android. 
◘ The Truecaller application is very efficient in letting you know if a number is a scammer or not. 
◘ It marks spam numbers with red so the receiver can get alerts about the scams. 
◘ In the Spam section of the message category, the app shows all the spam messages you've received on your device from various numbers. 
◘ You can use it for free too. 
🔴 Steps To Follow:
Step 1: Open the Truecaller application and log in or sign up for your Truecaller account.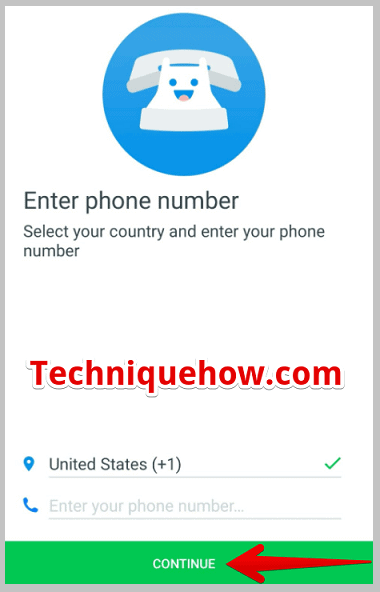 Step 2: Then click Messages which is the second option on the bottom panel of the app.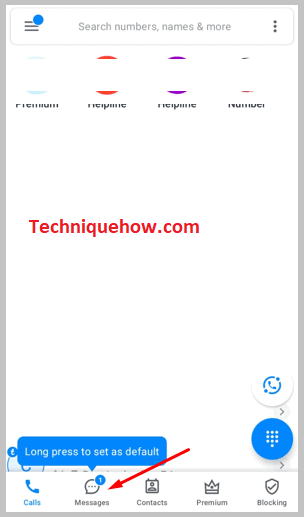 Step 3: Next, you'll be taken to the Messages section where you'll be able to see all the messages that you've received.
Step 4: Then click on the Spam option that looks like a shield, from the top panel of the screen.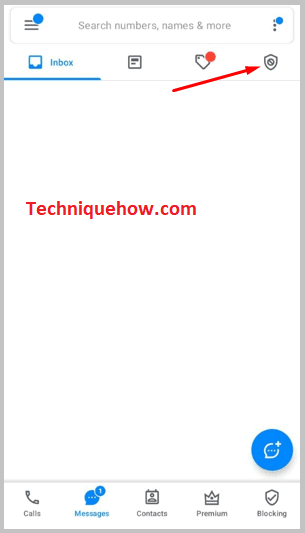 Step 5: You'll be able to see the messages marked with red lines so that you can know they are spam.
Step 6: These messages are marked as spam because they are reported as spam by other users too.
Step 7: Check the section to see if you can find the private unknown number's message in the spam section. It will show the caller ID too.
3. Using BeenVerified 
The phone number lookup tools help the users to get to know the details of the owner of a number by looking it up online. These tools have a broad database that can help you find accurate and updated information about any user from their contact number.
On the web, you'll be able to find tons of phone number lookup tools that are free to use. These tools are web-based and work to prepare a report about the owner of a phone number with details that includes family records, contact information, potential relatives, and employment status.
🔴 Steps To Follow:
Step 1: Open the BeenVerified tool from the link below: https://www.beenverified.com/.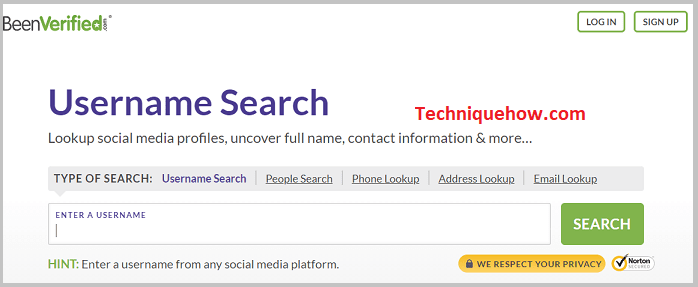 Step 2: Then click on Phone Lookup.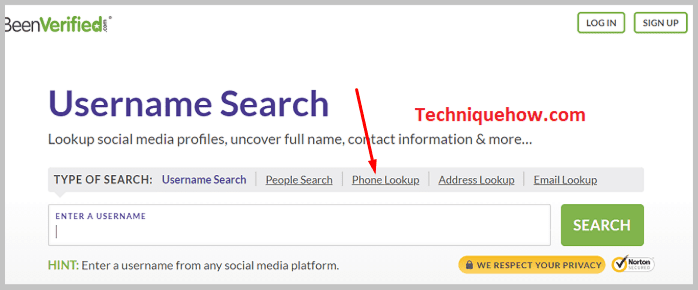 Step 3: You'll need to enter the unknown phone number, from which you're receiving suspicious messages, on the box that says ENTER PHONE NUMBER.
Step 4: Then click on SEARCH.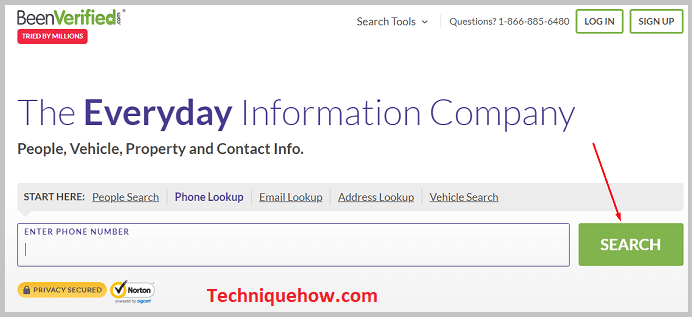 You'll be displayed with a report that will show your the owner's details.
4. Check for the Company's info Online
The scammers pretend to be officials from companies to get the users to fall into their trap. In the text, you'll be able to see that they might use the name of a fake or any company to draw your attention.
You can look for the company on the web to see if any such company exists or not. Even if you find one, you'll be able to get their actual phone number from the website. On the website, you may also find the customer service number. You can call them or contact them to know if they messaged you or not. You'll most probably find that the number that has messaged you is private and not related to any company.
Frequently Asked Questions:
1. How to Reply to Scammer texts?
You should never reply to a scam message or click on any link that the message has attached to it. You need to block the number as soon as possible. You can report the matter to the police if the scammer asks for your confidential details. Reporting the number is the best way you can act to make sure that the scammers get caught.
2. Can you get Scammed by Replying to a text?
Yes, clicking on links or replying to a message can get you scammed as the hackers can use the tiniest information to hack into your personal details. You can even get viruses or malware on your device by clicking on the links which can break down your device's system. If you ever reply with your password or any details to any SMS that they ask for, they'll steal your money, and get hold of your bank account or other accounts. Therefore, never reply to a scam message.
Also Read: