Your Quick Answer:
You can share private stories on Snapchat without including everyone in your friend list. Snapchat lets you have the control to share your stories with some limited people and not to every one of them who are on your friend list.
You just need to get into Snapchat, then after going to your profile page, you have to select the names of the friends with whom you want to share your private stories by clicking on the Private Story option which you'll find right next to the My Stories headline.
Confirm it by clicking on the Create Story option which you'll find in blue color once you're done ticking the name of the selected audiences.
That's it, now you can post stories without letting everyone on your friend list have access to it.
Over here, you'll get to know everything about private stories, how the concept works, and how private Snapchat stories can be posted. If you're unable to understand the concept of private stories on Snapchat then this can be a major help to you.
What is a Private Story on Snapchat?
A Private Snapchat story is one of the best features of the application which allows its user to share his or her Snapchat stories with only those friends whom he or she permits to do so. A user can share private stories and it would be limited to those audiences with whom the user wants to share the story.
The rest of the friends would be unaware of the fact that the user has posted any story. You only need to select and tick those names with whom you want to share the story and the rest remain excluded from being the audience of your Snapchat private story.
Make a Private Story on Snapchat with one Person
Making a private story is very easy and simple, you just need to perform the steps correctly and you're good to go. Now if you're willing to share your private story with a person instead of sending him or her a snap, you can do it in no time after you get to know about the steps which are pretty much straightforward so you won't be having trouble following it.
To create a private Snapchat story with someone else from friends,
Step 1: Open the Snapchat app and look at the top left corner of the camera screen and click on the profile icon.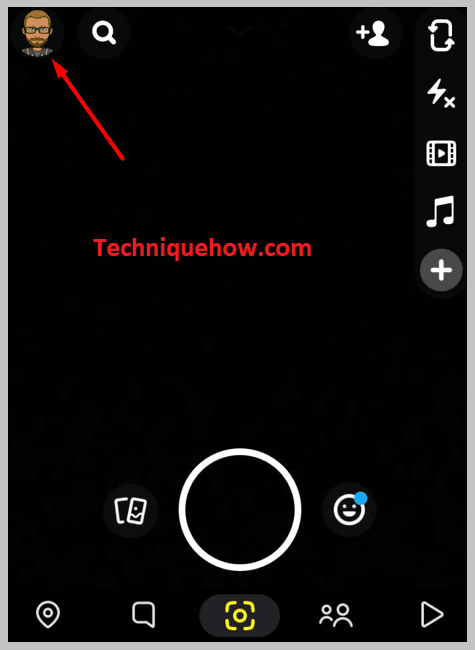 Step 2: On the profile page, tap on the + Private Story just next to My Stories.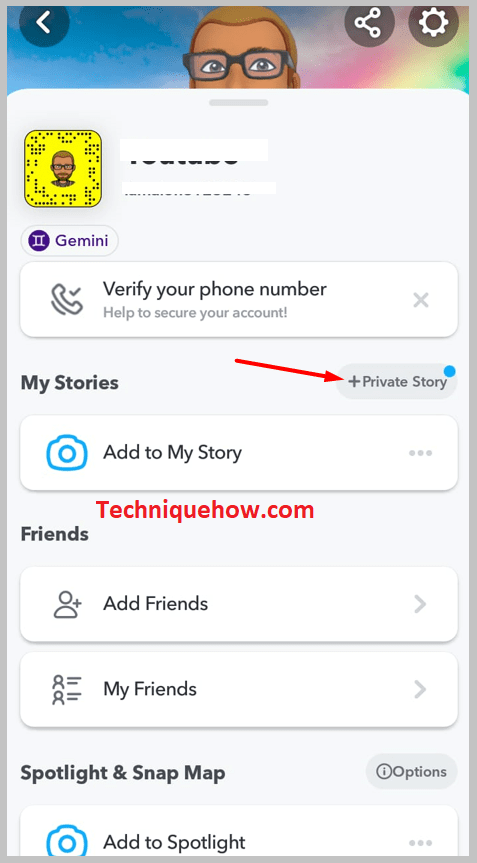 Step 3: Select the name of the friend with whom you want to share the private Snapchat story by clicking on the name and tapping on Create Story.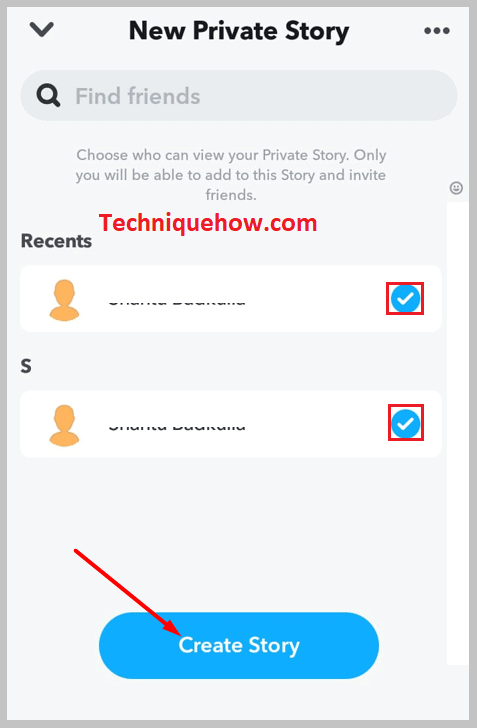 Step 4: Then you can name the private story and save the name by clicking on Done.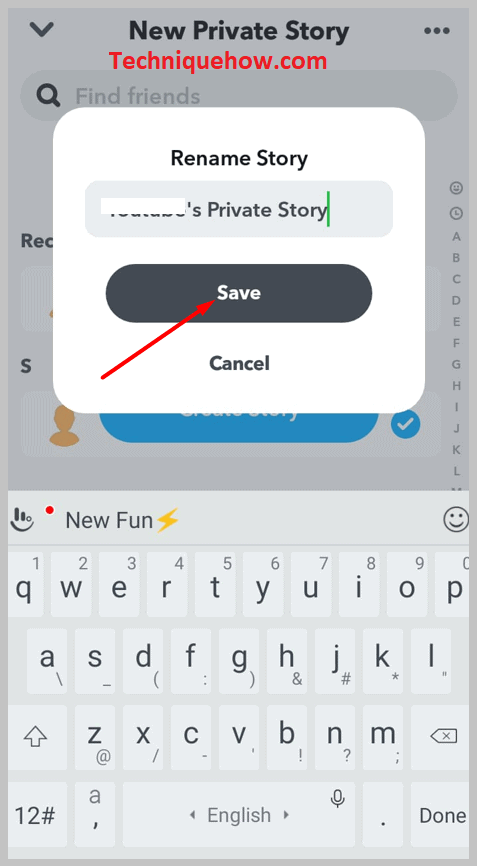 Step 5: Now you'll find the name of your private story appearing along with other options. Tap on it to create a private story and post it on Snapchat by clicking the Send which you'll find in the lower right corner of your screen.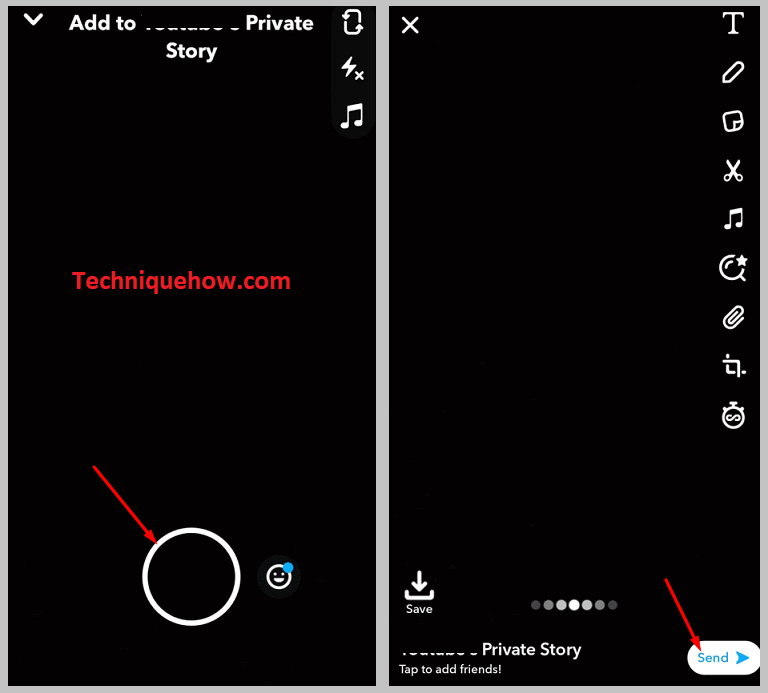 Now the story will go live and it will be visible to that one person from your friend list.
That's how you'll be able to post your private story. No one else from your friend list would be able to know about the existence of that private story except for that friend with whom you want to share it.
Will Someone Know if you Added him to a Private Snapchat Story?
If you're only allowing a person to view your Snapchat story and the rest of your Snapchat friend doesn't have the access to view it, it would appear to that person just like any other Snapchat story. He won't be able to know that you have added him to a private Snapchat story of yours.
He'll just be able to see it as any other Snapchat story being an audience. He wouldn't know that he's seeing a private story unless he checks your story using a mutual friend's phone or even if he has a second account that is also on your friend list then he will be able to find out about it.
If the person would try to check the same story but won't find it when using a device of a mutual friend then he will know that it was a private story and he had the access to it but this mutual friend wasn't added to the private story of yours so it's not appearing in his account.
Even if he will try to check it from his second account which is also on your friend list and not find the same story, then it would be pretty much obvious that it was a private story of yours and you've added him to see it. But as you haven't added the second account of the same person, it doesn't appear in the second account.
Know If Someone Added You to a Private Story on Snapchat
When you're added to somebody's Snapchat story you wouldn't know about it as it will appear to you just like another Snapchat story.
But if you want to check if that's a private story or a regular one you can surely do it by following either of the two methods mentioned below:
1. Check for His Story from Another Account: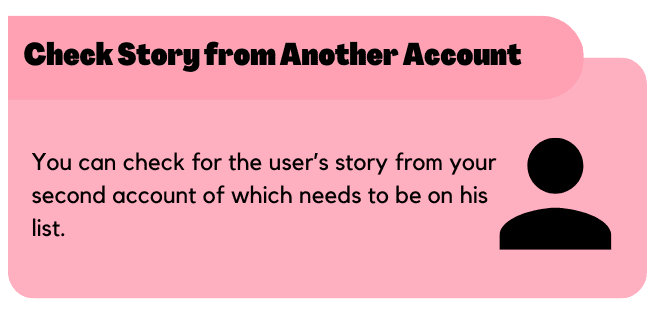 You can check for the user's story from your second account of yours which needs to be on his friend list.
You can just log in to your second profile.
Search for the user whose story you want to see.
Then check his story by searching for him in the friend list or you can see it from the Stories section of Snapchat where all the stories from friends appear.
If you cannot see the same story of the user from your second account then you must know that your first account was added to that private Snapchat story of the user.
2. Find his Story from a Mutual Friends Profile: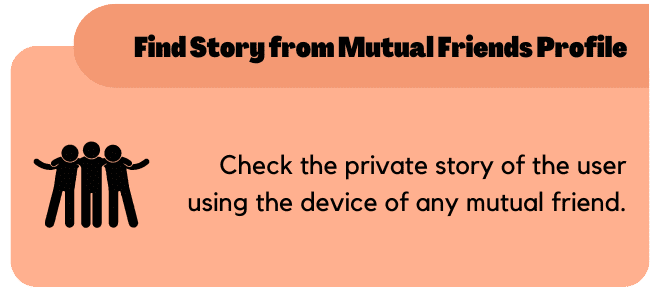 If you don't have a second Snapchat account you can always check if you were added to a private story of some user using the device of any mutual friend. But you need to make sure that it's a mutual friend otherwise the technique won't work.
Open Snapchat on the device of your mutual friend.
Either you can search for the person in the friend's list or in the Stories section you'll be able to see if that particular story is appearing in the account of this mutual friend.
If you cannot see the same story, then it's time for you to know that it was a private story in which you were added. So the story is only visible to you and not to. this mutual friend. No one else but only the selected users can view it from their accounts if it was a private story.
The Bottom Lines:
In times when we don't want to share our stories with everyone rather than with only someone or a few, this feature of Snapchat works the best. It can prevent unwanted friends from seeing the stories and allows only the ones whom we select to be the audience of that story. But the most fascinating part is that it doesn't notify the selected users about the same so it's just like a regular Snapchat story but with a limited audience.
Also Read: