Your Quick Answer:
2D animation or Flash-style animation is really cheap and easy to create for any film. But, this 2D animation needs drawing skills.
The software here we discuss comes with the easy frame-by-frame feature and a lot more.
The animation on the 2D animator program was created by adding all the frames at once. The hand drawing is necessary in this case and the Onion Skinning process helps to create the next frames.
This technology will help you view and understand any facts easily and quickly. The cartoons made in 2D are always enjoyed by the kids, but now it is becoming more popular in this decade.
Here, in this article, we have listed the best 2D Animation making software for beginners and professionals to create amazing cartoons and animations.
Animation software can make such animated videos and cartoons easily and quickly. Some of these tools need drawing skills if you want to create animations for professional purposes. Adobe Flash animation is the best to use for creating animations from sketches.
However, many free and paid 2D animation software is available to make animations easily. There are many cartoon-making tools that can be selected depending on your skill.
Although, Toon Boom Harmony and Toon Boom Animate Pro are very costly and extremely pro tools which even used by Disney. Toon Boom Harmony is the best software to create characters in 2D animation.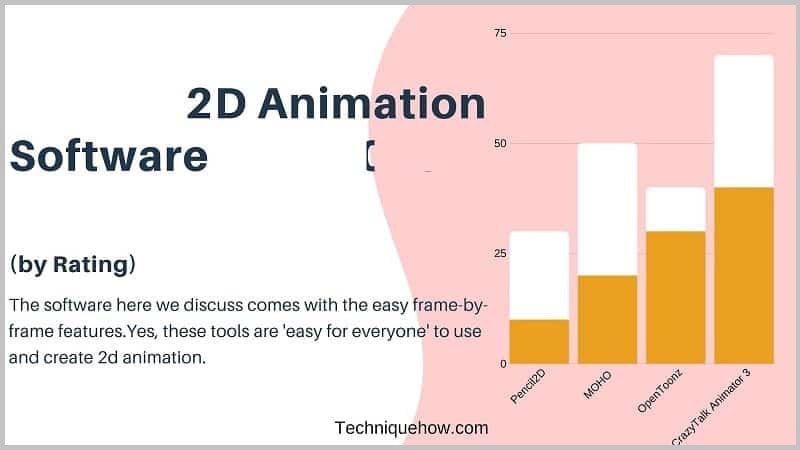 ⭐️ Uses of 2D Animation Software:
Depending on many factors 2D animation is the best choice for making cartoon movies and much more 2D graphics.
There are many features of good 2D animation software including:
Helps to create SWF files and other file formats (e.g. AVI, MOV, BMP, GIF), easy to create movement in animation.
Chosen by the game developers, cartoon movie creators or artists, and recently on advertising.
Easily can create characters in cartoons using sketches. Also, it offers to draw directly on the program.
Professionals, students, and as well as kids can use these tools easily.
So, let's discuss the best traditional 2D animation program to make an animation quickly and easily. These programs can be used on Windows OS and MAC to create animations for personal and professional uses.
Here you will get the chance to compare Pencil2D vs Opentoonz vs Synfig:
| Synfig | Pencil 2D | Opentoonz |
| --- | --- | --- |
| Windows, Linux, and Mac OS | Mac, Windows, and Linux | Mac OS X, Windows OS, and Linux |
| Open-source animation software | Copy and delete frames | Supports 4 types of scanning |
| The floating window (GIMP) is the worst part | Pencil2D is not for professionals | OpenToonz is used in professional shows |
Best 2D Animation Tools:
Try the below following tools:
1. CrazyTalk Animator 3:
CrazyTalk Animator 3 is a smart and professional 2D animation software. This is one of the best 2D animation software. The reason why CrazyTalk is so popular is because of the availability of huge numbers of templates.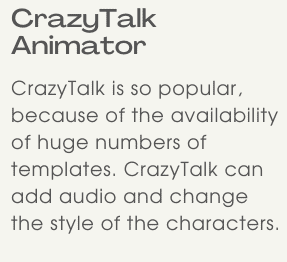 CrazyTalk can add audio and change the style of the characters, along with these, it can convert text to speech easily. Most commonly, it has the potency to turn images into cartoon characters easily. CrazyTalk allows the developer to move the animation characters from 10 different angles for making a professional cartoon.

✅ Pros:
Very professional tool to make real-time cartoon movies.
Allows recording audio directly from Microphone or text to speech.
Better G3 characters.
Can add 3D motions in 2D characters. Another feature to talk about is its 3D camera feature.
🔴 Cons:
It is a professional tool, as a beginner, the user would not be able to handle CrazyTalk easily.
Lacks a tutorial guide for making animations from the starter level.
Needs great drawing skills.
2. OpenToonz:
OpenToonz is an open-source 2D animation-making program. Another free best 2D animation program, OpenToonz, is developed by Digital Video S.P.A. in Italy.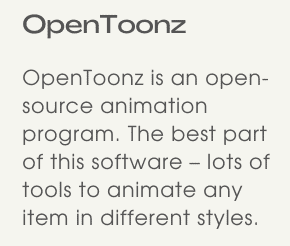 The best part of this software – is lots of tools to animate any item in different styles. OpenToonz can set the cartoon characters to a movement which are received by Onion Skinning. OpenToonz is used in cartoon shows like Futurama. Absolutely Free to use and making traditional 2D animation is easy with OpenToonz.

✅ Pros:
Supported Mac OS X, Windows OS, and Linux.
It's an open-source 2D animation software. Totally Free.
OpenToonz is used in many professional shows which makes this tool really popular and trustworthy.
Supports 4 types of scanning which convert the handmade drawings into digital cartoon characters.
🔴 Cons:
This OpenToonz animation program is claimed to crash a lot when a live project is ongoing. Needs huge RAM.
It does not create new frames automatically. You have to draw and set all the moves.
3. Toon Boom Harmony:
Toon Boom Harmony 14 is another great professional 2D animation tool that is awesome in digital painting on scanned sketches. Toon Boom is one of the best professional 2D animation software for making perfect animation movies.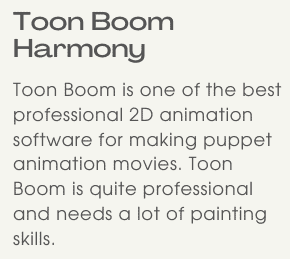 Toon Boom is quite professional and needs a lot of painting skills, the reason Toon Boom is truly loved by artists and cartoonists.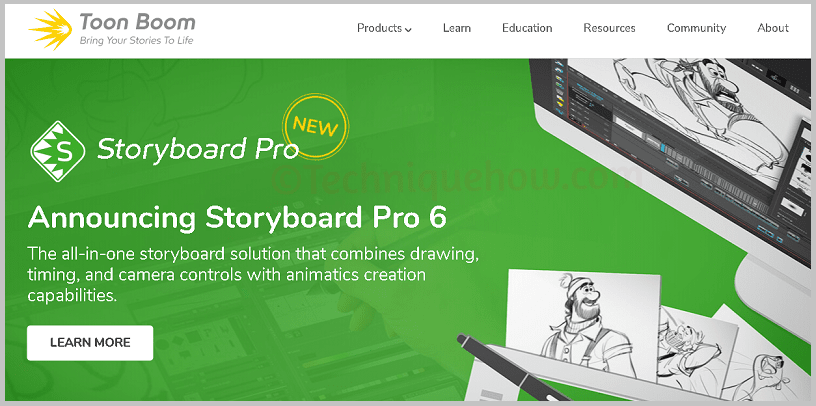 ✅ Pros:
You can choose a transparent background for the cartoons and fill colors as per your choice.
If you become an expert in Toon Boom Harmony, you will be a Master of making 2D animations.
It comes with various effects for animations.
🔴 Cons:
As Toon Boom Harmony is a very professional tool, beginners might not get it easy to use at first.
Extremely High price.
You will need to save each scene separately.
4. MOHO (Anime Studio):
From our listing, Moho is the best and most paid professional 2D animation software. Moho Pro 12 is the latest program for starting digital animation projects.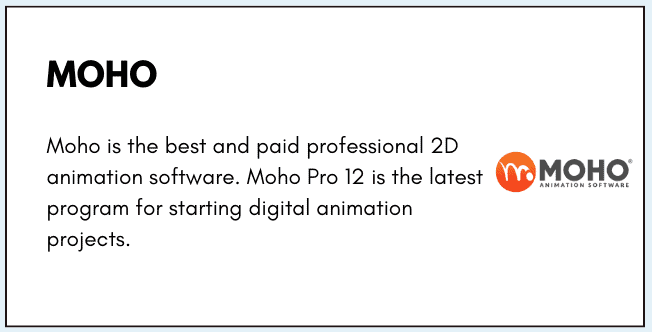 This tool does great than Toon Boom when it comes to vector-based and stop-motion animations.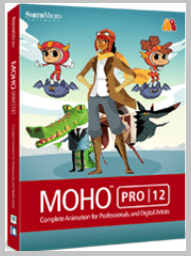 ✅ Pros:
Moho Pro 12 is available in both Mac OS X and Windows OS.
Moho is popular for its easy-to-use interface.
Lesser price than Toon Boom and Adobe.
Can directly record voice and change sound effects of that Audio.
You can upload the animation directly to YouTube and Facebook.
🔴 Cons:
Anime Studio lacks environmental effects like fog, rain, etc.
The comic animation is not so good at Moho.
On the Trial Version, you can not import any files in the program and are unable to export the animation in Flash, AVI, and Quicktime formats.
5. Synfig Studio:
Synfig is another open-source 2D animation software like OpenToonz. It is completely free and available on Mac, Linux, and Windows OS. Synfig can map from sketches and make characters easily.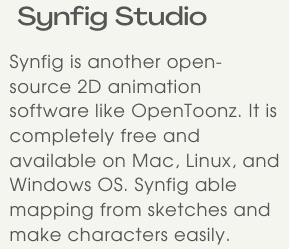 It is a better alternative to the costly Adobe Animate CC.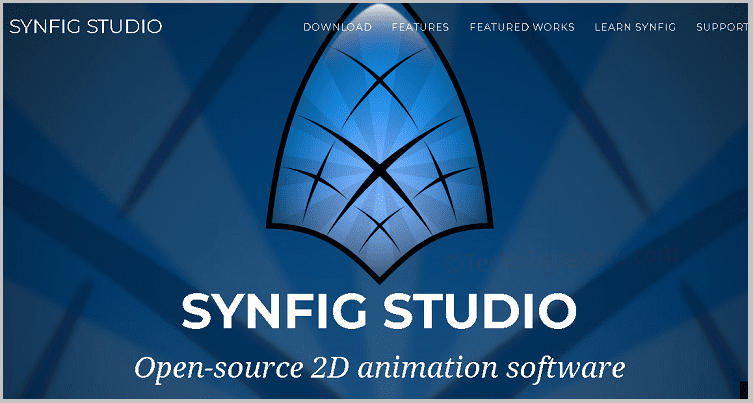 ✅ Pros:
Synfig is open-source animation software and free for use.
This tool has lots of guides or tutorials.
Available in Windows, Linux, and Mac OS.
When it comes to performance, Synfig is far better than OpenToonz.
🔴 Cons:
Synfig needs to download many programs (4 to 5) to run and work with it.
The floating window (GIMP) is the worst part of this software.
6. Tupi:
Tupi is another basic level traditional 2D animation software that depends on auto-frames for making an animation. Also known as TupiTube, available in both Mac and Windows OS.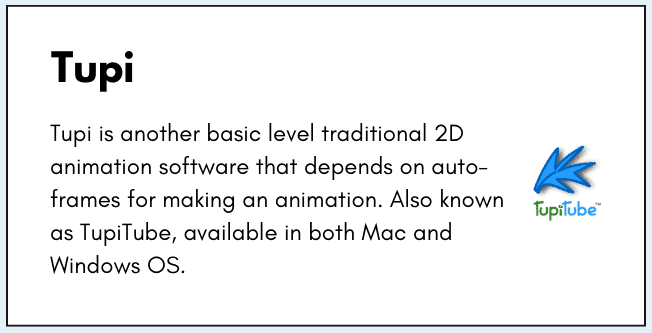 This program is a very basic level product, developed for kids to make animated short films.

✅ Pros:
Best for Kids and Beginners, it's totally free.
You just need starter-level drawing skills. It offers SVG graphics.
Tupi is available on Mac, Linus, and Windows OS.
Tupi has also introduced the Motion Tweening feature.
🔴 Cons:
Lack of advanced and basic handling of cartoon graphics. Very fissionable.
Very basic drawing tools.
You should not use Tupi for even your personal use. It is best just for practice.
It's a beta version. Needs development.
7. Adobe Animate CC:
Adobe Animate is the best 2D animation software when it comes to the making of flash animation and graphics. This professional 2D animation tool can scan the drawing and shift it to the character (G2).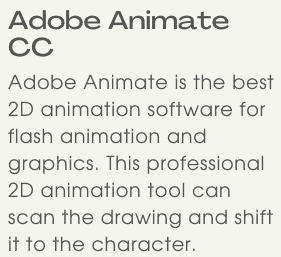 Adobe Animate performs the making of cartoons on the point of rotation, Adobe Animate CC is used hugely to animate the serial info.

✅ Pros:
More vectorization tools are available in Adobe Animate CC.
The software has lots of templates.
Adobe Animate provides professional graphics quality.
Adobe Animate CC is available on Windows OS.
🔴 Cons:
It's not free. You have to pay for the use.
The terms to add audio and modify it has been critical work in Adobe Animate CC.
8. Stop Motion Studio:
If you are looking for the best 2D animation software which can help to draw from iPad or Android devices then Stop Motion Studio 2D animator is the best software in this case.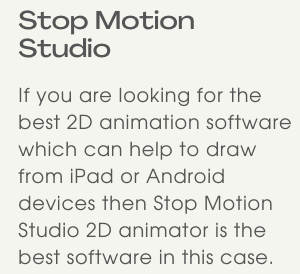 Stop Motion Studio enables you to create animations from your mobile devices just by adding images into the frames.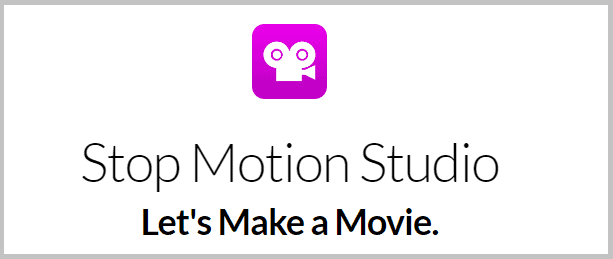 ✅ Pros:
Stop Motion Studio offers to animate from your mobile, tablet, and iPad.
This tool can click the images of hand-drawn sketches and make an animation from those. Imports from HDD.
Available on platforms like iPhone, iPad, Mac, Android, and Windows.
You can add audio easily using Stop Motion Studio.
You can upload the prepared animation directly to YouTube and Facebook.
🔴 Cons:
This program cannot import images directly from the scanners.
You cannot change the style of the audio uploaded on Stop Motion Studio.
9. Pivot Animator:
Pivot Animator is an easy-to-use 2D animation program for beginners. This software can import the drawing and make the basic level animations of the frames.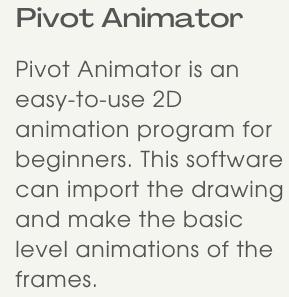 But, it is just for beginners, not advanced 2D animation software.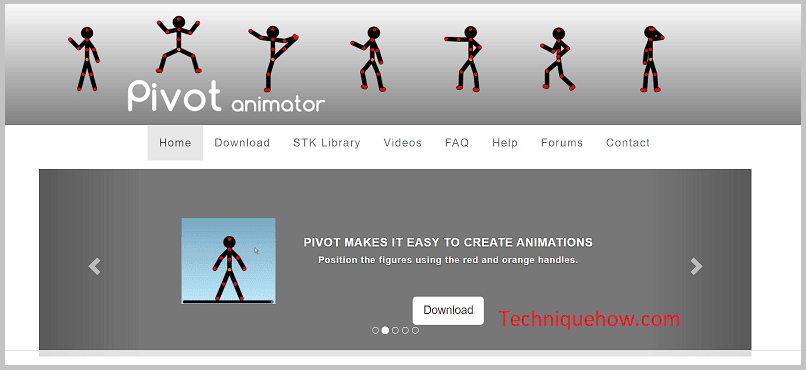 ✅ Pros:
Pivot Animator is an easy and free 2D animation-making tool for beginners.
You can use a spacebar to copy frames.
You can add a simple frame to create a 2D animation video.
No drawing skills are required in Pivot Animator. Lots of templates are available here.
🔴 Cons:
No advanced drawing tools are available in Pivot Animator.
This tool is for kids. Not for professional use.
10. Pencil2D:
Pencil2D is another great best basic level 2D animation software that is also the beginner. But, this has many functions compared to Pivot Animator.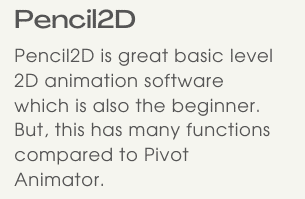 Frame creation and the drawing tools are better in Pencil2D for learning purposes.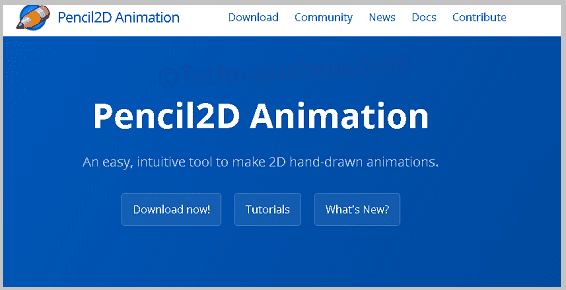 ✅ Pros:
Pencil2D offers advanced drawing tools for beginners. Another 2D animation software for beginners.
You can copy and delete frames in Pencil2D.
Available for Mac, Windows, and Linux users.
🔴 Cons:
Needed drawing skills in Pencil2D.
You cannot use Pencil2D for the professionals purpose of the lack of good graphics.
The Bottom Lines:
This article has discussed all of the best 2D animation programs for professional use as well as for beginners, students, and kids. You can try any of these as per your requirements. Pencil2D and Pivot Animator are very basic level animation creating tools that would be best to start with if you want to learn. Also, for professional uses, you can go for CrazyTalk Animator and Adobe Animate CC
Also Read: