If you're facing the issue 'This site can't be reached' on your PC, then there might several reasons behind this and before you go to fix this, you have to know the reasons first.
You probably understood that this is not an issue with your internet connection but could be something else that is preventing you from opening that website.
You have many ways that you can have like the basic and advanced level of fixes that will definitely unlock your website and will appear in front of you.
To fix the issue that shows 'This site can't be reached', you have to refresh the page to reload for rechecking if that fixes. Then you can use the VPN if that is blocked in your country, also reboot your router in order to fix the issue if that is happened due to the cache.
You just have to follow a few steps that you have to take one by one to get the site error fixed to see the website opens on all browsers on your PC.
Why do Some sites Fail to Open?
The reason behind a site cannot be opened, are many. Chances that prevent a few websites to load on your browser: your ISP or your internal settings can stop your browser to open that particular website.
In a few cases, this happens to all of your websites and sometimes to a single one.
So, how can we identify the actual reason?
When the site fails to open only on a particular browser but can be accessible from the internet explorer then you should understand that the issue is with your browser settings not from the whole PC.
In that case, you can take the measures to reset the browser settings in order to fix the issue.
One thing that you missed out on is, a website can load even depending on its own server.
Sometimes the host fails to hold the traffic that comes to the website and due to that website can't be opened and you will see such errors like 'This site can't be reached'.
In that case, the only way to fix is to wait. However, in any internal cases, you have these solutions that we have discussed in this article with an aim to fix the error.
There are such issues and the reasons behind this, we have tabled down:
ERR Types
REASONS
DNS_PROBE_FINISHED
_NXDOMAIN
You typed the wrong URL/Server Down
ERR_CONNECTION_CLOSED
Change Static IP
ERR_CONNECTION_TIMED_OUT
Web Host Fails/Try after sometimes
ERR_INTERNET_DISCONNECTED
Check Internet Connection
ERR_TIMED_OUT
Blocked in your Country/Host issue
ERR_CONNECTION_REFUSED
Server Rejected your IP/Change ISP
Note: The same can happen with your MacBook AIR on MacBook Pro. But the fixes will be as same as you will have the same settings available on your Chrome.
If you are using it on your Mac OS, most Mac OS users use Safari as their default browser but the basic level fixes to this issue can be performed on your MacBook as well.
In many cases, you can try resetting your browser from the settings to browse the internet either using a VPN or a different ISP that can open the website, if the issue gets fixed then it's good.
Fix Google Chrome "This Site Can't Be Reached" Error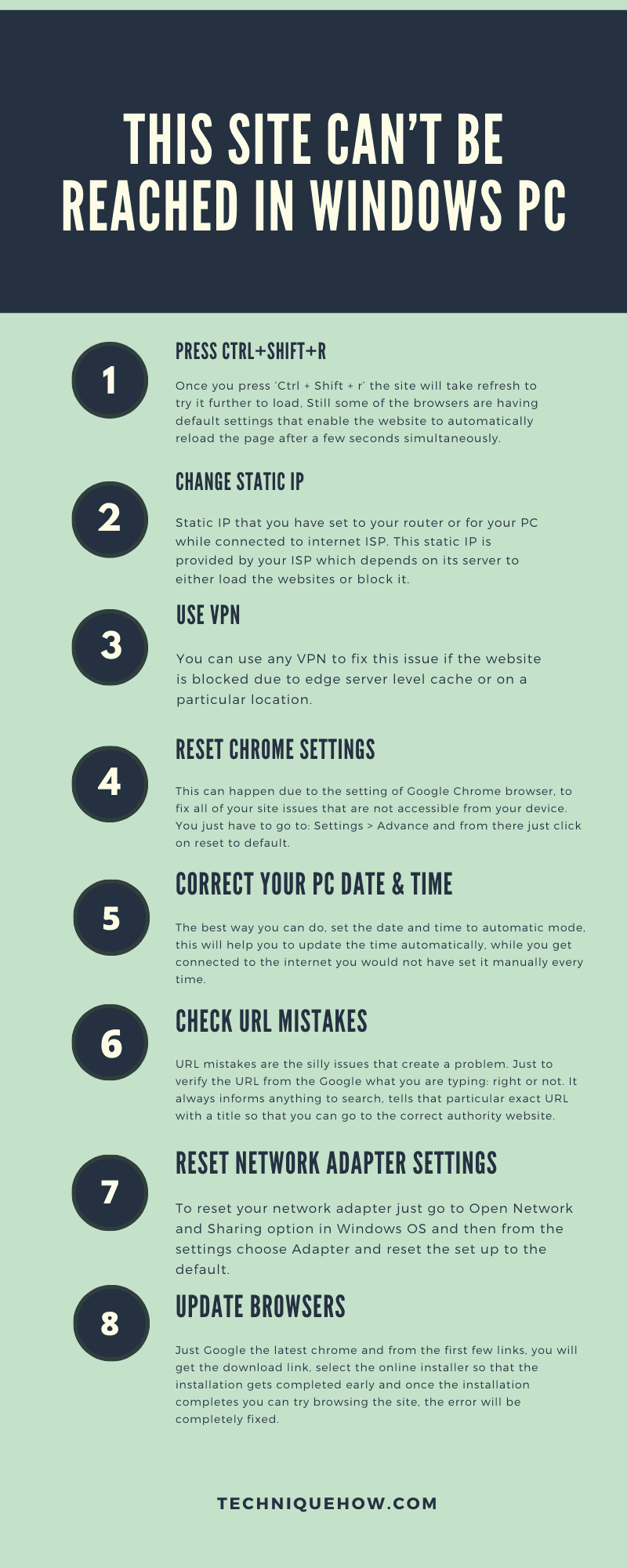 If you are going to fix the site connection error then you have many ways that you can apply to fix it.
Let's start on how to fix if the site cannot be reached:
| METHODS | WHAT IT DOES |
| --- | --- |
| 1. Press Ctrl+Shift+r | Press Ctrl+Shift+r and a further try is recommended |
| 2. Change Static IP | Changing the Static IP fixes the problem |
| 3. Reset Chrome Settings | Reset Chrome browser |
| 4. Correct your PC date & time | Check for date & time |
| 5. Check URL mistakes | Check URL mistakes if typed wrongly |
| 6. Update Browsers | Update Google Chrome to the latest |
| 7. Disable All extensions | Disable extensions to avoid bugs |
1. Press Ctrl+Shift+R
Once you press 'Ctrl + Shift + R' the site will take refresh to try it further to load, still some of the browsers (i.e. chrome) are having default settings that enable the website to automatically reload the page after a few seconds simultaneously.
The main talk is to check if this is not a little issue by taking this step and refreshing the page while it's loading again.
Most of you have done this multiple times and that is why looking for the next-level solution.
2. Change Static IP
A static IP set is what you have set to your router or for your PC while connected to an internet ISP. This static IP is provided by your ISP which depends on its server to either load the websites or block them.
That is why, if you change the static IP that may be blocked by the web server, you can access the websites from a different IP address. Normally changing the static IP from a different ISP is recommended thus only you can avoid the browsing issues. So, let's contact ISP and ask for the static IP to set, you cannot change it your own without ISP's permission.
3. Use VPN
If you are familiar with the VPN Service while connecting then you can use it to fix this site error. VPN servers are actually different for iOS, Android, Windows, or even Linux whatever you are using on your device you have to download it on your particular device to run and browse the site that gets the 'This site can't be reached' error.
A VPN server can help you access the unreachable site by requesting the server from a different IP. This works if your ISP is blocked by that web server, in that case, VPN can do the work for you.
4. Reset Chrome Settings
If you don't know, this can happen due to the settings of the Google Chrome browser, to fix all of your site issues that are not accessible from your device.
You just have to go to: Settings > Advance and from there just click on reset to default.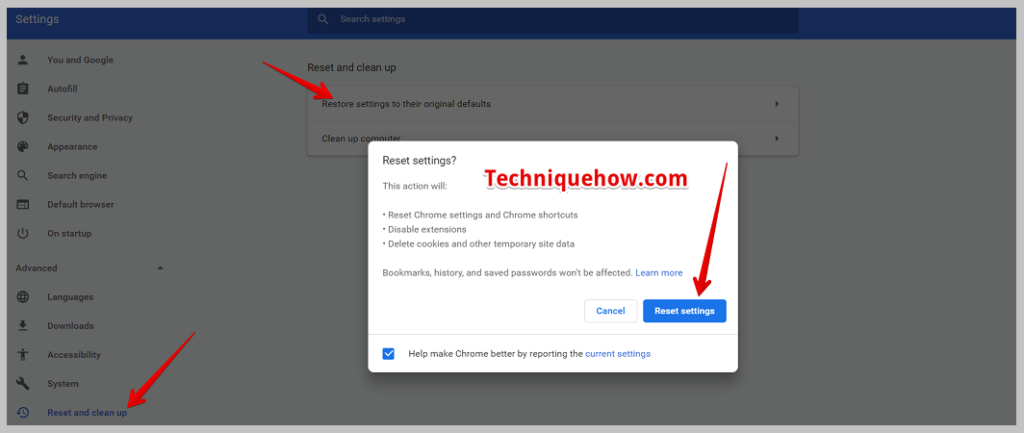 Now once you select to do this, your Chrome browser will be set to the default like it used to be at the time of the first installation.
Then, try browsing that website that you are getting an error with. The most chance, if the issue was internal on your browser, the site will open and the issue will be fixed.
5. Correct your PC date & time
If you have just turned on your PC and your browser is not opening any of the websites. You get an error like ' This site can't be reached' check_date_time, in that case, you have to set the current date and time on PC to browse the internet.
The best way you can do, set the date and time to automatic mode, this will help you to update the time automatically.
6. Check URL mistakes
You can get to the URL mistakes if you are typing an invalid URL like example.com. Suppose the original URL is with the example.net, so if you put the alternative domain, the site can get opened.
This is an indirect solution to this problem but this has a lot more advantages while you are trying to open a site that could not be reached at that moment. However, also take it to cost to consider that URL mistakes are the silly issues that create a problem.
Just to verify the URL from Google what you are typing: right or not. It always informs anything to search, tells that particular exact URL with a title so that you can go to the correct authority website.
7. Reset Network Adapter Settings
Another way we can fix the 'This site can't be reached' error is by resetting the adapter. But, once reset that has been fixed and the site opened instantly.
To reset your network adapter just go to Open Network and Sharing option in Windows OS and then from the settings choose Adapter and reset the set up to the default.
8. Update Browsers
The real problem that occurs through the browser itself is if your browser is outdated and cannot support the HTML or PHP of the website. Then your browser gets updated to the latest version so that it becomes capable of supporting that particular website. It is very simple to update Chrome Browser latest from the play store.
9. Disable All extensions
Chrome extensions are the most tricky technique that changes the Chrome browser's workability a lot. Some of the extensions make the browser act differently by blocking HTML for a few sites and even blocking the webserver.
In one sentence, want to guide you with the cycle of application to this, Press Ctrl+Shift+R > Update your browser > Disable all extension > Reset your browser > Check for URL Mistakes > Reset adapter settings > Use VPN.
The Bottom Lines:
This article explained whatever the issue is whether it is with the whole PC or only for a single site, you can use these methods to fix the issue, this will work in all cases.
Also Read: